Netflix has kept quiet about how things are going with the making of their highly viewed show Virgin River. However, the fans are excited about Virgin River season 4. Last season ended up raising many questions in the mind of the viewers, leaving them curious about Season 4. 
Although, Netflix has kept silent about the fate of the fourth season. However, the fans are curious to know if they will get to see season 4 anytime soon. So, is Virgin River Season 4 renewed by Netflix? Keep reading to learn about the release date, renewal, production status, and more revelations.
Renewal & Production Status
Netflix has not officially confirmed Season 4 yet. However, the filming for the respective is reportedly underway. As per a report by What's on Netflix, the filming started in July 2021. Moreover, the report also claimed that the filming would conclude on November 30, 2021.
Also, Tim Matheson spilled some beans in an interview with Radio Times soon after the third season's release in July. Matheson revealed that the filming could start any day.
Further, The Watershed Grill happens to be a location of a bar in the Virgin River. And an Instagram post from Watershed Grill's account shared that they have been booked for 17 and 18th August. Further, the filming also took place on August 30 & September 2, 2021. however, the original post was soon taken down and replaced by an under maintenance post.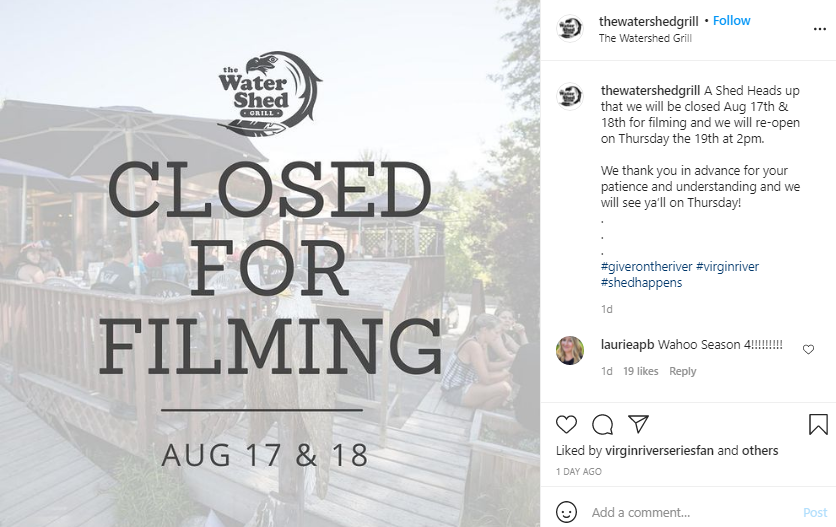 The awaiting renewal while the filming continues is not a big surprise. Previously, Netflix confirmed seasons 2 and 3 days before their premiere. So, even if Netflix has not made an official announcement about Season 4 yet, we are sure that it will come around in some time.
Virgin River Season 4: What Will Happen?
The previous season raised a series of questions before the conclusion. It looks like the upcoming season will finally reveal the father of Mel's unborn baby. Although, fans will have to struggle throughout the season actually to find the truth.
Meanwhile, Brady will continue to be in a state of misery in the upcoming season. The fans can expect to see him suffer in jail for being accused of shooting Jack. Earlier, EP/ Episode Writer Sue Tenney revealed that if season 4 comes it will "eventually lead Jack and Mel to get married."
Further, we will also see Hope return in the next season. She missed most of season 3 due to travel restrictions during production. Hope's absence was justified in the plot as an accident while returning after visiting her aunt. We will also see Hope's husband Doc Mullins battle with his disease, which the fans witnessed in season 3.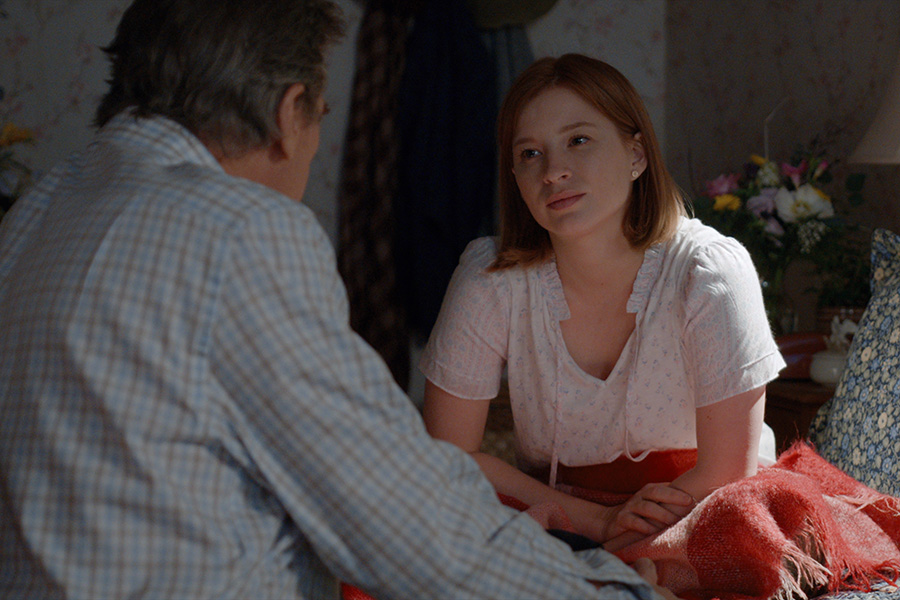 Virgin River Season 4: Premiere Date
As the filming seems to have started for season 4, we might not have to wait long for the release. However, considering the time to produce a season, Virgin River Season 4 would most probably premiere during Q3/Q4 of 2022. And for more details, stay tuned with us in this space.