Marvel's The Punisher is a superhero crime drama series that premiered on Netflix for two seasons. Ever since Disney launched its own streaming service, they have been expanding Marvel's TV portfolio. As a result, Netflix's Marvel Tv shows found a new home in Disney+. This was enough to make fans wonder what it means for the prospect of The Punisher Season 3. The show has garnered widely positive reviews for the first two seasons. Therefore, the expectations are significantly high in the first two seasons.
Will There Be Punisher Season 3?
The second season of Marvel's The Punisher was released on Netflix on January 18, 2019. However, unfortunately, the streaming giant Netflix canceled the series after two seasons. In the official statement, Netflix said, "Marvel's The Punisher will not return for a third season on Netflix. Showrunner Steve Lightfoot, the terrific crew, and an exceptional cast, including star Jon Bernthal delivered an acclaimed and compelling series for fans. And we are proud to showcase their work on Netflix for years to come."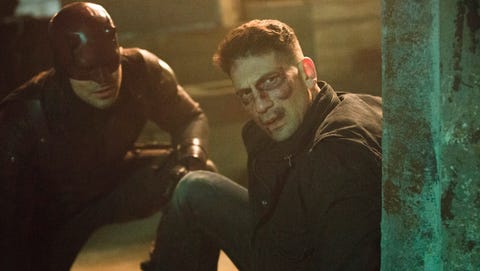 However, in March 2022, all the Marvel TV series from Netflix were made available to stream on Disney+. Therefore, the hope of Punshiers Season 3 returning has gotten new light. Moreover, in late May 2022, the fourth season of Daredevil was confirmed. Thus, we are expecting some good news for The Punisher Season 3 in the near future.
What Punisher Season 3 Might Be About?
At the end of the second season of the series, we saw Frank Castle in full Punisher gear, roaring as he dual-wields machine guns to mow down two opposing gangs. It's a dramatic contrast to the season's beginning. When Frank was on the road, he assumed a phony name in order to maintain a low profile. It was a clear set-up for a full season featuring Frank as a true vigilante. Personal vendettas are no longer the only thing on their minds. Rather than attempting to clean up New York City's streets, it turned them red with criminal blood.
At the end of Season 2, Amy was put on a bus to Florida, and Frank's quest to safeguard a new daughter figure came to a gratifying conclusion. As a result, Amy is unlikely to return. On the other hand, Dinah Madani has a new position with the CIA. She even attempts to recruit Frank as an assassin, so delving into that new chapter of her life would be fascinating.
The Punisher Season 3: Cast Details!
The cast of Netflix's Punisher features Jon Bernthal as Frank Castle Aka Punisher, Ebon Moss-Bachrach as David Lieberman, and Ben Barnes as Billy Russo. The show also stars Amber Rose Revah as Dinah Madani, Daniel Webber plays Lewis Wilson, and Paul Schulze appears as William Rawlins. Then there is Jason R. Moore as Curtis Hoyle, Michael Nathanson essaying Sam Stein, and Jaime Ray Newman as Sarah Lieberman.
Furthermore, the cast also includes Deborah Ann Woll as Karen Page, Josh Stewart as John Pilgrim, Floriana Lima as Krista Dumont, and Giorgia Whigham as Amy Bendix. Then there is Corbin Bernsen as Anderson Schultz, Annette O'Toole as Eliza Schultz, and Jordan Dean appearing as Jake Nelson. If the series returns with Punisher Season 3, we can expect most of these cast members to return in their roles.
Why Frank Is The Best Character On The Show?
Even though Ben Barnes' performance was outstanding, it's tough to ignore the reason why so many people are watching. Jon Bernthal's portrayal of Frank Castle/ The Punisher is as accurate as Robert Downer Jr.'s portrayal of Tony Stark/Iron Man. The two are inextricably linked. Castle is the ultimate action hero thanks to his rage-filled attitude to everything he undertakes.
It's evident in his jaw-dropping action sequences, which keep you riveted to the screen. Frank Castle may also be one of the most dependable characters in the Marvel Netflix Universe. The Punisher, on the other hand, isn't one of them. From the beginning, he's been a one-man wrecking crew.
Also Read Daredevil Season 4: Will Charlie Cox Return? Will Kingpin Keep Matt's Identity A Secret?