After watching the penultimate episode, fans are on edge, eager to see how Rembrary will save his people in The Heavenly Idol Episode 12. Well, the previous episode dropped several bombshells and revealed Lord Redrin's true face too. However, there are several things that he has yet to learn. He's unaware of the source of his powers and why everyone wants to kill him. Further, Afterlife is hiding something. But it will only be uncovered when Rembrary saves Earth. Can he do this? What about Kim Dal, as she knows a lot now? Keep reading to learn more.
The Heavenly Idol Episode 12: What Will Happen Next?
Rembrary is already on the verge of breaking after learning that the deity he worshiped was sinister. She was the one who killed his family and friends, and she has been working with the Evil One. As for Dal, she gets permission from the Queen of Afterlife to travel to the realm. She finally meets Rembrary and tries to comfort him. However, he still doesn't know the source of his power and why everyone wants him dead. While facing emotional turmoil, Dal eases his pain by confessing her true feelings for him. They will finally return to Earth to stop Evil One and the Master from destroying the planet.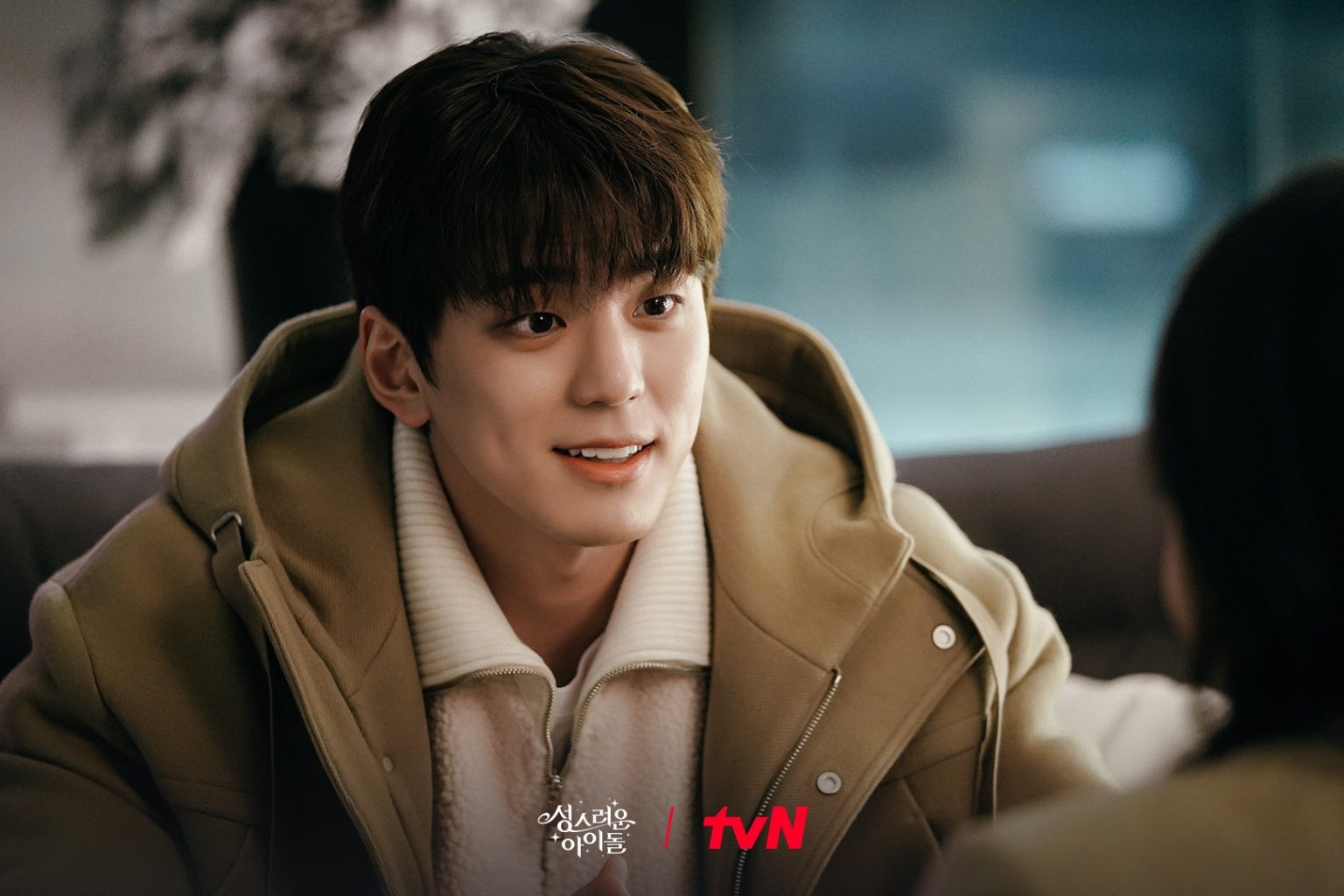 The Master is insanely promoting Hongwoodaedae and encourages everyone to join their group, and the members of the Afterlife believe only Rembrary can save them. So he will return with Dal to fight with the Evil One and the Master. However, the Afterlife Queen orders Sa Gam-jae to erase Dal's memories. But Rembrary gifts her a bracelet that will help her stay intact with her memory. Later they map a plan to defeat the Master and Evil, leading to a massive clash. But things won't work as per their plan, forcing Dal to take her life in order to boost Rembrary's powers. Will they end like this? It remains unclear.
A Quick Recap!
The previous episode opened up with Im Sun-ja beating Rembrary for spoiling their only chance
to clear their image by performing in Music Music. However, Kim Dal interfered and revealed that his action helped Wild Animal become a trending topic. Soon, Im learned that Wild Animal was invited to the Korean Music Awards. However, the chances of their winning the rookie award were quite thin. So Kim and Rembrary mapped a plan to expose Evil Boys. Through this, they could save the Evil Boys from transforming into goblins. Kim then met the manager of the Korean Awards and proposed an offer to let Wild Animal perform with Evil Boys at the award function.
Surprisingly, the manager accepted the offer, and later, both groups joined each other where they showcase their skills. However, it took a lot of work for the Wild Animal to defeat Evil Boys. It pissed Jeong-seo, and he blamed himself for everything. Soon the scene shifted to a flashback where the Master of Hongwoodaedae met Jeong-seo and asked him to bring Woo Yeon-Woo with him to gain stardom. It seemed to bother him as he didn't know how to approach Yeon-Woo, while Rembrary reminded the Evil Boys about their true identity on the Korean Award. Jeong-seo also confessed to his encounter with the Master. Luckily, Wild Animal won the discovery award, and Yeon-Woo won the rookie award in drama. Since the vow was fulfilled, Rembrary returned to his world and learned about Redrin's true identity.
The Heavenly Idol Episode 12: Release Date
The finale is here, and fans will finally learn how Rembrary will deal with the Evil One and the Master. The Heavenly Idol Episode 12 will air on March 23, 2023, at 10.30 pm KST. It consists of 12 episodes with a runtime of around 1 hour and follows a weekly release pattern, airing every Wednesday and Thursday night. The local Korean audience can stream it on TVING and tvN, while the global audience can catch it on Viki. Stay tuned. TechRadar247 will keep you updated.