Good news! Netflix has greenlit Virgin River Season 2 for ten more episodes. This time it's based on Robyn Carr's bestselling Harlequinn book series. Further, Virgin Series is one of the two romance-drama series greenlit by Netflix. However, its premiere date is yet to announce. Initially, it rumored to premiere this summer, since its filming wrapped up before shutdown. However, the showrunner Sue Tenney is still silent on this news. So, let's wait until some official announcement is made.
Virgin River, created by Sue Tenney, is an American romance-drama series on Netflix. It's adapted from Robyn Carr's novel of the same name. The series centers on Melinda Monroe (Alexandra Breckenridge), who decides to start a new life in the Virgin River. She thought to start fresh as a midwife and nurse practitioner in a remote town in California. But, she eventually discovered that small-town life isn't that simple. Also, before settling there, she first needs to heal her heart.
Virgin River Season 2: Release Date!
Virgin River Season 2 got an early renewal. Still, Netflix hasn't announced its premiere date. However, it rumored that Virgin River Season 2 production wrapped in December 2019. But, Netflix, as well as the showrunner Sue, are still mummed on this news. Meanwhile, the author Robyn is very excited about her romantic series to be a part of Netflix. She stated: "It's so exciting to be a part of the romance genre movement taking place in Hollywood. I have been telling my readers to think of it as a brand new 'Virgin River' adventure with your favorite characters."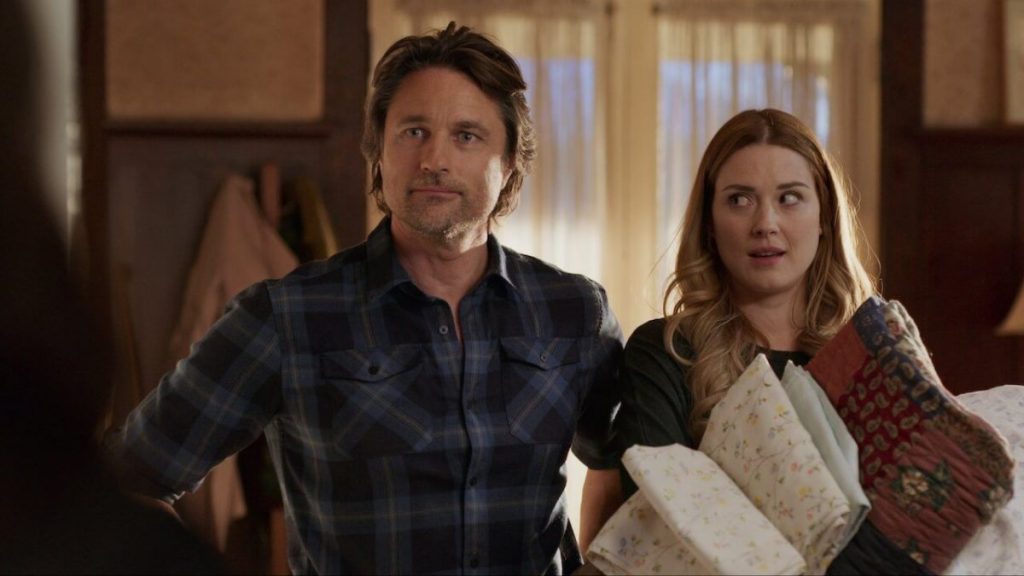 Virgin River Season 2: Cast Details
Dan Brady actor Ben Hollingsworth, who appeared in the previous season, is now promoted as regular for Virgin River Season 2. Further, Sarah Dugdale, aka Lizzie, will also be a regular in the upcoming season of Virgin River. She's cast opposite to Alexandra Breckenridge (Melinda Monroe). The other stars that'll feature in the forthcoming season are Tim Matheson, Lauren Hammersley, Annette O'Toole, Daniel Gillies, Colin Lawrence, and Jenny Cooper.
What Will Happen?
Has Melinda Taken A Wrong Decision To Stay In The Virgin River?
In the previous season, Melinda discovered that Jack was becoming Rose's baby father when Mel and Jack worked on their relationship. She realized that her decision to stay in the Virgin River was a big mistake. Later, she decided to return to her city. Now, will Mel leave Jack and return to her place? Or will she stay with Jack with a broken heart? Let's wait to see what happens next.
What Happened To Paige Lassiter?
In the last season, John Middleton went to Lassiter's house to meet them. However, both mother and son weren't there. Everything turned more suspicious when John found some blood on the floor that leads to the basement. Now, the question arrives what happens with both of them. Are they alright, or had someone murdered them?