Its been long since the arrival of the last installment of American Gods. Although American Gods Season 3 was renewed on March 15, 2019. The announcement came soon after Charles Eglee and Hemlock Grove declared as the showrunner for the upcoming season. The production was scheduled to start in September 2019 till March 2020. However, Amazon and Starz haven't announced its premiere date yet. Further, some of the cast members are unhappy with the sudden changes after Charles Chic Eglee joined as the showrunner.
American Gods, created by Michael Green and Bryan Fuller, is a fantasy drama television series on cable network Starz. The series is adapted from Neil Gaiman's novel of the same name. It follows Shadow Moon's (Ricky Whittle) exploration of the world of Gods. Only a few days before his release from prison, he got to know that his wife met with a car accident and died. After her funeral, Moon meets a strange man, Mr. Wednesday. He offered him a job of becoming his driver, assistant, and bodyguard. There, Moon discovered that magic is real, in which the Old Gods fear immateriality seeing New Gods' growing power, that uses technology and media. So, Mr. Wednesday decides to reunite the Old Gods to rebuild their lost existence.
American Gods Season 3: Renewed Long Back!
Last year, Amazon and Starz renewed American Gods Season 3 along with an exciting announcement. Chic Eglee, along with Hemlock Dead, has joined the show as the showrunners. Neil Gaiman, the executive producer and the genius behind this series, felt delighted with this news. Neil said: "I'm thrilled American Gods has been renewed for the third season, and even more excited that I'm getting to work on it with Chic Eglee. Chic is the best accomplice. We've been engaged for weeks now on the shape of the season, and I'm pleased that he gets to carry the American Gods' torch on to glory."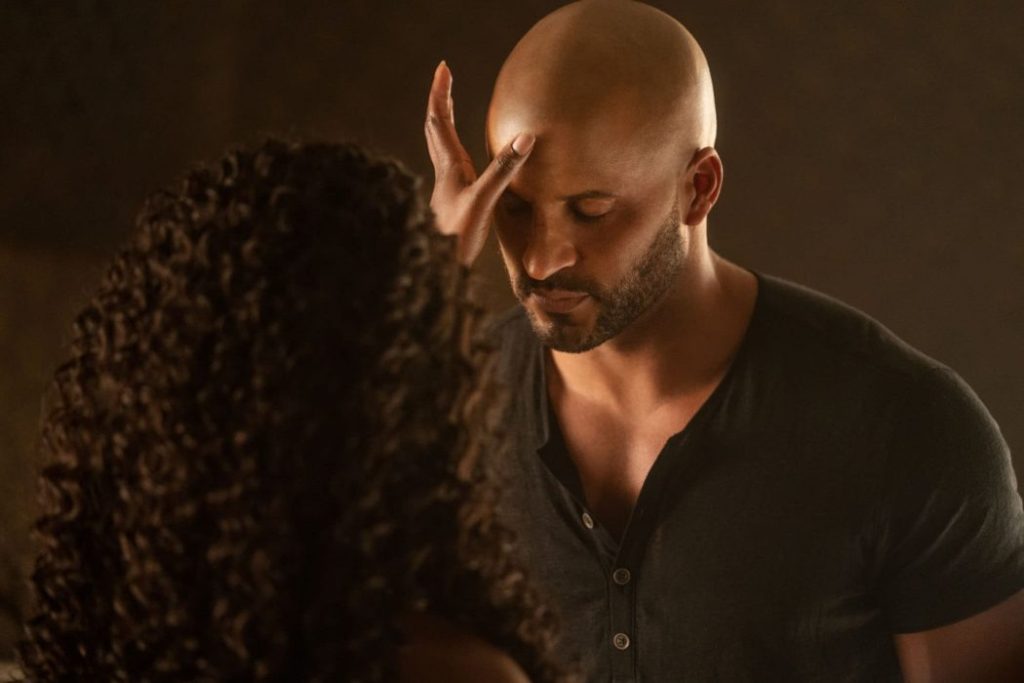 Neil Gaiman Thanked The Network
Despite the problems American Gods Season 2 faced during filming, Neil thanked the streaming network and his previous showrunner for bringing this series. He said: "Thank you to Amazon and Fremantle Starz for having faith in the series, to Bryan, Jesse, and Micheal for bringing it this far. And to all the cast and crew, and especially to the viewers. It's their love that took us to this point and will take us on to the next chapter."
American Gods Season 3: Casts Joining
Chic Eglee teased that musician Marilyn Manson has joined the cast. Marilyn will play Johan Wengren's character in the first four episodes of the upcoming season. Neil also confirmed that veteran actress Blythe Danner would play Demeter (the Greek goddess of the harvest) character in the first four episodes as well. Chic said: "It's a rare privilege to be working with Ms. Blythe Danner, a dear friend, inspiration, and national treasure." Along with these, a vast list of celebrities has joined the upcoming season, along with the old faces.
Orlando Jones Unhappy For His Departure
Orlando Jones, who played Mr. Nancy won't return to season 3. Since his character didn't appear in the segment which is being portrayed in the upcoming series. Jones was unhappy with this decision. According to him, it's "spiteful and insanely hurtful." Further, he posted a video on his Twitter account claiming that Chic Eglee is giving the wrong message for black America.
When To Expect Next Season?
Amazon and Starz have yet to announce when American Gods Season 3 would premiere. However, it's likely to premiere this fall since filming wrapped up before the ongoing pandemic hits the production.
Will There Be Any Season 4?
Neil is so excited about working with Chic that he's hoping for American Gods Season 4. He wanted the streaming platform to greenlit the series for the fourth season as soon as possible, so they could start working on it "sooner, the better." Neil said: "What I'm hoping is it's less about how long it's going to take season three than take season 4 renewals once season three is underway so we can keep the writers' room on and get the scripts written."