Freeform hasn't renewed The Bold Type Season 5 yet. But, the network hinted that they would try their best to bring every voice in their series. One of the series actresses, Aisha Dee, recently spoke on social discrimination issues that, according to her The Bold Type Season 5, should be portrayed. However, the series writers already teased that they have some plans to resolve the puzzling ending of the previous season. The last season was somewhat ambiguous around its three main character's life. That leaves the door huge open for its fifth season to cover. However, fans have to wait a while for its official announcement.
The Bold Type, created by Sarah Watson, is a comedy-drama series on Freeform. The series is inspired by Joanna Coles, former editor-in-chief of Cosmopolitan magazine. It follows three women Jane Sloan (Katie Stevens), Sutton Brady-Hunter (Meghann Fahy), and Kat Edison (Aisha Dee). The trio works in a fictional global magazine named Scarlet lead by Jacqueline Carlyle (Melora Hardin) editor-in-chief. In which Jane works as a writer who finds her talent after working as an assistant. Sutton secures a place in fashion assistant position under department head Oliver Grayson (Stephen Conard Moore). Kat works as a social media director in Scarlet magazine.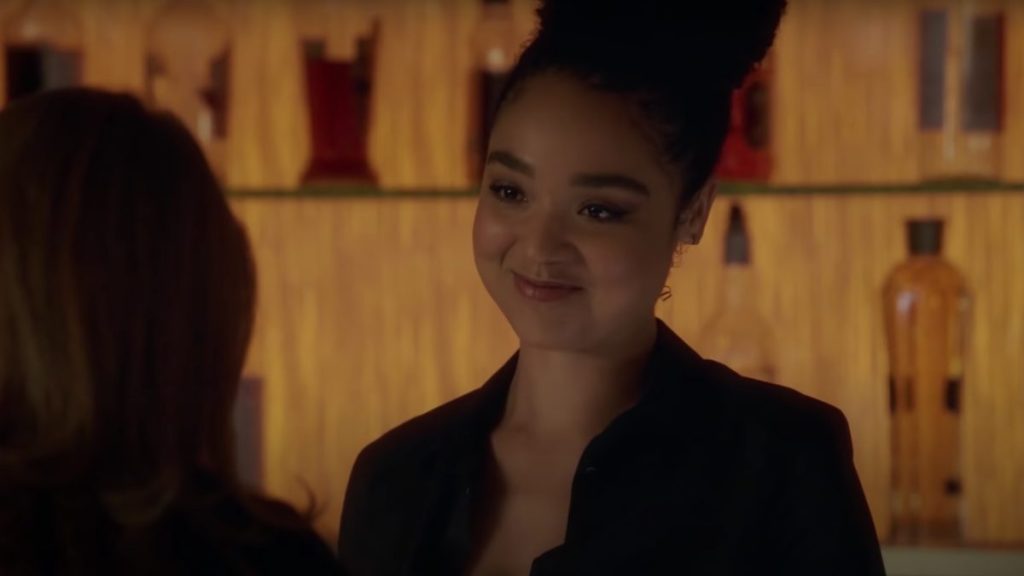 The Bold Type Season 4 was cut short due to the global pandemic. In which, the last episode or can say the finale left a big cliffhanger ending with a lot of drama yet to cover. The finale experienced things happening around Kat and Eva Rhodes' (Alex Paxton-Beesley) life. After losing her job in the Scarlet, she started working as a bartender at the Bell. However, being ambitious, she started her podcast, and Eva was her first customer to participate. Later, sexual tension started rising between them, which took a new turn in Kat's life. Now let's see what happens next?
Showrunner Spoke About The Bold Type Season 5 Possibilities
In an interview, the showrunner, Wendy Straker, explained that they have planning to perform things differently in the next season. Now, they have an opportunity to resolve every story arc of their characters, especially Kat and Sutton, in a different way. Since they have some unfinished stories to be done with. Also, everything around them is completely messed up. But, it's the best time to narrate all the possible events that they haven't portrayed yet.
Wendy said: "We just had so many unfinished stories. So, I guess on some level. It became a big cliffhanger. This sort of moment, at least for Kat and Sutton (is a tough time). And then, you were going to have an opportunity to process that and adjust to it and then move in a different (direction). And we didn't get that opportunity."
However, the network hasn't renewed The Bold Type Season 5 yet. But, Wendy said they need to discuss it with the network, since they require more episodes to explain their storyline. She said: "Should we get the fifth season? And I think we're all just going to sit down and have a lot of real conversations. And figure out if we want to make changes to certain storylines. I think it's going to be interesting."
Aisha Dee Asked For Changes In The Bold Type Season 5
Aisha Dee's recent Instagram post left a powerful impact on Freeform and Universal Television. In her post, she stated that she wants queer and people of color in the writer's panel. So they can write dialogues that can portray their character well. She said that the diversity that the audience sees on the screen needs to be reflected in their creative team as well. Further, she stated it shouldn't be a one-person responsibility to portray the entire Black experience.
Regarding her post, the network partner Freeform and Universal Television responded that they appreciate Aisha's word, and also to raise her voice on such a sensitive issue. They will try their best to represent their story more authentically for other chapters. Thus, it means the network is willing to return with some changes in the fifth season.
They said: "We appreciate Aisha for raising her hand and starting conversations around these vital issues. We look forward to proceeding that dialogue and executing positive change. Our aim on The Bold Type is and has always been to tell authentic, entertaining stories. That represents the world that Jane, Sutton, and Kat live in-we can only do that if we listen."