Showrunner and production house announced that Money Heist Season 5 is on the horizon. However, Netflix hasn't officially spoken about its renewal yet. Lately, the series has broken all the records on Netflix. The fourth season gained 65 million views and also held its position in the top 10 in many countries apart from Spain. The series' cliffhanger ending left everyone wondering whether The Professor would return, or his game is over now. However, the future of the series isn't sure. But, to elevate the curiosity of the fans, the creator and actors teased some production details. 
Money Heist, created by Alex Pina, is a heist crime drama series on Netflix. The series follows the Professor's (Alvaro Morte) two well-planned heist on the Royal Mint of Spain and other on the Bank of Spain. To perform the grand heist, the Professor recruits a troop of eight people, who select cities for code-names to bring out the earnest plan. It involves entering a famous place and escaping with 2.4 billion euro. However, the group stays there for eleven days for printing money as planned after taking 67 people hostage inside that place. In which the elite police officers help them to rob that place.
Money Heist Season 5: All Set To Resume Filming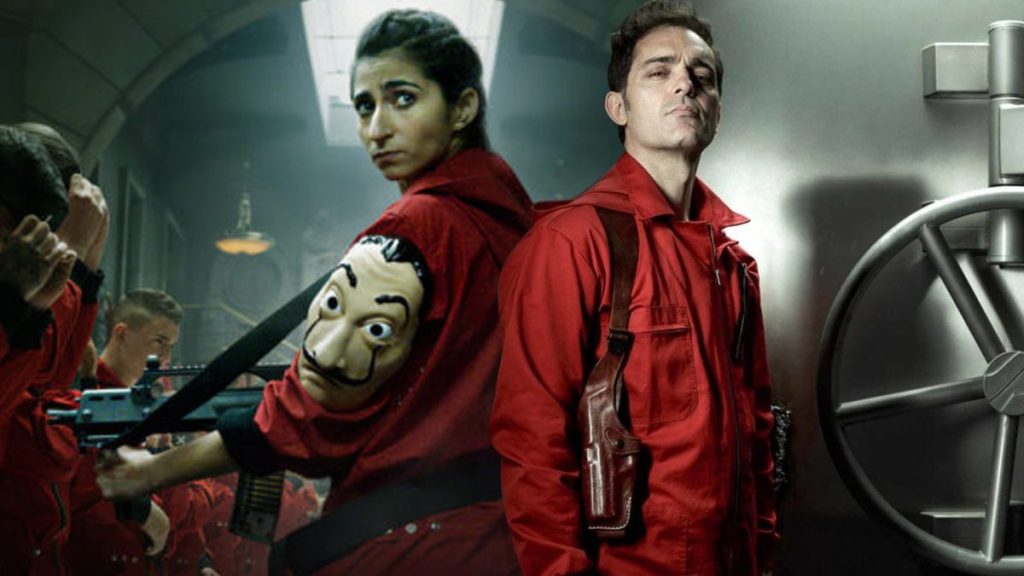 Although Netflix hasn't officially renewed the series for its fifth run, the series writers and showrunner confirmed their plans for the fifth season. In October 2019, Money Heist Season 5 had already begun pre-production according to some Spanish sources. However, in December 2019, showrunner Alex Pina said he's unsure whether the fifth season is on its way. But, after juggling the fifth season details f inally, a few actors revealed that they couldn't believe they are shooting for its fifth run.
In May, Deadline reported that Spanish Film Commission had announced that filming would be permitted to resume from May 11, 2020. However, the resume in production wasn't at a faster pace than expected. Since the pandemic left a massive impact on Spain, likewise in other countries. So it is hard to restart production while cases were high.
Alex Pina Confirmed Their Filming Plans
Early in July, Alex Pina shared a snap on Instagram with his dog and a laptop. In the picture, it was visible that Alex was at Vancouver Media's (the production house behind the series). In the post, Alex shared that he's working on the script of the fifth season. That reads: "Writing La Casa de Papel 5 (Spanish name of Money Heist)." However, to date, nobody knows when Netflix would renew the series. But, it's pretty clear that things would be in Alex's favor.  
Alvaro Morte Returns To Set
Recently, Alvaro Morte, famous as The Professor, announced through his Instagram post that he is returning to film Money Heist Season 5. In his post, Alvaro is spotted with a face mask, standing behind the monitor. The picture revealing the studio, location, and stage details. He captioned the post as: "I'm back. The Professor is back". Though the previous season finale ends at a complex note, where the Professor was at gunpoint. Now the question is how they would portray that scene after the coronavirus outbreak.
Pedro Alonso Teased He Groomed To Resume Filming
In July, Pedro Alonso, famous as Berlin, teased that he is set to resume filming for Money Heist Season 5. He stated that soon he would be back doing what he loves, that is, playing Berlin. Further, he revealed that he tried different clothes and trimmed his hair to return on set. There he saw everyone was wearing the mask. But, currently, he has no clue how they will film everything.
Pedro said: "I just had my hair cut, tried on clothes. They all wore masks. That, at times, seemed like the Pentagon. Or one of Spielberg about meetings in who knows what phase. The fact is that soon I will be him again. It's called Berlin, and it's pure love. Sometimes!"