It's Okay To Not Be Okay Season 2: Originally a TvN show, It's Okay To Not Be Okay released on Netflix this year in June 2020. After the first season ended in 2020, fans have been looking forward to It's Okay To Not Be Okay Season 2. Starring Seo Ye-Ji and Kim Soo-Hyun, the show has become quite popular in South Korea and all other countries.
The show follows Moon Gang-tae, who lives with his brother Moon Sang-tae who is autistic. The duo moves from town to town ever since Sang-tae saw their mothers' murder. As they start living in another new city, Gang- Tae takes up a job as a caretaker in a psychiatric ward. When working in the hospital, Gang- Tae meets Ko Moon-young, a famous children's book writer. 
As the story moves forward, Gang-tae goes on to work at Okay Psychiatric Hospital in Seongjin City. It is the same city where all of them lived when all of them were young. In the meantime, Ko Moon-Young becomes romantically obsessed with Moon Gang-Tae after knowing that their pasts are overlapped. She goes after him to Seong-jin, where the three of them start healing their emotional wounds. The show was indeed a big success. Will we get more of it? Would It's Okay To Never Be Okay Season 2 happen? Here is all we know
It's Okay To Not Be okay Season 2 Is Possible
The first season of It's Okay To Not Be Okay indeed looked like the happy ending. However, would that be the end of the show? Perhaps not. The final episode of the first season did leave a door open for a number of possibilities for It's Okay To Not Be Okay Season 2.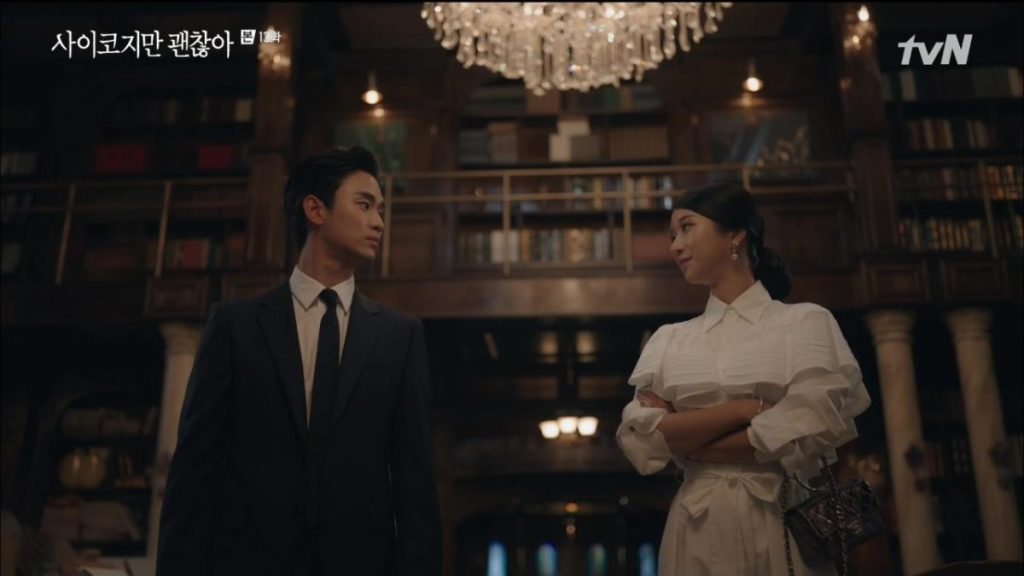 Fans who have already watched the show would remember that Ko Moon-young went on to see her mother after her arrest. This visit did give her a closure she had been longing for a long time. However, things just don't end there. Her evil mother warns Yeong that she would never be able to get over her past. Young's mother is in prison, indeed. If It's Okay To Not Be Okay Season 2 happens, the creators can find a way to unleash the mothers' evil thirst for revenge against Yeong's prince charming. 
Another storyline that we think that the second season of the Korean drama could pursue is bringing back the trio. In the first season, the moon brothers went on to their separate ways. Moon Gang Tae decided to go on the road trip with Ko Mun Yeong. Moon Sang Tae decided to be a full-time illustrator.
In the emotional conversation that happened between the Moon brothers, Moon-young tries to stop Sang Tae. She tells him that she would need him to illustrate her stories. While it might be just another thing, Moon-young to stop Sang Tae. With that said, the statement could also mean that she might write another story. This would bring the trio together. This time when they come back, Sang Tae might have more stories to tell, given the new experience they might have gained. 
Renewal Status And Release Date
While most Korean dramas are usually of only one season, fans have been hopeful that we will get It's Okay To Not Be Okay Season 2. As for the official renewal status, the show has neither been renewed nor canceled. It has been only a few months since the first season of the show released, so we can expect to hear some official confirmation about the show. Given that there is a lot of stories that can be explored in the next season, we can still be hopeful. We will keep updating this space with all the new information as we get it. So, you stay tuned. In the meantime, tell us if you do want an It's Okay To Not Be Okay Season 2 in the comments below?