No time left to uncover the biggest history of all time as Vikings Season 6 Part 2 would soon return to History. But, sadly, it will be the last season of the show. However, many fans are still curious to know what happens with their central characters. Well, Vikings Season 6 has ended on a brutal note where Ivar the Boneless stabbed Bjorn Ironside. But, fans are looking for Bjorn's return. Apart from that, the creator announced his new historic miniseries that will continue the relationship with the History Channel.
Further, before Katheryn Winnick's Lagertha killed off, she decided to direct an episode. Let see what challenges she had to face to shoot it. Furthermore, in the last season, King Harald (Peter Franzén) was severely injured, just before he believed to become the King of Norway. Meanwhile, everyone believes that Ubbe (Jordan Patrick) would find Floki when he discovered the new land where he's heading to. But will he? Let's see!
Which Episode Lagertha actress Katheryn Winnick Directed?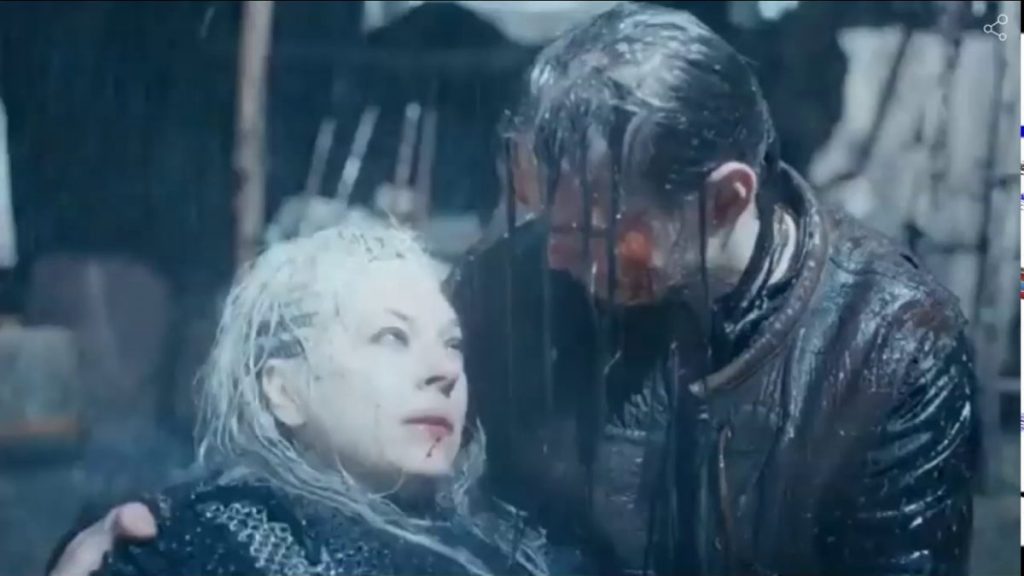 Katheryn played Lagertha, wife of Ragnar Lothbrok (Travis Fimmel), a Vikings legend. Unfortunately, Ragnar's son Hvitserk (Marco Ilsø) accidentally killed Lagertha in Vikings Season 6 Part 1. When Hvitserk thought Lagertha was with his foe, Ivar the Boneless (Alex Hogh Andersen). But fortunately, Katheryn came back to direct the eighth episode titled "Valhalla Can Wait."
Bjorn Ironside Punished His-Half Brother
In that episode, Bjorn Ironside (Alexander Ludwig) punished Hvitserk for killing their mother, Lagertha. Bjorn was ready to burn Hvitserk at stake. But, at the last minute, Bjorn decided to through him away from their realm. That later turned out Bjorn's worst decision as Hvitserk joined hands with Ivar and the Rus Vikings.
Katheryn Shared The Challenges She Faced In Filming
Speaking on the challenges, Katheryn said that burning Hvitserk was the most challenging scene. But, on the top, Bjorn's speech, also a challenge as she wanted to show it realistic. So, she wrote some lines for Bjorn to say at the crucial moment. However, Katheryn added that she also wanted to make the scene beautiful and mesmerizing. So, she introduced Gunnhild (Ragga Ragnars) to stand beside her man and finally found a chance to become a queen.
Creator Looking For Another Iconic History Story
Vikings creator Michael Hirst is looking to expand the historic franchise with another spin-off. Further, he will continue with History Channel and bring a new miniseries inspired by the ongoing pandemic. Well, who haven't guessed yet, Michael's new historic project would explore the bubonic plague that ruined England in the 17th century.
Michael's New Series Title Revealed
Michael is trying to take his fans back in time to experience the terror that people in the 17th century had faced. His new historic miniseries titled "The Plague Year" will delve into 1665 amid the surge of the worst-ever plague and set in London. In which, they'll focus on the people who relocated to flee from the health crisis. Further, it would explore how people survived in such a deadliest condition. However, Michael would restrict his role to executive producer only.
Vikings Season 6 Part 2: How Things Will Proceed?
Is Floki In North America?
In the last season, Ubbe traveled to Iceland with his wife Torvi (Georgia Hirst), searching for Floki. However, they were disappointed to know that Floki had already left the place before they can reach. But, the good part is Floki is alive probably. Ubbe star Smith revealed that whether he finds Floki or not, he would find a new tribe.
Vikings Season 6 Part 2: Release Date
Vikings Season 6 Part 2 will be the final outcome of the series. That is supposed to air on Amazon Prime and History in early 2021. Considering the cast and team members working on the upcoming season, we can expect that soon the channel would announce a tentative date for Vikings Season 6 Part 2.