Cobra Kai has never missed bringing back the 80s nostalgia, light-hearted humor, heartbreaking drama, and epic karate battle. After watching the third season finale, fans wondered what will happen next in Cobra Kai Season 4. Well, the wait for the next season will continue as the production is yet to start. However, you don't have to stress over it. As we have some good news for you. Let's see what the creator is cooking for us.
Cobra Kai follows Daniel LaRusso (Ralph Macchio) and Johnny Lawrence (William Zabka) present lifestyle. After combating in All-Valley Karate Championship, the two reconciled thirty-four years later. Their old-rivalry begins when they rekindle their love for the martial arts and decide to start their dojos classes. However, it opens a way for them to compete back with their children in the most traumatic way. Now, their kids are involved. Thus, things become messier every minute.
Cobra Kai Season 4: Has Filming Begin For The Next Season?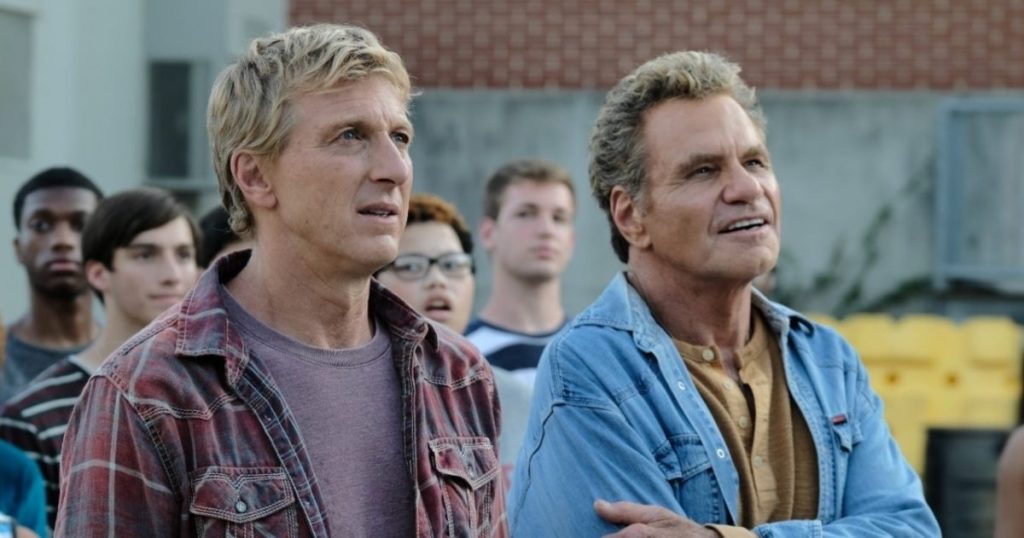 Fortunately, yes! In December, the writer and co-creator Jon Hurwitz revealed that they plan to begin production early next year. Further, co-creator Hayden Schlossberg has also confirmed that they are planning to start their production. As in early January, she shared that the entire cast and crew members are heading to Atlanta to begin filming for the fourth season. So it's more likely that they are currently in its pre-production.
Cobra Kai Season 4: Who Will Join The Team?
Well, there's no doubt that all your favorite characters from Cobra Kai, Eagle Fang, and Miyagi-Do will return to reprise their role. These include Ralph Macchio as Daniel LaRusso, Courtney Henggeler as Amanda LaRusso, and Mary Mouser as Samantha LaRusso. William Zabka as Johnny Lawrence will return with Xolo Maridueña as Miguel Diaz and Tanner Buchanan as Robby Keene.
Further, Jacob Bertrand as Hawk will return with Gianni DeCenzo as Demetri and Martin Kove as John Kreese. Along with them, Owen Morgan as Bert will return with Aedin Mincks as Mitch and Vanessa Rubio as Carmen. Peyton List as Tory Nichols will also return with Khalil Everage as Chris, Hannah Kepple as Moon, and Joe Seo as Kyler.
Will Karate Kid Characters Return?
In the last season, Tamlyn Tomita as Kumiko and Yuji Okumoto as Chozen returned to give a tribute to Karate Kid II. However, it's unclear whether the two characters would return in the fourth season as well. As the fourth season would explore the Karate Kid III storyline, then the chances are high that Thomas Ian Griffith as Terry Silver will return.
Cobra Kai Season 4: What Will Happen Next?
In the finale, Johnny and Daniel realized that they should work together to beat Kreese. Finally, they both have seen training their kids in Miyagi-Do, which indeed marks the new beginning. However, Johnny is unaware that Kresse will begin training his son, Robby. Well, Kresse is a clever man who soon discovers Robby's hard feelings for Daniel, Miguel, and Sam decided to take advantage of it. Apart from that, Kresse has further plan to take down the two with his old friend Terry Silver's help.
Cobra Kai Season 4: When Will It Release?
Recently, the creator Jon confirmed on Twitter that it would take roughly a year to land on our screen. Considering the current pandemic, which has been affecting the production across the board, it's better to say that Cobra Kai Season 4 would air sometime in 2022.