The showrunner Greg Nicotero has finally revealed the first look of Creepshow Season 3 ahead of its premiere, teasing a horrifying season. Based on George A. Romero and Stephen King's 1982 horror-comedy anthology, the series follows the anthology pattern exploring horror elements. However, fans waited for a long time for the second season, but the wait will be a bit less between both seasons 2 and 3. So now let's see what new horror elements it would explore in season 3.
Creepshow Season 3: First Look Unveils Ahead Of The Premiere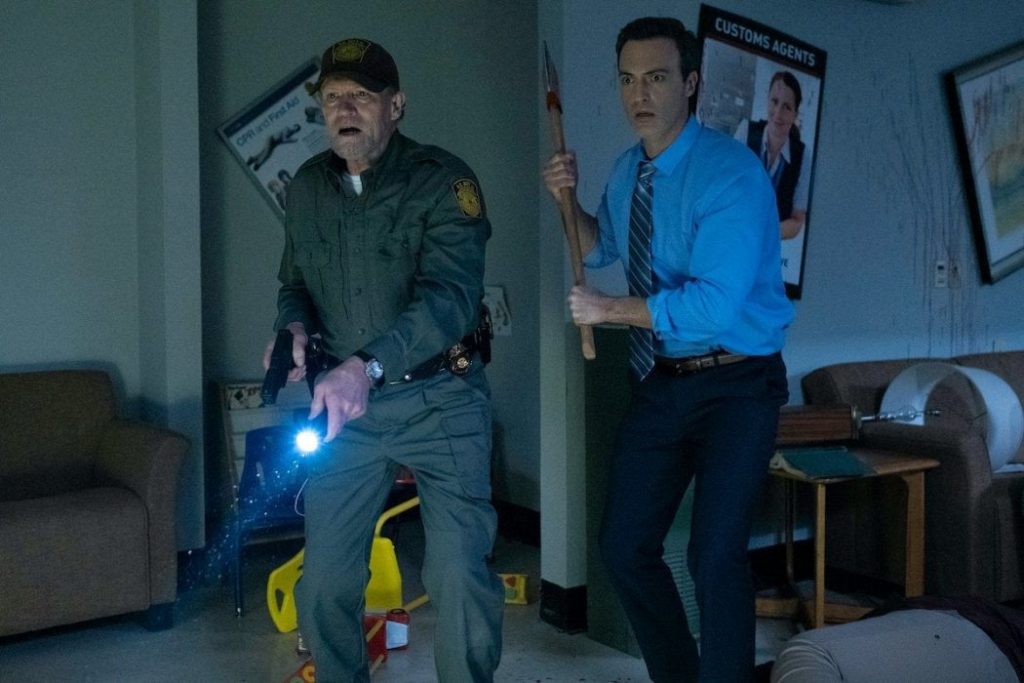 Although an official trailer for season 3 is yet to release, the series has recently dropped some of their images, teasing a daunting season ahead. As we can see, in the first episode stars Ethan Embry seems to try to find the missing puzzle pieces. Meanwhile, the second image of the third episode hints that Michael Rooker and Reid Scott are dealing with a dreadful situation.
The picture looks like someone broke into Scott's house, but the situation is not that straightforward as it seems. As it looks, Michael, a cop, is himself scared of what he saw. Meanwhile, it seems like a true horror is waiting at the end of the season. The final episode shows a thin corpse's hand emerging out of a gunny bag.
Creepshow Season 3: Who Will Be In The Cast?
Although the series is yet to announce the entire cast list of the third season, it's safe to say that Ethan Embry, Michael Rooker, and Reid Scott will be in season 3. Besides them, James Remar, Hannah Fierman, and Jonathan Schaech will also join. In addition, Andrew Bachelor, Malone Thomas as Beth, and Shaan Merchant will join them too. Further, Brandon Quinn as Wade will join Jade Fernandez as Geesa and Gina Hiraizumi as Dr. Mai Sato.
Kenny Alfonso as Mitch Duclon, Joe Ando-Hirsh as Bobby Tanaka, and Kamran Shaikh as Bob will also appear. The other cast includes Mai Delapa as a Mother, Abigail Dolan as Theresa, Cynthia Evans as Maria. Omer Mughal as Talking Head and Robert Stevens Wayne as a Client will also join them.
Creepshow Season 3: What To Expect From The Next Run?
Ahead of San Diego's Comic-Con@Home panel, the showrunner Greg Nicotero teased some thrilling updates which fans can expect from season 3. First, Greg revealed that the "Queen Bee" pilot episode is slightly like a Beyonce-type story. But, he added, what if she was controlling the singer whom these people admire greatly as she's an alien. As the official synopsis of this episode teases, a teen couple sneaks into a hospital to capture their favorite singer's newborn baby's photograph.
But, they end up getting more than they bargain. Greg continued that there's a skeleton episode starring James Remar, which is a movie-lovers bonanza. He even confirmed that an adaptation of Joe Hill's "Mums" will play a huge part in one of the episodes. Well, it seems that the third season would be more frightening and dramatic than ever in Creepshow's history.
Creepshow Season 3: When Will It Return?
At the Comic-Con@Home panel, Shudder confirmed that Creepshow Season 3 will air on Thursday, September 23, 2021. Season 3 will also be available on AMC+. All-new episodes will drop each Thursday till Halloween. Further, fans can expect an animated special Halloween episode. So don't miss it.