The Boys Season 3 has unveiled new behind-the-scene images which hint at the return of Antony Starr's Homelander after a brief period of isolation. Amazon Prime's superhero drama has recently been privileged with six Primetime Emmy nominations.
It follows a world where superheroes are worshiped. But a group of rebellious The Boys tries to show their true face to the people. But, it seems The Boys Season 3 would bring some changes when someone from The Boys joins the Supes team.
The Boys Season 3: BTS Teased Homelander In Action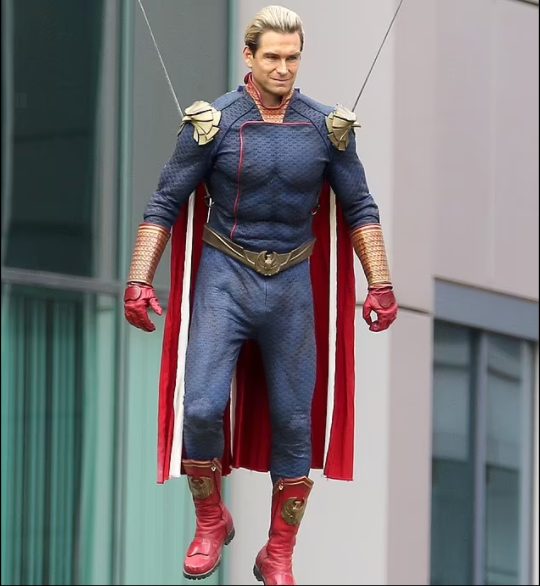 While filming on the third season is still underway in Toronto, The Daily Mail has recently shared some new behind-the-scenes images. The newly revealed pictures focus on Homelander's influence on people. As the crowd seems to gather for a rally or protest. Once again, Antony Starr appears in his Homelander costume attached to thin wires to pretend flying. Well, it remains unclear whether he is preparing to take off or just arrived at the location. Nevertheless, the supporters seem to protest for the safety of Americans. As the signs read "American Safety First" and "Keep America Safe."
The same situation occurred earlier in The Boys in an event put on by Vought International. However, it won't be the case here. The recent Seven On 7 video teased Vought could abandon Homelander for his past actions. So perhaps the civilians have gathered to support him. But, the signs they are carrying hint that the third season would focus more on political and social issues such as nationalism and immigration.
The Boys Season 3: Who Could Be In The Cast?
The series hasn't yet released an official statement. But it's safe to say that those who made it in the finale would return. Karl Urban as Billy Butcher will return with Jack Quaid as Hughie. Tomer Capon as Frenchie, Karen Fukuhara as Kimiko, and Laz Alonso as Mother's Milk will join too.
Besides, the Supes who survived in the finale will also return. These include Antony Starr as Homelander and Dominique McElligott as Queen Maeve. Erin Moriarty as Starlight, Jessie T. Usher as A-Train, Chance Crawford as The Deep, and Nathan Mitchell as Black Noir will also return.
Apart from them, Vought has brought five new Supes onboard. These include Jensen Ackles as Soldier Boy, Laurie Holden as Crimson Countess, and Miles Gaston Villanueva as Supersonic. Sean Patrick Flannery as Gunpowder and Nick Weschler as Blue Hawk will also join. We can also expect to see Giancarlo Esposito as Vought CEO Stan Edgar in multiple episodes. Supe-congresswoman Victoria Neuman (played by Claudia Doumit) will also return to a prominent role. But, Aya Cash's Stormfront fate remains in limbo.
The Boys Season 3: What Will Happen Next?
Amazon has launched a digital series called "Seven On 7" to bridge the gap between the two seasons. The first episode aired on July 7, which focused on Homelander's disappearance. Well, the finale battle hints that he would experience some tough times. Meanwhile, Hughie's new job might bring trouble to The Boys. But it seems he's unaware of his boss Victoria Neuman's motive.
In an interview, Eric Kripke said that season 3 would explore Neuman's motive. She's a corrupt politician who aims to run for presidentship. On the other hand, the return of Supersonic could affect Starlight and Hughie's relationship. In the recent episode, the fans outcry to see Starlight with her ex Supersonic. But it remains unclear whether it could happen. The star also teased that season 3 will be gruesome than ever.
The Boys Season 3: Release Date!
As of now, Amazon has yet to announce a tentative date for the third run. But, the streamer has ordered only seven episodes of its spinoff series Seven On 7. It hints the third season could air sooner than usual. So, it might air earlier in February 2022. Till then, stay tuned with us for more updates.