In the last few years, big changes have happened on TLC's popular show, Little People Big World. While Matt and Amy Roloff got divorced, they also started dating new people. In fact, Amy is already married to the love of her life, Chris Marek, after a stunning wedding on her ex-husband's farm. Well, after all the preparations and big arrangements, the entire Roloff family was pretty overwhelmed by the event. However, it seems like the recently-married couple skipped their honeymoon due to some reason. Here are more details about the same.
Little People Big World: Did Amy & Chris Not Go Anywhere For Their Honeymoon?
The grand ceremony of Amy tying knots with Chris was pretty exhausting for the entire family. A lot of things happened in a very brief period of time, and the bride and groom took a while to adjust to their new life. After their wedding, a lot of fans were curious about where the couple will go for their honeymoon. However, it looks like the couple skipped the trip altogether. This is because Amy hasn't uploaded any picture of her honeymoon yet. Besides, by her recent social media posts, the TLC celebrity seems to be in Oregon. A couple of days after the wedding, Amy was still on the Roloff farms as per a video on her Instagram.
Later on, she uploaded some cooking videos with Chris from the kitchen of the house they share. On the other hand, Amy also visited Jeremy and Audrey's house for their daughter Ember's birthday party. Grandma Mimi even uploaded a picture with the birthday girl. Even now, she keeps on uploading cooking videos from her house. Hence, there are chances that Amy and Chris had to skip their honeymoon. However, the reasons for the same are still not clear. But fans are speculating that it could be related to Chris's job as a realtor.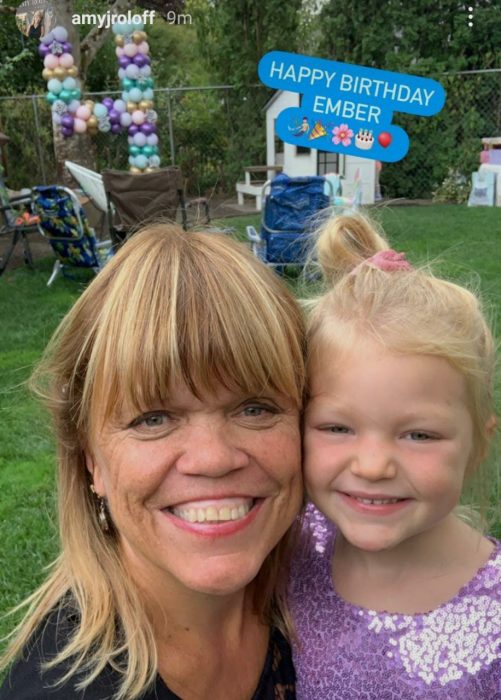 Little People Big World: Matt & Caryn On Another Vacation!
While the newlyweds are still waiting to go on their honeymoon, Matt Roloff and his girlfriend, Caryn Chandler, is going on multiple vacations. Well, on the day of Amy's wedding, her ex-husband had to leave his farm because Amy didn't invite him. Hence, Matt and Caryn went on a vacation and had a wildlife adventure on the Oregon coast. The two of them stayed in their friends' newly constructed home, and Matt even uploaded a video of the locati on that had elks around it.
The couple returned from their vacation soon after Amy and Chris tied the knots. However, only a few weeks after that, they are on another trip yet again. Caryn recently uploaded a picture on her Instagram, featuring Matt and their friends sitting on a boat. The four of them went on a trip to the Willamette River. Chandler added to the caption of her picture, "Perfect end to summer on the River." As of now, it's not clear when the couple will be back on the Roloff farms. However, fans think it's ironic that Matt and Caryn are going on multiple trips while the newlyweds probably skipped their honeymoon. What do you think about the same? Share your opinions in the comments below.