As per the looks, the Brown family seems to be going through some major problems in the last few months. A lot of Sister Wives fans are wondering whether the family is in a financial crisis or if there is a deeper meaning behind all the drama. Well, previously, Kody Brown's second wife had to leave her rental house and move into a mobile home. Not long after the same, Christine also put her $725K Flagstaff house for sale. Even though she hasn't moved out of the house yet, there are chances that Kody's third wife might be living with Janelle in her RV. So what's happening? Is the Brown family in need of money? Here are all the details.
Sister Wives: Is Christine Brown & Her Kids Living In Janelle's RV?
Fans were pretty shocked when the news of Janelle's rental house sale broke out. Everyone was worried as to where the TLC star and her kids would now live. However, she later confirmed getting an RV on rent for the next few months. Though the mobile home is massive, her followers don't think that it is the same as living in a house. Yet, Janelle seems to be having fun while enjoying being in the midst of wildlife and greenery. But, another shocking news has confused fans even more. The third spouse of Sister Wives patriarch Kody Brown is ready to sell her expensive Oregon house.
The massive Flagstaff property is on sale for around $725K, and even though it is still not booked, Christine might soon get a buyer. Until then, there are chances that she might have already started packing her stuff away. While there were rumors about her being in Utah, some recent speculations say she might be living with Janelle. This is because Janelle posted a picture with her last week. On top of that, another picture on the second wife's social media shows her daughter Savanah sitting with Christine's daughter, Truely. The two young girls were having a bonfire in front of Janelle's RV with other family members.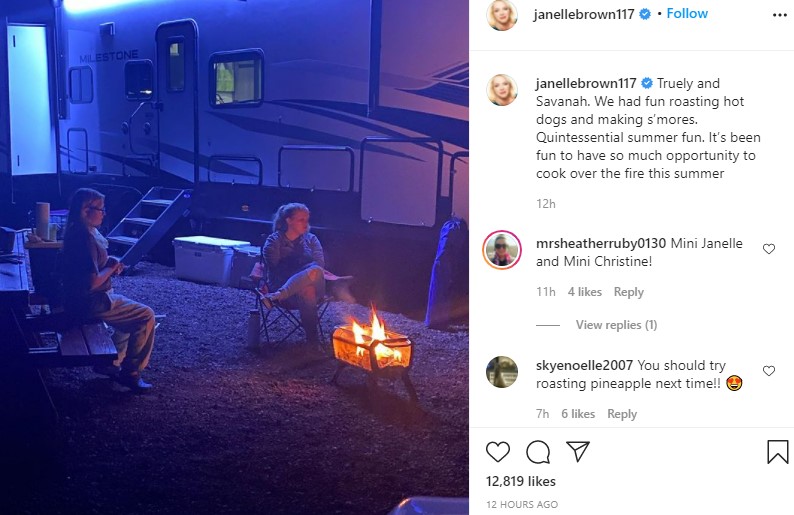 Well, since Christine's youngest daughter Truely is with Janelle, there are chances that Kody's third wife might also be there. However, it's still tough to say whether the two Sister Wives are living together or if it was just a short visit. However, we might soon find out where Christine plans to live once her house is finally sold. As of mid-September 2021, the price of her house was dropped by 3.4%, and the current selling price stands at $700,000. Stay tuned for future updates.
Sister Wives: Is The Brown Family Going Through Financial Crisis?
In the last few months, a lot of suspicious things have happened in the Brown family. Janelle Brown had to leave her rental home and move into an RV because she didn't have another place to go. Now, Christine is also selling her house and is desperate enough to decrease the selling price after a month. Aside from the two of them, Meri Brown doesn't seem to be living in Flagstaff either. As per her social media, Kody's first wife moved to Utah to run her late mother's heritage inn in May 2021. Hence, chances are that she might not be giving $4000 rent for her empty house in Flagstaff. Hence, only Robyn seems to be living in Flagstaff anymore.
However, both Robyn and Kody have entirely disappeared from social media. As of now, there are no recent reports about where these Sister Wives stars are and if they are still living in their $1M mansion in Flagstaff, Oregon. So, rumors say that the family might be facing a financial crisis which is why they are leaving their expensive houses in Flagstaff. On the other hand, other speculations suggest that the Brown family might be planning to build on their widespread Coyote Pass land. Hence, they could be selling their houses to start construction on the property. What do you think is the reason behind the same? Share your fan theories in the comment below.