Grey's Anatomy season 18 returns soon on ABC in few days after a tough season for Meredith. The show returns with brighter scenes after successfully portraying real-life pandemic situations in season 19. Meredith battled for her life while she lost her DeLuca. However, the EP Meg Marinis hinted at Meredith's possible new love interest in Greys's Anatomy Season 19. Here are all the details about the upcoming season.
Grey's Anatomy Season 18: EP Meg Marinis Teases Meredith Might Find Herself In A New Relationship
Recently, Meg Marinis teased a possibility of love finding Meredith in Grey's Anatomy Season 18 while talking with TV Line. She acknowledged that Meredith went through a lot in the last season. While battling with Covid, she just lost her love, DeLuca. Further, Meg shared that Meredith has just got out of Covid, and her career and family come first before anything else. So although she might not be actively looking for love, it might find Meredith eventually during season 18.   
In addition, Meg pointed out that although we saw Meredith and Hayes sharing a drink from a half-empty bottle of whiskey, an official drink is due in the next season. It will be exciting to see if Meredith gets along with Hayes, as he clearly looks to be into her. In the previous season, we saw Hayes making several visits to Meredith even though she was bedridden.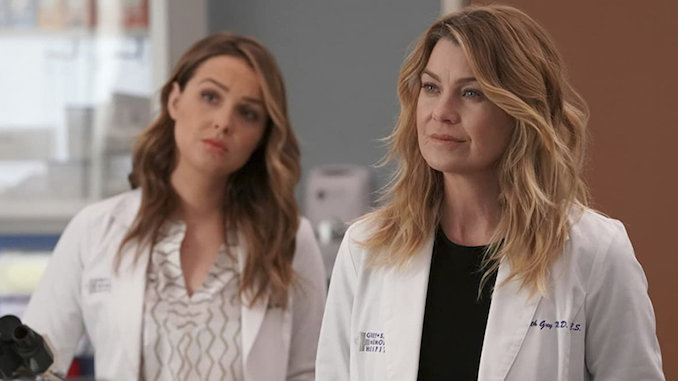 Grey's Anatomy Season 18: What Will Happen?
In the premiere episode titled "Here Comes The Sun," the city of Seattle will celebrate the city's rebirth post the pandemic at the Phoenix Fair. Meanwhile, the doctor of Grey Sloan will come across a patient wounded by illegal fireworks. Further, Dr. Bailey will be seen struggling to find an ideal recruit for a doctor's position. In addition, After getting engaged, Owen and teddy will look to take their relationship to the next level. 
In season 18, Meredith will be returning after being in bed and fighting COVID in the last season. Moreover, she also loses DeLuca to the pandemic while she battled helplessly. However, things seem to be brighter for Meredith in the upcoming season as she gets a chance to reconnect with a dynamic doctor, who happens to share a past with Meredith's mother. 
The recent trailer for Grey's Anatomy teases a Premiere Crossover Event between the show and its spin-off Station 19 season 5. The rig is stolen by someone, as the station 19 veterans try to control the situation by taking patients on foot to Grey Sloan. Further, there's a big explosion as chaos sets over. Additionally, Link and Ameli are still fighting after he proposed marriage last season. Amelia is still unsure about the wedding, but Link keeps bringing it up. In addition, we will also see Meredith reconnecting with someone from her past during the first episode.
Grey's Anatomy Season 18: Cast Details
The recent addition to Grey's Anatomy season 18 is Abigail Spenser, who will reprise her role as Dr. Megan Hunt. Earlier this month, Kate Walsh shared on Instagram that she will return as Dr. Addison Montgomery, who last appeared in the eighth season. The series main cast returning next season are Kim Raver, Camilla Luddington, Kevin McKidd, Ellen Pompeo, Chandra Wilson, and James Pickens Jr. Other stars reprising their characters in season 18 are Kate Burton and Peter Gallagher. 
Grey's Anatomy season 18: Release Date
The first episode of Gery's Anatomy season 18 will be a crossover with its spin-off series Station 19 season 5's premiere. Season 18 will release on September 30, 2021, at 9/8c on ABC. The series will also stream on Hulu. So, stay tuned for more updates.