It seems like Young-eun will receive a call from Jae-kook's mother in Now We Are Breaking Up Ep 9. With another storm heading their way, Jae-kook and Young-eun will have to face his mother. It turns out Jaae-kook is Soo-wan's real brother and their mother knows about Young-eun's relationship with Soo-wan. Thus, things might get complicated. So, continue reading to know all the details about the ninth episode.
Now We Are Breaking Up Ep 9 Preview: What Will Happen Next?
In the ninth episode, Young-eun will get a call from Jae-kook's mother. She would be surprised to hear from the mother of her current and former lover. It seems like Jae-kook's mother will confront Young-eun about her past with Soo-wan. Thus, Jae-kook and Young-eun's relationship will be put to a new test by the former's mother in the upcoming episode. Also, Yoo-jung will continue to make life worse for Young-eun.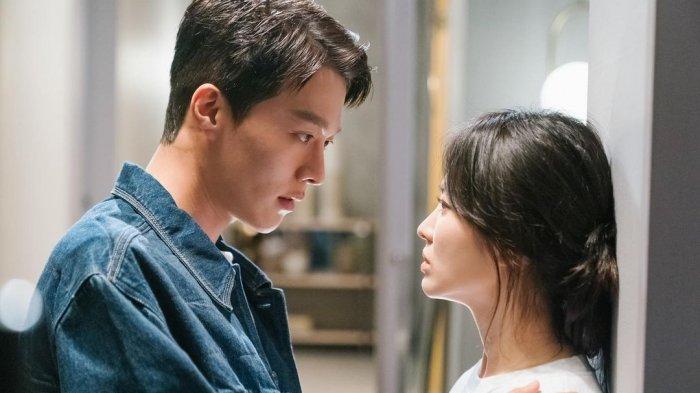 Moreover, Young-eun will try to be with her friend Mi-sook. She is still confused about going through chemotherapy. Mi-sook does not want her daughter to see her in a deteriorating state. However, Young-eun and Jae-kook will try to convince Mi-sook in Now We Are Breaking Up Ep 9.
A Quick Recap (Ep 7&8)!
In the seventh episode of Now We Are Breaking Up, Ha Young Eun was surprised to find that Soo-won was engaged while he was in a relationship with her. Shin Joo Yung called her from Soo-wan's phone. She told Young-eun that Soo-wan talked about meeting a woman before he was killed in a car accident. Yoo-jung also told Young-eun that she was engaged to Soo-wan. Young-eun was shocked to know that Soo-wan was cheating on Yoo-jung with her.
After realizing the truth, Young-eun came closer to Jae-kook. He stood by her side and also confronted Yoo-jung for calling her. His elder's brother ex-fiancee told Jae-kook that she was aware of his romance with Young-eun. She also threatened him by informing Jae-kook's mother about it. In response, Jae-kook called his mother, told her about Young-eun, and expressed his desire to meet. Jae-kook's mother was shocked that Young-eun was the same girl Soo-wan talked about. Meanwhile, Hwang Chi-sook began to develop feelings for PR Head Seok Do-hoon.
In the eighth episode, Jae-kook was happy to have Young-eun by her side and was ready to face any odds that came in their way. He also met his friend Cedric, who sold a photo that Jae-kook captured to Young-eun years ago. However, Yoo-jung was still upset with Jae-kook's behavior and decided to pull Young-eun's brand Sono from her department store. Young-eun reached out to Jae-kook, who came to her rescue. He set up a Young-eun with a renowned company in Paris.
Mi-Sook Ends Up In The Hospital
Moreover, Mi-sook was fed up with her life and decided to live for herself. So, she packed her stuff, confronted her husband, and decided to move out. But, she passed out in the bathroom. So, Young-eun headed to her house and took her straight to the hospital. Young-eun was really stressed out and left Jae-kook a voicemail about expressing her feelings. Soon after, Jae-kook showed up, and the two hugged in Now We Are Breaking Up Ep 8.
Now We Are Breaking Up Ep 9: Airing Date
The eighth episode of Now We Are Breaking Up will air on December 10, 2021. SBS TV airs two new episodes weekly on Fridays and Saturdays at 10:30 p.m. KST. In addition, viewers across the globe can stream the latest episodes on Rakuten Viki and Viu. Hence, don't miss out on an entertaining episode and keep returning for more informative updates.