It looks like the road will get tougher for Jae-kook and Young-eun in Now We Are Breaking Up Ep 12. Their mothers evidently do not like each other as they quarreled previously. Meanwhile, Young's history with Soo-wan affected Jae-kook's mother a lot. She does not want her in his other son's life. So, she threatened to kill herself. But, the threat will deeply impact their relationship in the next episode. Hence, keep reading to know all the necessary details about Ep 12.
Now We Are Breaking Up Ep 12 Precap: What Will Happen Next?
Jae-Kook will look to find the truth about Soo-wan's death in the next episode. He knows that Yoo-jung followed her brother when he passed away. However, Yoo-jung lied to him about what had really happened. Thus, he will continue to look for answers in Now We Are Breaking Up Ep 11.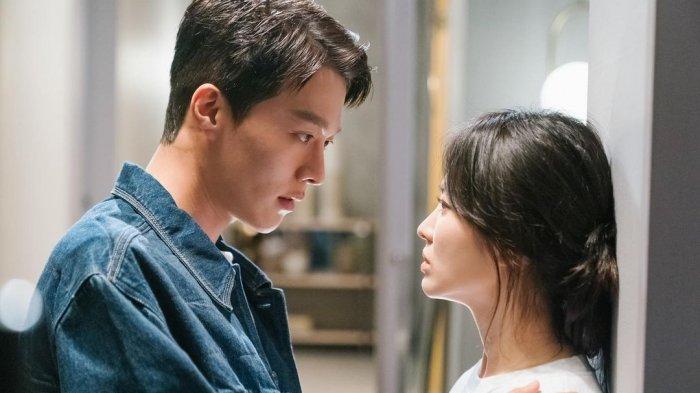 Meanwhile, Young-eun will deal with the stress of their relationship, the conflicts between the families, and a dark future ahead altogether. Therefore, her doubts about their relationship would deepen in the next episode. Hye-ok played the suicide card, which would pressure Jae-kook and Young-eun.
A Quick Recap!
Young-eun asked several questions to Jae-kook in the previous episode. She asked peculiar questions about having limited time and breaking up. But Jae-kook assured her that they would stay together for a long time. In a flashback, Young-eun visited Jae-kook's mother Hye-ok. His mother threatened to kill herself if their relationship continued. However, Young-eun was not ready to see Jae-kook destroy himself with the guilt of losing his mother.
At the One's office, the rumors about CEO Hwang selling off the company spreads. Chi-sook went to see her father, to know what was going on. CEO Hwang denied it, but Chi-hyung could not believe it. Meanwhile, la Fayere, a multinational company, rejected Sono's initial designs. The incident made Na-ri and Sun-ju feel if La Fayere was worth the efforts they were making. 
Meanwhile, Jung-ja believed that that Taek-soo was having an affair and wanted to get a divorce. But, Young-eun's father refused as he was talking to Jae-kook and not with some other woman. Moreover, Young-eun and Jae-kook's lunch was ruined when Hye-ok and Jung-ja fought in the bathroom of the Hills. Both the mothers were frustrated and spoke bad things to each other while the kids tried to stop them. The duo split to take care of their mother when Jung-ja revealed to Young-eun about her father's affair.  
Further, Mi-sook asked Soo-ho to throw her a farewell party before she died. He comforted her and told her not to talk like she was already dead. Moreover, CEO Hwang talked to De-hoon about how things were with his daughter. De-hoon told him that he had gifted a book of poems to Chi-sook the same morning. He believed that she liked it. 
Young-eun And Chi-sook Visit Mi-sook
On her way to Mi-sook's, Chi-sook spotted Soo-ho having a secret meeting with Min-kyung. She asked for his help regarding work, but he refused. Chi-sook was reluctant to tell Mi-sook, but Young-eun stopped her. She was afraid that the truth would worsen Mi-sook's condition. Mi-sook gave some important advice to her friends.
Meanwhile, in Now We Are Breaking Up Ep 11, Jae-kook went to see Yoo-jung. He revealed that she followed Soo-wan the night he died. However, Yoo-jung lied that she knew Soo-wan was drunk, and she followed her for his safety. Yoo-jung took over Soo-wan's car as the two move parallel in a flashback. Eventually, a truck hits Soo-wan's car, and he dies. In the present, Chi-sook met with De-hoon. He expressed his feeling for her as the two came close to each other. 
Hye-ok Puts A Condition In Front Of Jae-kook!
Jae-kook went to see his mother, who had packed up Soo-wan's old stuff. She revealed that Jae-kook could continue her relationship with Young-eun. But, she insisted on taking their relationship forward when Hye-ok died. Jae-kook was shocked when she told that she had the same conversation with Young-eun.
Jae realized while Young was acting awkwardly and talking about breaking up. He gets really angry at his mother and leaves to see Young-eun. He found her and apologized to her while Young-eun thought their breakup would be special in Now We Are Breaking Up Ep 11.
Now We Are Breaking Up Ep 12: Airing Date
The upcoming episode has been delayed for a week. It was supposed to air on December 18. Thus, SBS will Now We Are Breaking Up Ep 12 on December 24, 2021. The network will continue airing two new episodes weekly on Saturdays and Sundays at 10:30 p.m. KST.
Where to Stream The Upcoming Episode Online?
International audiences can stream the latest episodes on Biu and the Rakuten Viki. So, don't miss the next episode and keep coming back for more thrilling episode previews about your preferred K-dramas.