Ha-Kyung will continue to grow closer to Si-Woo while dealing with Ki-Jun's presence in Forecasting Love And Weather Ep 3. After their last encounter, she will feel awkward around Si-Woo, while Ki-Jun will defy her direct orders in the upcoming episode. However, it feels like the beginning of something new between Si-Woo and Ha-Kyung. So, keep reading ahead to learn all the details about the third episode. 
Forecasting Love And Weather Ep 3 Preview: What Will Happen?
Si-Wo will continue to impress everyone with his skills in Forecasting Love And Weather Ep 3. However, Ha-Kyung might feel a little awkward around him after they slept together. Meanwhile, Ki-Jun will try to challenge Ha-Kyung's leadership by defying her order in the upcoming episode. Thus, everyone at the workplace will witness another fight between the ex-couples. However, Si-Woo continues to grow closer to Ha-Kyung as he takes care of her when she gets wet in the rain. 
Moreover, they will go out together for dinner. However, Ha-Kyung will find someone known and will try to sneak out without getting noticed. Also, he will ask Ha-Kyung if she has feelings for him in Forecasting Love And Weather Ep 3.
A Quick Recap!
In the previous episode, Ha-Kyung met two new employees that had been assigned to her team at the headquarters. Si-woo was transferred for a two-week assignment while Donh-Han was assigned as the supervisor. Ha-Kyung tried to act professionally despite feeling uncomfortable about the changes in her team. Moreover, she had to deal with another frustrating situation when Ki-Jun's transfer was canceled. The news meant he would be staying at the headquarters, and Ha-Kyung would have no choice but to work with him. 
Further, in Forecasting Love And Weather Ep 2, everyone at the headquarters was gossiping about Ki-Jun and Ha-Kyung's broken relationship. She was not bothered by the gossip until Ki-Jun approached her and began making shameless demands. He took some appliances from the apartment at first. Next, he asked for his share of the apartment's sale. Ha-Kyung tried to reason with him, but Ki-Jun was hell-bent on receiving his share. After a few days, Ki-Jun brought the appliances back to the apartment. Ha-Kyung took the pictures of the appliances and put them up for sale.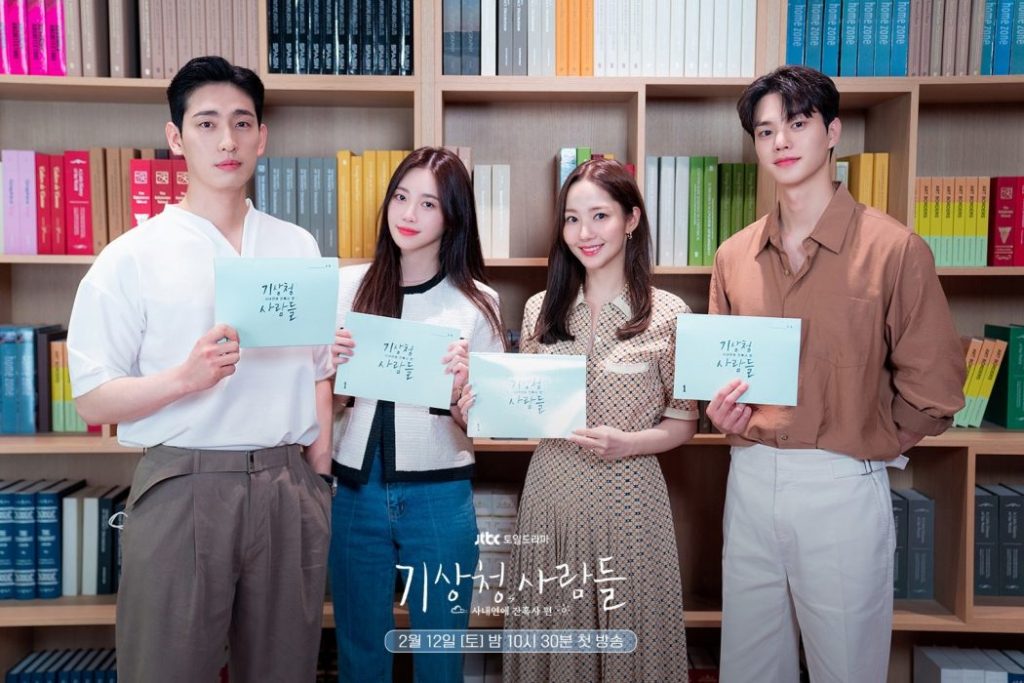 Elsewhere, Ha-Kyung and Si-Woo worked together to identify the reason behind rapid changes in the weather in the summer season. Ha-Kyung was amazed by Si-Woo's sense as the duo began to grow closer to each other. Meanwhile, Ha-Kyung lost her calm when Ki-Jun tried to take the apartment for himself. She stood up to him while everyone at the headquarters noticed the differences between the two. He also tried to get Ha-Kyun to leave for a bigger opportunity in Switzerland.
But, Ha-Kyung just became the director, and she had no plans on leaving for now. However, the problems with Ki-Jun brought Ha-Kyung closer to Si-Woo. After a couple of drinks, Si-Woo and Ha-Kyung passed out in the same bed. Ha-Kyung suggested that they forget about it, but Si-Woo felt otherwise in Forecasting Love And Weather Ep 2. 
Forecasting Love and Weather Ep 3: Airing Date
JTBC will air Forecasting Love And Weather Ep 3 on February 19, 2022. The network broadcasts two new episodes weekly on Saturdays and Sundays at 10:30 p.m. KST. 
Where To Stream The Third Episode Online?
Viewers across the globe can stream the latest episodes on Netflix. So, don't miss out on the third episode and keep coming back for more exciting episode previews only on TechRadar247.com.