It seems like the TAC team will be dealing with some personal conflicts while handling a case in Bull Season 6 Episode 16. Bull will take up his ex-girlfriend's case, and his wife, Izzy, will not like it at all. Then Chuck will get a huge surprise when he defends Bull's ex in court. Moreover, Marissa will confront Henri after discovering that he is married. So, keep reading to learn all the updates about episode 16.
Bull Season 6 Episode 16 Precap: What Will Happen?
The sixteenth episode of Bull Season 6 is titled "The Diana Affair." Bull will lead his team to prepare a defense for his ex-girlfriend. The decision will cause some tensions between him and Izzy as she is his wife. The TAC team will be stormed by personal conflicts when Chuck finds himself defending Diana against his boyfriend and prosecutor, Robert. Moreover, Marissa might confront her new boyfriend Henri about his marriage in Bull Season 6 Episode 16.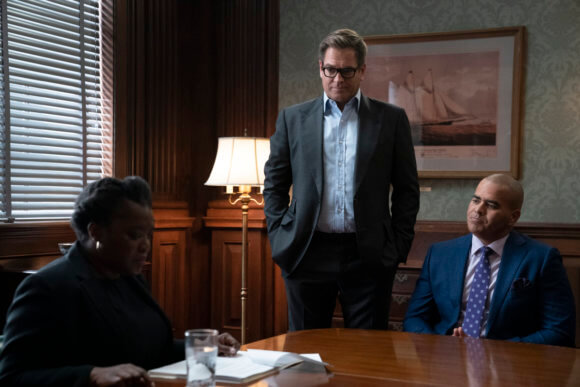 A Quick Recap!
In the previous episode, Bull's surgeon Dr. Adrienne was sued for malpractice by her late patient's daughter. She blamed Adrienne for her mother's death. Adrienne did not want to settle, and the hospital hired a famous medical malpractice lawyer named Bryan Vincent. Adrienne asked Bull to become a consultant in her case, and he agreed.
Elsewhere, in Bull Season 6 Episode 15, Vincent did a great job choosing the jury and making them like him. He tried to convince the jury that the surgery was the patient's choice. However, the prosecutor called in a nurse on the stand. The nurse claimed that Adrienne's hands trembled during the surgery. Vincent thought the case could not be won and asked Adrienne to settle.
Meanwhile, Bull had a different mindset about the case. He believed in Adrienne and replaced Vincent with Chuck as her lawyer. He also found that Adrienne's hands were really trembling. She told him that it happened due to stress and the pandemic. However, she swore that her hands did not share during the surgery. The medical report also suggested that she was perfectly fine.
Further, Bull and his team looked into the nurse's background. She turned out to be a serial killer who killed lonely patients. Bull, Vincent, and Chuck somehow managed to make the nurse confess her wrongdoings. The patient's daughter revoked the malpractice suit and asked Bull to help her build a case against the nurse for NYPD. Moreover, Taylor looked into Marissa's new boyfriend and found out that Henri was already married, shocking Marissa in Bull Season 6 Episode 15.
Bull Season 6 Episode 16: Airing Date
CBS will air Bull Season 6 Episode 16 on April 7, 2022. The network broadcasts a new episode weekly on Thursdays at 10:00 p.m. ET. And each episode of season 6 will have an estimated runtime of around 45 minutes.
Where To Stream The Latest Episode Online?
If you miss CBS's broadcast, you can stream the upcoming episode on the network's website and Paramount+. Moreover, the current season is available to stream on Fubo TV, DirecTV, Hulu+Live, YouTube TV, and Xfinity. So, don't miss out on episode 16 and keep returning for more thrilling episode previews only on TechRadar247.com.