It seems like Patty and her old ally will go after Fallon and her newly acquired venture in Dynasty Season 5 Episode 7. Blake will call a family meeting and make a huge revelation confusing everyone. He will get suspicious of Daniel and Sam. Moreover, Hendricks and Cristal will find themselves in a tricky situation. So, continue reading to know about the seventh episode.
Dynasty Season 5 Episode 7 Preview: What Will Happen?
The seventh episode of Dynasty Season 5 is titled "A Real Actress Could Do It." Blake will call a family meeting after discovering Beto's plan of sending Cristal's doppelganger Rita to hurt the family. However, the whole family would be confused after knowing the truth. Fallon will feel quite positive about her new venture. However, she might get a little stressed when Jeff delivers disappointing news. It looks like a Patty and her ally would pull off something threatening against Fallon.
Further, Blake will get suspicious of Daniel and Sam. He will begin to see things differently, thinking they might have been involved in Beto's plan. Moreover, Cristal and Hendricks will end up in a compromising situation. They will have to do everything they can to get themselves out of the jam. Kirby will continue looking for modeling gigs as she works hard to rejuvenate her career.
A Quick Recap!
of Dynasty was titled "Devoting All of Her Energy to Hate." In the previous episode, Fallon and Jeff brainstormed a tactic. They tried very hard to regain control of Morell Green Energy. They tried to brew a scandal by exposing the current owners to greenwashing. Patty and her oil baron father, Peter de Vibes, owned the company.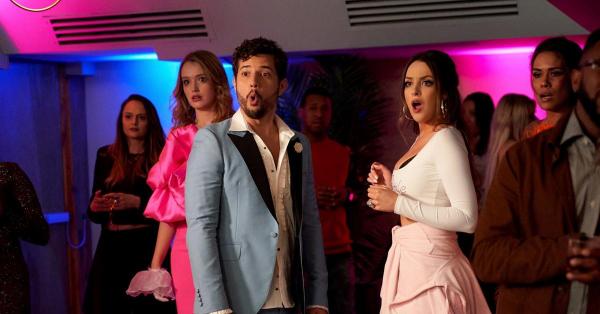 Meanwhile, in Dynasty Season 5 Episode 6, Blake grew more and more suspicious of Beto. He ended up finding Beto's hiding spot. Blake discovered that Beto sent Rita as his wife, Cristal. He was shocked to see Rita and Cristal fighting. Blake intervened and tried to find who among them was real Cristal. Blake also informed the police and got Rita arrested. He also dealt with Beto by pulling off a con of his own.
Further, Sam found out about Cristal's troubled past in Caracas and decided to accept him. Amanda pretended to be Kirby's date so she could help the latter reconnect with a modeling agency. Culhane and Nina had another conflict. However, they ended up finalizing a shoot date for Liam's film. Moreover, Patty contacted one of her old allies. She was focused on destroying Fallon and her business in Dynasty Season 5 Episode 6.
Dynasty Season 5 Episode 7: Airing Date
The CW will air Dynasty Season 5 Episode 7 on April 8, 2022. The network broadcasts a new episode weekly on Fridays at 9:00 p.m. ET. And the current season is expected to feature a total of 22 episodes.
Where To Stream The Seventh Episode Online?
If you miss the latest episode on the CW, you can stream it on the network's website and the CW app. Moreover, the fifth season is available to stream on Fubo TV. So, don't forget to watch the seventh episode and keep coming back for more thrilling episode previews only on TechRadar247.com.