Flat Earth, Illuminati, Aliens running this world, even though they sound like wacky conspiracy theories. But they sure do make a great premise for Netflix's hilarious animated series Inside Job. The first season of the show premiered last year. And as Inside Job Season 2 has been confirmed, let's discuss what we know about it.
Developed by Shion Takeuchi, Netflix Inside job is an adult animated science fiction drama series. The series revolves around Regan Ridley, who works at a secret organization called Congnito Inc, which secretly controls the world. Surrounded by weirdos, Regan is trying to climb up to the top of the ladder. 
Is Inside Job Season 2 Coming?
The first season of the hilarious animated drama series premiered on October 22, 2021. Now talking about the future of the series, Netflix officially confirmed Inside Job Season 2 in June 2022. However, fans do not need to worry, as we know Netflix initially ordered the show for twenty episodes. And the first season consisted of only ten episodes. So, the next season of the Inside Job is almost guaranteed on Netflix.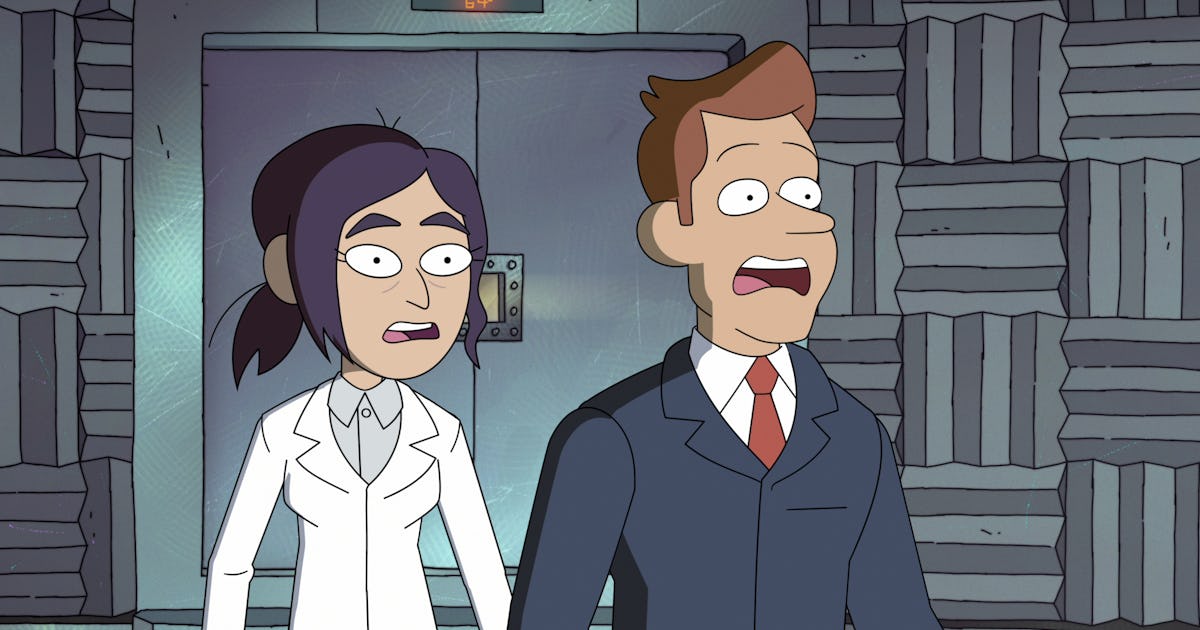 Talking about the show's second season, creator Shion Takeuchi stated, "I wish that I could explore all the different side characters and the different departments that we didn't get to see. You know, in shorter orders, it's like you got ten and you got eight. Like, you have to really pick and choose what you're gonna put on screen."
What Will Happen In Inside Job Season 2?
The first season of Inside Job ended with a surprising revelation. We discovered that Reagan Ridley's father, Rand Ridley, had altered her thoughts in order for her to concentrate on carrying on his legacy in Cognito. After Reagan confronts her father, there is a disturbance that results in Reagan being fired from the firm. As the main shareholder, Rand ultimately assumes the role of CEO.
The cliffhanger from The Inside Job's first season opens up several avenues for season 2. Reagan, being the ambitious intellect that she is, will undoubtedly find a method to overthrow her father's government. Moreover, she can free herself from the constraints of corporate succession. And alter the course of the earth. Additionally, if new individuals are added in Inside Job season 2, she could develop greater relationship navigating skills.
Who Is The Funniest Character On The Show?
On Inside Job, the hilarious comic Bobby Lee portrays Dr. Andre, a rambunctious researcher who indulges in potent experimental drugs to support Cognito's pharmaceutical dominance. The most careless individual in a position of great responsibility. Dr. Andre is a wild cannon who makes for unending entertainment. He's either getting STDs from an orgy, consuming a lot of unidentified drugs, or hanging out with the mystical fungus Myk, who has hive-minded tendencies. One of the most entertaining cast members plays the role of Dr. Andre, one of the funniest characters.
Why Do Fans Love Brett Hand?
Initially, Brett Hand was portrayed as a superficial yes-man who meddled with Reagan's goals. But throughout the rest of the season, he progressively demonstrates that he is an exceedingly kind and endearing person. He always persuades Reagan to act morally since he has a strong moral compass. Reagan gradually warms to him because of his sincerity and goodness. Particularly after discovering his tragic history and how his family abandoned him. The most endearing character in Inside Job is Brett, who is compassionate and sincere.
Also Read Hard Cell Season 2: Will Netflix Renew The Show? What Are The Chances?