Our lady boss had a rough time last week. But it seems things will turn in her favor in Agency Ep 15. Her enemies score big wins, and both the leading ladies suffered a lot in the previous episode. While Hanna went through an emotional breakdown, Ah-in faced betrayal. However, it won't last long as Hanna has some plans, and it will ultimately help her win the situation. Fans are already rooting for her to come back. They even want to see how far she will go to use her power. Not to mention she has unfinished business with one of her nemeses. So the upcoming episode will eventually bring plenty of plot twists. Now without wasting time, let's see how things will unfold.
Agency Ep 15: What Will Happen Next?
In the closing moment, Hanna and Ah-in teamed up against Han-soo and Chang-soo, ultimately leading to a corporate war in Agency Ep 15. Well, Ah-in has already turned down the offer and sent her resignation to CEO Cho. But it seems like Hanna will secretly help her deal with the ad agency and regain her position. So they will, together with their unofficial team, work on the project to take down Han-soo and Chang-soo. Meanwhile, there's a chance that Young-woo will return. He's good in the strategizing department, which will ultimately help them in their project. As for Young-woo and Hanna, they will find a way to reunite.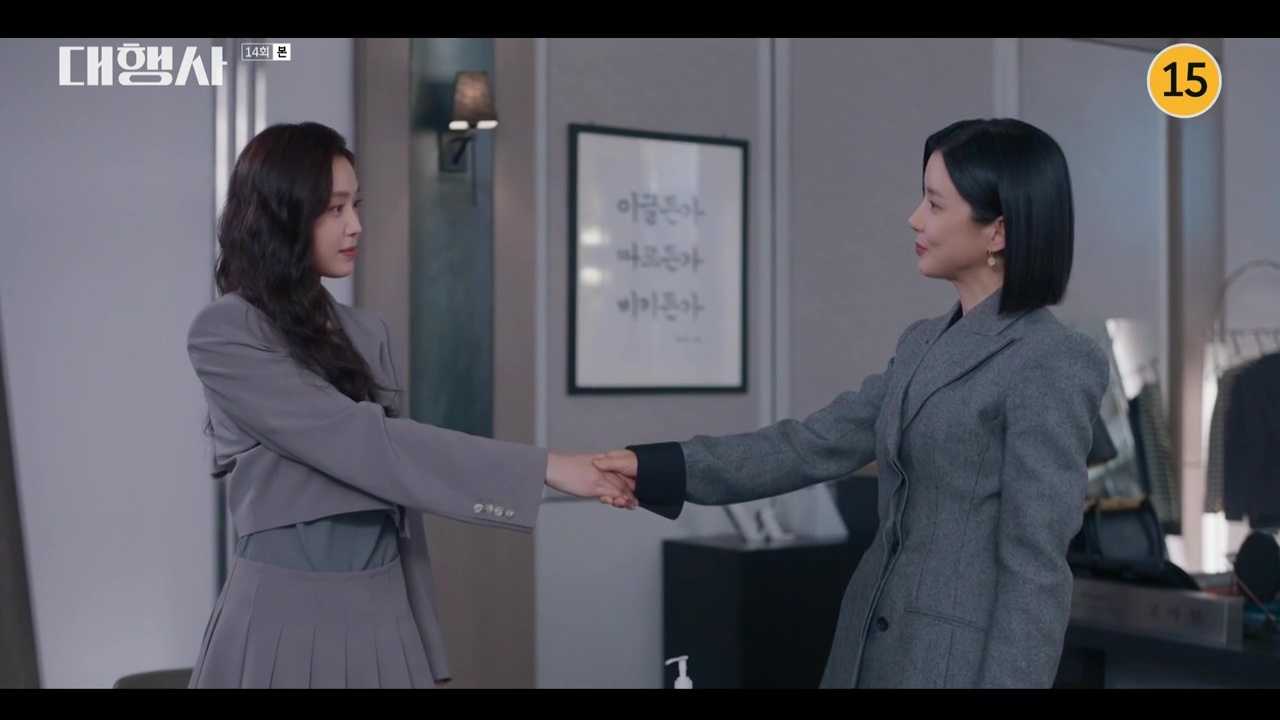 A Quick Recap!
Previously in Agency Ep 14, Hanna went on a blind date to pretend she was over Young-woo. However, her date went wrong, and this was what Han-soo was hoping. Han-soo then called Young-woo and offered him: company shares, millions in cash, and a subsidiary to run. All he had to do was date or marry Hanna. No doubt, this offer would support him and his mom. But he turned down the offer as he didn't want to spoil Hanna's future. Young-woo even handed his resignation letter. He hoped that it would help Hanna to get stronger. But Young-woo's decision devastated her. After seeing Hanna suffer, Chairman Kang decided to take matters into his hand and help them come together.
Chairman Kang ordered HR to continue with the resignation process of Young-woo. He also suggested that they make Hanna VP, which disappointed Han-soo. So Chairman Kang stuck to his words to make Han-soo the VP before his marriage. On the other hand, Ah-in was doing great with her work and personal life. Chang-soo now wanted to surprise her. So he offered Jung-seok an executive position, asking him to take care of his fatherly duties as he supported Ah-in through thick and thin. But things turned drastic when Chang-soo dropped a bombshell on Ah-in. But Hanna approached her and offered to help her.
Agency Ep 15: Release Date
The upcoming episode will ultimately lead to a war that will help Hanna prove her worth. Meantime it will give Ah-in a significant opportunity to come out of Jung-seok's shadow. Agency Ep 15 will air on February 25, 2023, at 10.30 pm KST. The all-new episode air every Saturday and Sunday. It is available on local Korean networks such as JTBC, while the international audience can stream it on Amazon Prime. Stay tuned. TechRadar247 will keep you updated.