Now that the medical-driven K-drama is approaching its end, fans are curious to learn how things will move in Jeong-suk's life in Doctor Cha Episode 15. Well, the previous episode was a rollercoaster ride. A lot has happened in the protagonist's life. From her mother learning the truth to her unannounced medical condition, fans have witnessed turmoil in her life. But the penultimate episode will finally reveal why Jeong-suk spat blood in the end. Is she not well? Further, In-ho will continue to trouble his wife. Will she leave him forever? Let's see!
Doctor Cha Episode 15: What Will Happen Next?
In the closing moment of Doctor Cha Episode 14, Jeong-suk spat up blood while she started feeling dizzy. Now in Doctor Cha Episode 15, she will soon learn about her health condition. Well, she's overdoing everything, and her body needs rest. But it isn't the only problem she's facing now. She will soon learn her health is deteriorating, and she is suffering from liver problems again. Well, Roy was his doctor before, so she will head to see him. After a diagnosis, Roy informs her that she needs a liver transplant. So to start with her treatment, Jeong-suk resigns from her duty and heads to see Roy.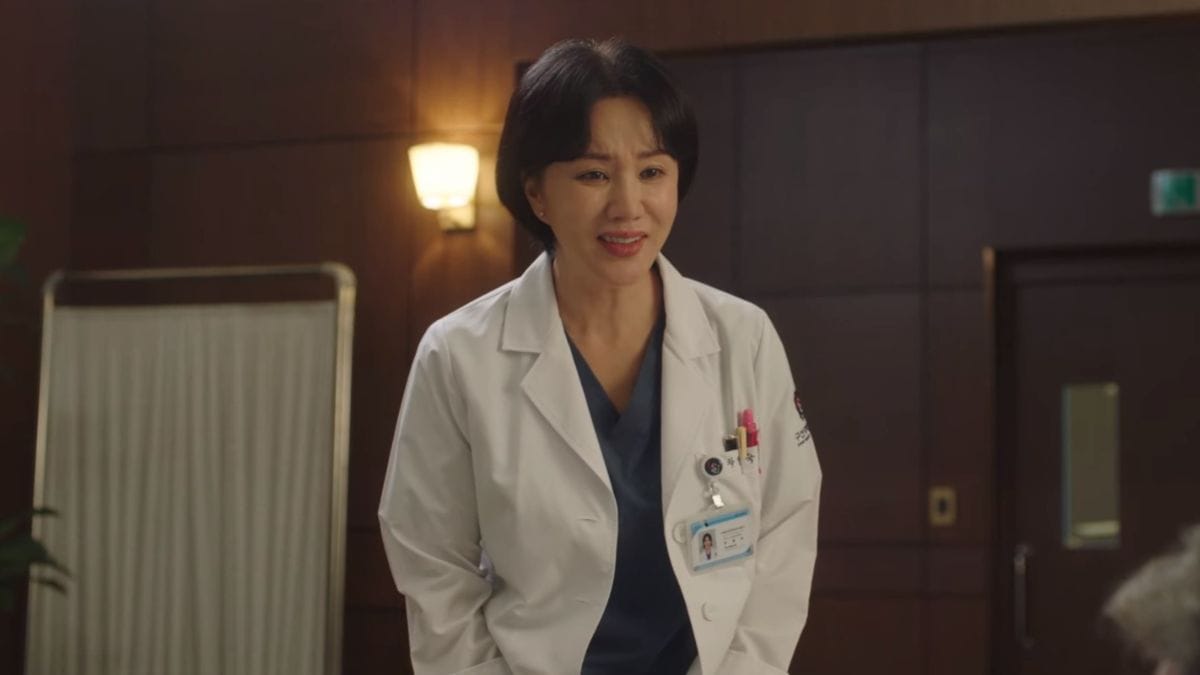 However, In-ho is still budging on his opinion of divorce. Well, he's ready to take the matter to court as he refuses to leave his wife. But after learning about Jeong-suk's resignation, he gets insane and continues to create problems for Jeong-suk. Instead of informing him about her medical condition, Jeong-suk decides to ignore him. However, Seung-hi steps in. Well, she has already decided to leave In-ho, but before that, she does a last favor by informing him about Jeong-suk's condition. It leaves In-ho vulnerable, and he blames himself for not being a good husband and causing trouble in her life.
A Quick Recap!
Previously in Doctor Cha Episode 14, Seung-hi and Eun-seo headed out for food at the same restaurant where Jeong-suk and In-ho were present. In fact, the former had already warned her husband that if her mother learned about the truth, she wouldn't hold back. However, Deok-rye finally learned about it, and In-ho scrambled to take Eun-seo and Seung-hi out of place. Deok-rye then called her son-in-law and demanded an explanation. Meanwhile, Eun-seo suggested she and Seung-hi should head back to the US and start their life again, just two of them. At Deok-rye's place, she complained to Jeong-suk for keeping things from her. I-rang visited Seung-hi in her office the following day and apologized for her misbehavior.
She also offered her place in the art school so Seung-hi could leave her family alone. Later that night, Deok-rye advised her daughter to break from such a miserable life. A few moments later, Jung-min, Jeong-suk, and I-rang surprised Deok-rye with a surprise party. As for Seung-hi, she went overboard to figure out about Deok-rye's condition and later discovered that she was suffering from polymyalgia rheumatica. She told Jeong-suk to let her stay in the hospital as she was her patient. Afterward, Jeong-suk headed to In-ho's office and handed him the divorce paper. However, he refused to sign the papers and decided to see her in court as he wanted to stay with her.
Doctor Cha Episode 15: Release Date
The show has reached its end, as the fifteenth episode marks the penultimate episode of the season. Doctor Cha is only scheduled to release 16 episodes, so expect to see more trouble in In-ho life in Doctor Cha Episode 15. It will air on June 3, 2023, at 10.30 pm KST. You can stream it on Netflix, while the local Korean audience can catch it on JTBC. Each episode drops every weekend with a runtime of around an hour long. So don't miss it. Stay tuned. TechRadar247 will keep you updated.