Why Did Joe Leave Impractical Jokers: Joe Gatto is one of the most famous names in the comedy world. And there isn't anyone who doesn't know about this comic. But he was absent in the recent season of Impractical Jokers, which left everyone doubt what happened to him. While many seemed concerned about the personality, many doubted that perhaps he had left the show. So, why did Joe leave Impractical Jokers? Well, there are several mysteries that people want to uncover. But it seems like Joe Gatto's disappearance from the show has left fans believing the series will die soon. Will it happen? Plus, where is Joe of Impractical Jokers now? Keep reading to learn all the answers.
So, Why Did Joe Leave Impractical Jokers?
Joe Gatto was one of the prominent members of "Impractical Jokers," for almost nine seasons. He also contributed a lot to the success of the cringe reality comedy series. While it's impossible to imagine the show without Joe, fans were shocked when the comic made a jolting announcement. On December 31, 2021, Joe announced his exit from Impractical Jokers and The Tenderloins. It quickly left everyone heartbroken, leading them to question: Why did Joe leave Impractical Jokers? But in a lengthy Instagram post, the 47-year-old revealed the answer. Joe announced that he and his wife, Bessy, were separating.
Although the comic didn't reveal the reason behind their separation, he confirmed they were still together to co-parent their children. At that time, he needed some break from the show to be present for his son Remington and daughter Milana. While announcing this shocking news, Joe remembered how they all started this journey, building the incredible franchise. Undoubtedly, it's one of the proudest accomplishments the star has achieved in his life. However, after fans learned the answer to "Why did Joe leave Impractical Jokers?" they became more concerned for the comedian.
But besides this heartbreaking announcement, Joe also reflected on his relationship with his partners in crimes: Q, Murr, and Sal. He said his relationship with the three of them "has been the most important" in his life. He knew that they would continue to make the world laugh with their craziest moves. But he wished to be a part of the show. However, his messy personal life was the reason behind his departure. Thus, it's clear now, "Why Did Joe Leave Impractical Jokers?"
A Timeline To Joe And Bessy's Relationship
While Joe is known for his goofy personality on Impractical Jokers, the comic is more of a romantic person in real life. And his decade-long relationship was proof of this side of his. Although the couple had decided to dissolve their marriage, there was a time when they were all over each other. For a bit of background, Joe and Bessy started dating in 2009. Although it remained unclear how they met, they moved in together the following year with costar Murray. The couple dated each other for almost four years before deciding to get married.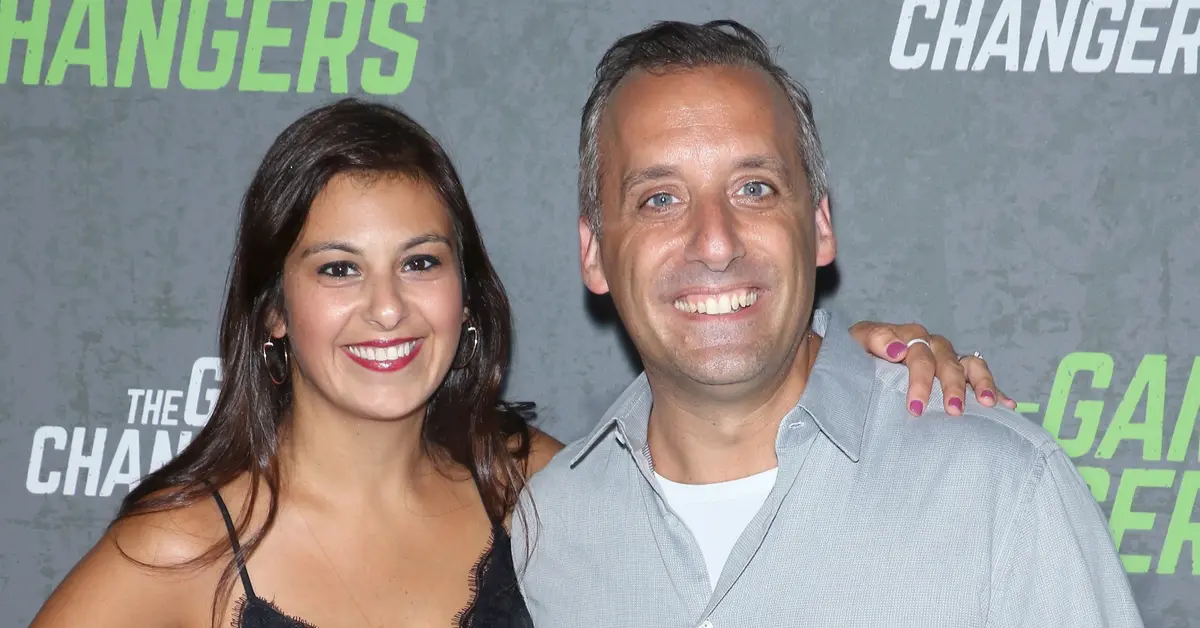 In September 2013, they exchanged vows in an intimate ceremony. A couple of years later, they welcomed their first daughter, Milana Francis. Later, in 2017, the couple welcomed their son, Remington James. Things were beautiful for the couple. In fact, in July 2019, Bessy shared a sweet Instagram post reflecting on the couple's journey. Even the couple used to appreciate each other's encouraging efforts to accomplish their goals. Despite being the most lovey-dovey couple in the show, the pair decided to call it off.
Sadly, after almost a decade, the couple announced their separation in December 2021. In the Instagram post, Joe asked the fans to respect their privacy as they navigate the new chapter of their life. However, they promised to be with each other in such a tough time.
Still Together For Kids
Although fans are hopeless when it comes to Joe's exit from Impractical Jokers, they are glad that the comic is enjoying his personal life. "Why Did Joe Leave Impractical Jokers?" is no longer a mystery. But the surprising part was fans spotted the estranged couple together in February 2022. The couple attended an Imagine Dragons concert with their daughter.
Later, in April 2022, Bessy told Us Weekly that their babies deserve them in their lives. Hence, they wanted to be happy for them. However, it was challenging, but they needed to do this for their kids. Bessy also shared a glimpse of a family vacation in February 2023. The entire family looked happy and cheerful together.
The Couple Finally Reconciled
Why Did Joe Leave Impractical Jokers? remains one of the trending questions among the series' die-heart fans. However, they have reason to celebrate as Joe has recently made another not-so-shocking announcement. His latest Instagram post hinted at the estranged couple's reconciliation. He wrote: "10 years ago when we started," he could never imagine that they would handle all the ups and downs in their married life. But despite everything, there was always love that helped them reunite. Joe added that Bessy is the only person he ever wants to be with.
Joe continued in his post that although they had been tested, they proved their love. The couple is now together and wants to live a happy married life for the rest of the years. The comic also wrote: "We have proven with forgiveness, compassion, and an open heart" that we can do this. He also thanked Mrs. Gatto for being a part of his life before ending the note with a lovely "Love You So Much" statement.
Finally, the couple is together. So, will Joe return to Impractical Jokers? Well, their reunion news will appear in September 2023. Hence, it remains unclear how things will move now. Besides everything, Why Did Joe Leave Impractical Jokers? is still buzzing on the internet.
Impractical Jokers Season 10 Without Joe Gatto!
There's no denying that Joe has played a huge part in the reality show for nine seasons. But his exit left everyone disheartened. It also made people question his decision, sparking "Why Did Joe Leave Impractical Jokers?" on the internet. However, the comic has already announced his decision and also cleared everything. Despite his exit, the show remained true to its roots and returned with much more craziest elements. Impractical Jokers Season 10 premiered on February 9, 2023, at 10 pm EST on truTV. Well, Joe left the show in mid-June 2022, leaving the second half of season 9 up in the air.
Although his departure left a void, to fill it, the show brought several celebrity guest stars to the screen. They were Colin Jost, Method Man, Brooke Shields, and more. The same happened in season 10, where several celebrity guest stars appeared to fill the void left by Joe. They were Paul Rudd, John Mayer, Post Malone, NBA star Anthony Davis, Kesha, and more. Even though Joe is no longer a member of the show, the trio are still committed to bringing more surprising and hilarious acts to the audience's platter.
Where Is Joe Gatto Of Impractical Jokers Now?
Well, 2022 was a rough year for Joe Gatto. But he confirmed that he would start 2023 on a better note. And guess what? He's ready to embark on a new journey. In early 2022, Joe had a comedy tour. And now he's ready to do the same this year as well. He's all set for his shows across Canada and the United States. Well, the tickets are already for sale. You can find the details of the upcoming shows on Vivid Seats
. As per the details of his shows, the comedy tour will begin on September 28 and continue until October 20, 2023.
However, he has yet to reveal whether to return to Impractical Jokers. Although the comic left the show for personal reasons, he has yet to return to the comedy series. So, will he join the show in the future? Or will he stay away from the show?
This is all about Why Did Joe Leave Impractical Jokers? What do you think will he announce his return news soon? Keep an eye on TechRadar247 for more such interesting news.