Just when we thought Jess was the last non-American woman Colt was going to date, he is at it once again. In the 90 Day Fiance: Self Quarantine, we saw a woman giving him personal training to help Colt get in better shape. But somehow later, Colt ended up going to Mexico to meet her and they cultivated a relationship. Who is this woman? What happened between the two? Let's take a look.
Colt In a Relationship With His Mexican Personal Trainer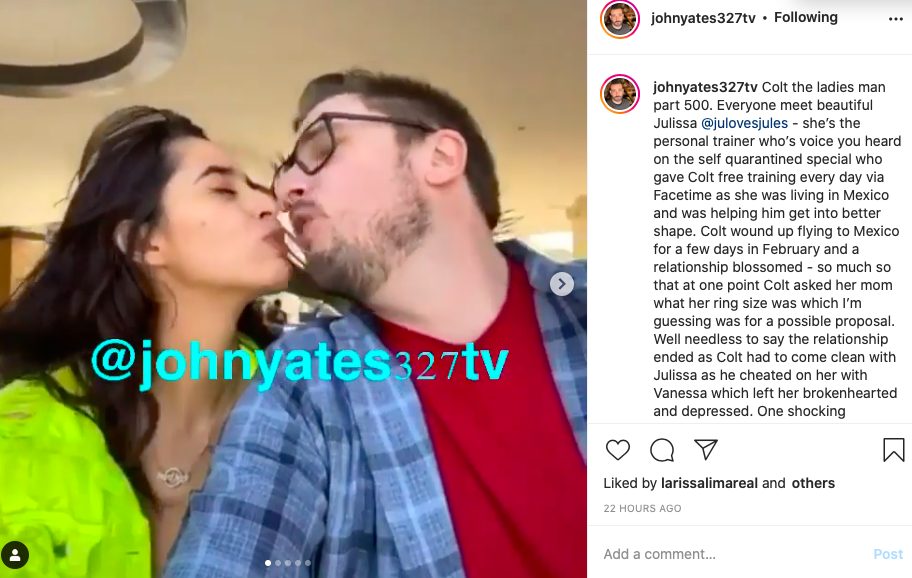 The name of the woman is Julissa. After Colt flew to Mexico to meet her, they got into a relationship and posted videos of themselves making goofy faces online. In fact, their relationship got to a point that he asked Debbie for a ring size to pick something for Julissa. 
However, according to what Johnny Yates wrote in the caption, the relationship ended when Colt admitted that he cheated on Julissa with Vanessa. It left Julissa heartbroken and depressed which marked the end of their relationship. 
90 Day Fiance: Happily Ever After, Debbie Approved of Julissa?
Debbie probably approved of Julissa as Colt checked with her before going ahead to buy a ring for Julissa. It's a surprise considering that Debbie has not been impressed by her son's taste in women in the past. In the recent episodes of 90 Day Fiance: Happily Ever After, she is giving Jess a really hard time.
According to Debbie, Jess is only after Colt for the green card. She also feels that she tracked him down and they started dating even when Colt wasn't looking for a relationship. As for Larissa, Debbie thinks that she is an honest evil. In fact, she would pick Larissa over Jess if she had to as Jess is a mystery to Debbie.
90 Day Fiance: Happily Ever After, What Do Fans Have to Say About Colt and Julissa?
One fan is curious as to how Colt is getting all the ladies. But it looks like another fan was ready with an answer and some pity for the 90 Day Fiance: Happily Ever After star. According to the user, Colt thinks that he is a catch for women. However, he fails to realize that they are all after him for the green card.
Another fan pointed out the irony of the amalgamation of Jess and Larissa's names, Julissa. Do you think that if Colt didn't cheat, this relationship would have worked? After all, Debbie approved of Julissa. Let us know what you think in the comments below.