Good news, to all the Tiger King fans, Netflix has renewed Tiger King Season 2. The most controversial series ever in the history of Netflix is set to return for the second season. However, this real-life docuseries has some motive to return. In the last season, many battles and rivalry between the zookeeper and animal activists took place. But, the next season would somewhat be different from what you have watched before in the first season. The series has been a hot topic since it debut. Now, get ready, as many such answers would disclose in Tiger King Season 2.
Tiger King, created by Rebecca Chaiklin and Eric Goode, is a documentary series on Netflix. It revolves around the life of Joe Exotic, the owner of G.W. Zoo, and his rivalry with CEO Carole Baskin of Big Cat Rescue. It deeply explores the society of big cats guardian and collectors in America and the private sanctuaries and zoos they have created for these animals. However, both protect these wild animals. But, they still exchange threatening videos to eliminate their competition. Things get worst when Joe cites that Baskin killed her second husband, Don Lewis, who disappeared in 1997.
Tiger King Season 2: Renewed!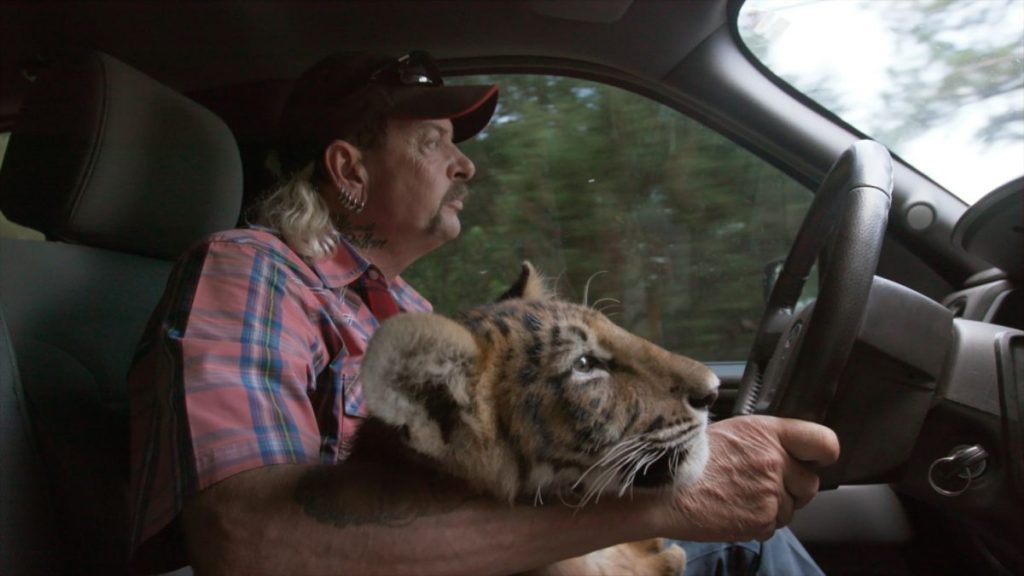 The first season hit Netflix back on March 20, 2020 soon. It earned a positive response from the audience as well as from the critics. It gained 7.6 on IMDb and 87% on Rotten Tomatoes. After captivating the audience worldwide during the global pandemic, the show is set to entertain the world with its second season. Netflix has renewed the bizarre series Tiger King Season 2. However, the controversial series returns to clear the Exotic name and all the allegations charged on him.
Tiger King Season 2: Filming Is Underway But Not Lawsuits
The announcement recently came up that Tiger King Season 2 is on its horizon with Joe Exotic, Jeff Lowe, and Dillon Passage, all confirmed to return for the second run. However, the main motive of Joe to return to set is only to clear his name as he's currently imprisoned for a murder-for-hire case. According to that, he is sentenced to appoint a hitman to kill his rival Carole Baskin. Further, he has been charged to violate wildlife rules, including the haunting of five tigers. Though he believed he's innocent, and these charges are fake.
Has Carole Baskin Asked A Seven Figure Sum To Return?
On the contrary, Carol asked "a huge seven-figure sum" to return for the second chapter. According to some newspaper article, Carol asked $1 million as she wants to use that money for her Big Cat Rescue in Tampa. However, Carol confirmed that she has no interest in returning for the next chapter. And she has no desire to take such massive money from the production team. Further, she said that she felt victimized by the show, and no amount could change her decision to return.
She continued that the production team has violated the documentary's nature as they have changed so many things and turned it into a scripted docuseries that never happened in real life. Moreover, they never paid her for a single episode. But, many have come to her and confessed that the team paid them to film such scenes. So, there's no way to trust them again, as they betrayed her and even those animals, said, Carol.
Don Lewis' Family Sued Carol
In the last season, Joe exposed that Carol has killed her second husband, who disappeared from 1997. That biggest revelation made everything more troublesome for Carol. Last week, Don Lewis' family sued Baskin to get those answers to Lewis' disappearance. Further, they offered $100,000 in reward for those who have any information regarding Lewis' missing case. However, in 2002 Lewis was presumed to be dead. But, this new information has turned things more upside-down.
Carol Won Control Over Joe's Zoo
Carol and Joe have been charging allegations against each other, and one such charge includes Joe using infringement copyright and trademark. Lately, Carol sued Joe and also won $1 million against him in the civil case. However, when Joe failed to provide such a massive amount in the lawsuits than in return, in June, Baskin got control over Joe's zoo.
Netflix Struggling With Copyright Case
The lawsuit does not end here as Tiger King and Netflix are struggling for a copyright lawsuit. The Hollywood Weekly Magazine acclaimed that they launched the "Tiger King" phrase seven years ago, and it's their trademarked name. However, Netflix used the same name without checking and considering its right. So, now, the magazine has sued the streaming platform for using their phrase.