NBC has recently revealed that Manifest Season 3 would delve into Grace's family. Now, finally, fans could see the Grace family members that had been hidden from everyone. However, it doesn't seem like Grace would be happy to see her estranged family members. Apart from that, the mystery behind the missing plane has turned scarier. The recently released trailer hints that plenty of new challenges are aligned in the way of Manifesters. Well, it doesn't seem good at all. But, first, let's check what happens next in Manifest Season 3.
NBC's sci-fi dramedy Manifest delves into the cast's life and the crew members of a missing flight. However, it suddenly reappeared after five years of missing when all of them were declared dead. But, after they return, they found some changes in their close ones. Even they begin receiving some Callings which tells them what to do now. However, the passengers still find their way to track down their lives in their way. As the story proceeds, it delves into the relationship, trust, and bond between the Manifesters.
Manifest Season 3 Theories: How Things Will Move Now?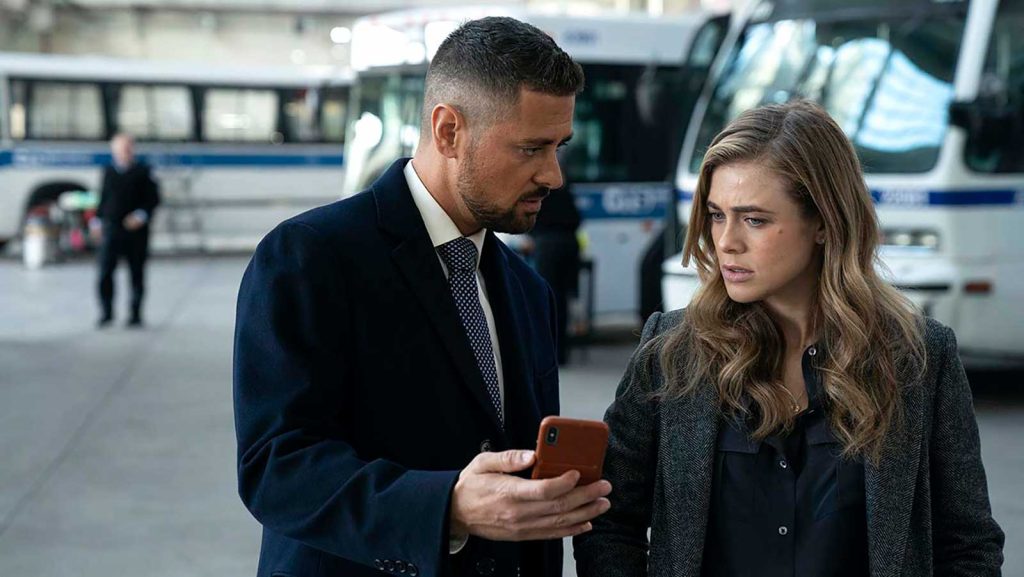 After the creepy trailer, everyone's looking to know what happened with Flight 828. Since the wrecked fin that the marine team has raised the fans' curiosity. The wrecked tail-fin belongs to the missing plane that was exposed after landing. But, if the fin really belonged to the missing plane, then who are those passengers. However, showrunner Jeff Rake hinted that some familiar face would return. Also, he added that a long-lost character would return.
TJ Will Return To Help Solve The Mystery
TJ Morison (Garrett Wareing) seeks to resolve the mystery behind the Callings and those supernatural phenomena. However, he moved to Egypt in search of the ancient text clue in Al-Zuras' journal. The book consists of all records of the 16th century long lost ship crew who experienced the same supernatural phenomena that Manifesters were facing. So, there's a chance that he would return with some proof and firm answers.
Adrian Will Come Up With A Solution
The religious leader Adrian (Jared Grimes) had inspired Believers who returned safely after being abandoned. The last time Adrian met Ben Stone (Josh Dallas), he warned him not to follow the Callings. As per Adrian, these Callings are coming from some evil source, and Flight 828 passengers are the agents who would bring the apocalypse. He cited the "signs and wonders" of scripture, Matthew 24:24. Well, whether he's right or not is still not sure.
Cal's Kidnappers Might Reappear
Jace, Kory, and Pete kidnapped Cal Stone (Jack Messina) to get revenge on his aunt Michaela Stone (Melissa Roxburgh). However, Ben, Michaela, and Zeke London (Matt Long) tracked their location. But, while trying to save Cal, he accidentally fell into the icy lake. Shortly, Zeke jumped in to save Cal.
Meanwhile, Jace, Pete, and Kory also fell into the frozen lake. But no one has seen them fishing out safely. So, where did they go? As they didn't found their bodies in that episode. But, they are somewhere haunting Cal and Adrian. So, it's possible that they would return.
Manifest Season 3: Some New Faces Would Appear
Recently, the news came up that Warner Miller joining the show as Grace's estranged stepbrother, Tarik. He recently agreed to help the Stone family. However, he's not the one who would join the team in their next quest. Holly Taylor is joining as Angelina, one of the flight 828 passengers who is far away from Ben's radar. But, they both will play a significant part in the Stone family.
Manifest Season 3: When To Expect?
Well, earlier, it was supposed to air in fall 2020. However, the ongoing pandemic has shifted the premiere of Manifest Season 3. Now, fans have to wait as Manifest Season 3 would air in early 2021. But, it's tentative date is yet to announce.