Well, fans have to wait for a little longer as Stranger Things Season 4 would take more time to return, and you know the reason. But, the filming for Stranger Things Season 4 has already begun. Let's take a look at what happens when the camera stops rolling. Apart, from that recently, a few new faces have joined the cast. You'll be glad to know that some of your favorite characters would return with a different persona. Further, Detective Jim Hopper would change to how he was before or continue being a corrupt cop, Let us know about it.
Stranger Things is a sci-fi show on Netflix. It's a coming-of-age dramedy that follows numerous multigenerational cast who belongs to a different dimension. But, the previous season revolved around Detective Hopper, who suddenly became more aggressive than ever. The first teaser hints that Hopper is alive, so the major thing that follows is bringing his story back to normal.
Stranger Things Season 4: Production Status!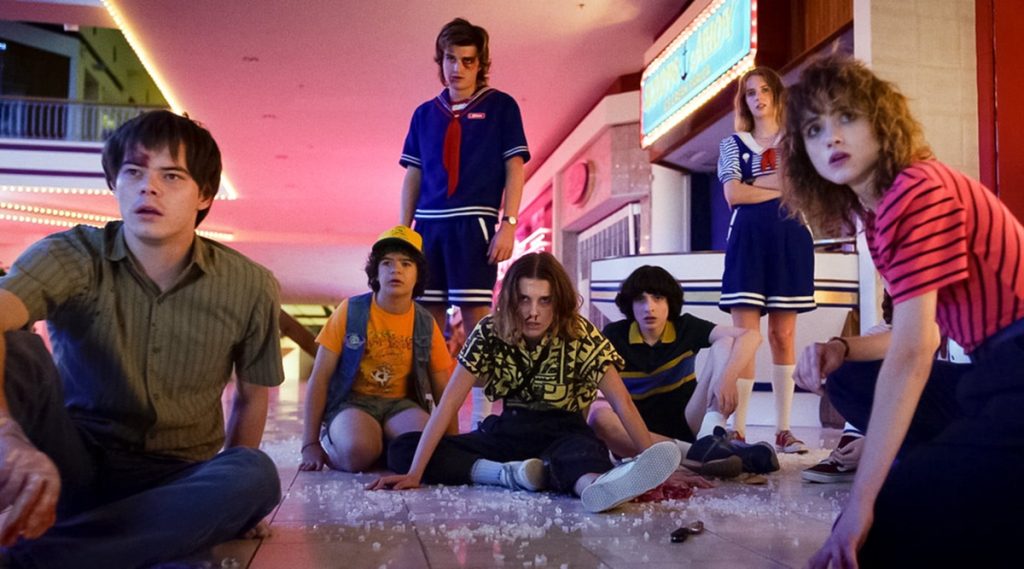 The production for Stranger Things Season 4 halted just after two weeks of filming due to the ongoing pandemic. However, after several months of delays, the show finally resumed its filming on September 28, 2020, in Georgia.
Meanwhile, the creative team didn't miss any chance to elevate its fans' excitement level. In the social media account, the team has frequently been posting some behind-the-scenes pictures. The arrays of Polaroid pictures were posted lately where Caleb McLaughlin (Lucas Sinclair), Sadie Sink (Max Mayfield), Gaten Matarazzo (Dustin Henderson), and Joe Keery (Steven Harrington) were enjoying their break time.
First Episode Title Revealed
The Stranger Things team has recently posted a couple of snaps that hint about its first episode title, The Hellfire Club. Well, what will happen in that episode is still unknown. But, a picture of Gaten wearing a T-shirt with the scribble and logo on it means Dustin might be a member of the club.
Stranger Things Season 4: Some Addition In Cast Members
Recently, the news broke off that some strangers would introduce in Stranger Things Season 4. Well, you might be familiar with a few faces. Despite some new faces, the Duffer brothers' confirmed that four regulars would return to reprise their role. These include Tom Wlaschiha as Dmitri, a Russian guard who supported Hopper. Mason Dye as Jason Carver, the Ounce Bolton of Hawkins High. Sherman Augustus as Lt. Colonel Sullivan, who believes that he can end Hawkins' evil and Nikola Djuricko as Yuri, a Russian smuggler.
Who Joined The Stranger Things' Team?
Now let's see who will join the lead cast in the upcoming season. Jamie Campbell Bower joined as Peter Mallard, a kind and disciplined person working at a psychiatric hospital. Joseph Quinn as Eddie Munson, in charge of Hawkins High's official D&D club and a metalhead who eventually finds himself at the center of this horrible season's mystery. Eduardo Franco joins as Jonathan's (Charlie Heaton) new best friend, a stoner and pizza boy. Robert Englund as Victor Creel, a psycho man, captivated in a psychiatric hospital for 1950s murder case.
The Stranger Things Season 4: What Will Happen?
Hopper Story Will Clear
Well, a lot of things happened in the last season, including David Harbour's Hopper's death. But the trailer teased that Hopper is alive, and now he's somewhere in Russia. Though Hopper's return is exciting for his fans, shifting his story arc is challenging as he had done plenty of evil deeds in the previous season. He abused his powers and later turned out as a corrupt cop who once was challenging and disciplined.
But, in the upcoming season, he's trying to get free from the prison of Siberia. However, for this, he needs someone's help from outside. It looks like Eleven/Jane Hooper "El" (Millie Bobby Brown), Mike Wheeler (Finn Wolfhard), and Joyce Byers (Winona Ryder) will return to help him despite how badly Hopper had punished them in the third season. So, they can bring back the empathetic Hopper.
Steve Harrington Will Play A Prime Role
Initially, the creator planned to kill Steve (Joe Keery) in the first season. But his remarkable performance let him survived till now. Now, the 80s teen slasher has evolved for good and also ditched his toxic friend to move on in his life. But the tough guy had been beaten up by many people in the third season. That brought a kind and soft area of his persona. But, now, his journey would play a major character in Hopper's story arc.
The Stranger Things Season 4: When To Expect?
As of now, the network and the creator haven't disclosed the air date of The Stranger Things Season 4. But, fans can expect that soon, in 2021, the show would return to explain everything.