Attack On Titan Season 4 Episode 5 is the most awaited episode of this season so far. The title of the episode is speaking for itself. Its title is "Declaration Of War." And that means this episode will show the story from one of the most important chapters of the manga. So far, the viewers have only seen the story from a different perspective.
That was actually the calm before the storm. Now, in the next episode, that storm will finally hit Marley. Willy Tybur is already prepared to declare an all-out war against Paradis Island. So when will the next episode premiere? Continue reading to know.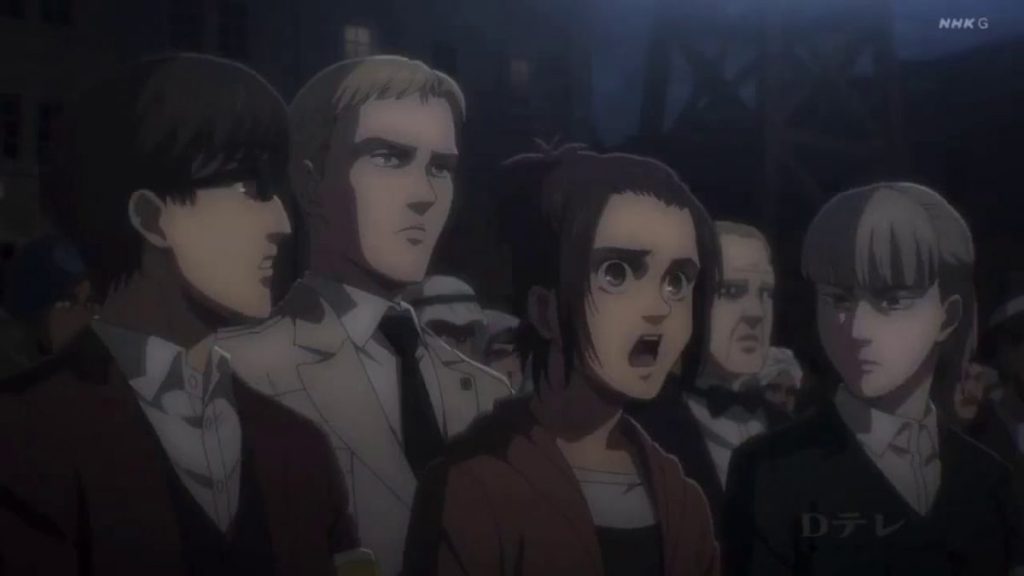 Attack On Titan Season 4 Episode 5: What Will Happen?
The next episode of AoT will blow the mind of every single viewer. The preview of the forthcoming episode of the anime is out. And it is teasing the reunion of Eren and Reiner after four years. Falco takes Reiner along with him to meet Kruger, who is actually Eren Yeager in disguise, and Reiner will figure it out. He will hold them as hostages in the dungeon. And he also warned them that if they make a noise, he will turn into a titan and kill the crown. 
In Attack On Titan Season 4 Episode 5, Willy Tybur will give a speech at the festival and try to convince the people that Paradis Island is under rebellion. Later he will move on to declare an all-out war against the Paradis. And then the fans will see Eren's first transformation of this season. Yes, get ready because the Attack Titan is about to get unleashed in the next episode. The anime-only fans are about to be stunned because the next episode will feature a lot of twists and turns. 
Previous Episode Recap!
The last episode of AoT was really a light-hearted episode. It set the stage perfectly for the forthcoming events. Falco continues to meet Kruger, who is using him to sending letters. Dr. Yeager also made an appearance and warned Eren about the same. This episode also introduced Willy Tybur, the head of the Tybur family. He will join forces with Magath to launch an attack on the Paradis island.
Falco Grice, who wants to inherit the Warhammer titan so that he can protect Gabi beat her for the very first time in the race. The ending moment of that episode features the present warriors and the warrior candidates enjoy their time in the festival. Willy also gives a little speech in a celebration before the day. 
Attack On Titan Season 4 Episode 5: Release Date
The viewers of AoT have to wait for one more week to watch the most awaited episode of their favorite anime. This week's episode got delayed due to the holidays in Japan. Now, the fans will see Attack On Titan Season 4 Episode 5 on Sunday, January 10, 2021. The episode will be available to watch on Crunchyroll and Funimation.