Katharine McPhee and husband David Foster are in the news again for a row between the two. He revealed his public disapproval for his wife's recent action over the sharing of some personal details to the public.
Katharine McPhee got to his nerves after she revealed the name of their three-week-old baby boy. In an interview with Today with Hoda and Jena, the 37-year-old actress spilled out the name. Apparently, she thinks that her husband won't be very happy with her decision to disclose their little secret so early.
Katharine McPhee's Son's Name Revealed!
In the interview, the actress disclosed the name of their three-week-old son to the public. And the name is Rennie Foster. She told the interviewers that her husband would kill her for saying that. She talked to interviewers about her husband's reaction over this revelation. In her defense, she said that the interview was going casually. She was friends with the host Hoda and she couldn't say no to him. She further mentioned that her husband was 'kind of annoyed' with her as he wanted to keep this a secret.
Katharine McPhee Discussed More!
In the particular interview, Katharine said in her defense that they are not the only one's who have named their baby and want to keep it private. She said that after spilling the beans she is in trouble and hopes that her husband is not too mad about it.
Besides all the buzz around her baby's name, she said that both her husband and she love the name. She told Hoda that the name is so original and it came to them just two hours before the birth of their child. Earlier they were going to name him something different but this name seemed perfect as it meant something.
Katharine McPhee On Choosing The Name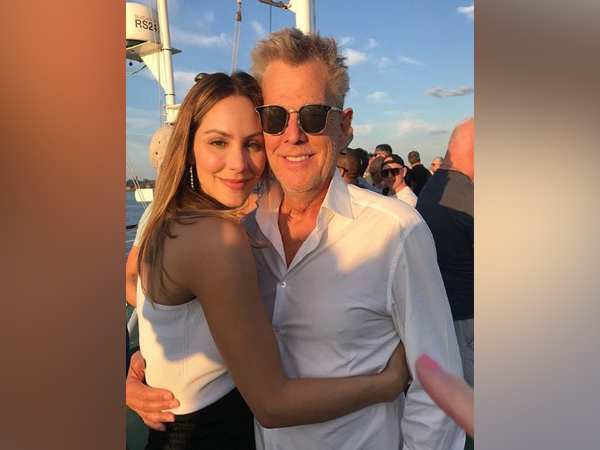 She also told the interviewer that the couple chose the name Rennie because they couldn't come up with this name earlier. Rennie was the name of David Foster's great-grandfather. This was also the name of his great-uncle. So it has a long history in Foster's family. At the moment of their child's birth, Foster welcomed him by saying, "Hi, Ren Foster". She said that this was a good name and a strong name.
More Of Katharine McPhee and David Foster
The couple met each other in 2006 on American Idol. McPhee first met husband Foster on the fifth season of the reality show. She won as a runner up that season. They were initially good friends. Foster attended Katharine's first wedding with Nick Cokas. David Foster then released her first single. Since Katharine's divorce, the couple has been publically dating. They fell in love and finally got married in 2019. David is already a father to five kids. With Katharine, he welcomed his first son home this spring. And now they are parents of a healthy baby boy called Rennie.
What do you think about David Foster getting mad at Katharine McPhee? Let us know in the comment section.