One Piece Chapter 1015 is titled "Chains." The release of the upcoming chapter is finally around the corner. As a result, its spoilers and raw scans surfaced online to provide a glimpse of what is about to happen in the manga. We can assure you that the next chapter will also be a hit just like the previous ones and will feature a new twist.
A lot of things are happening in the manga lately. Some citizens and warriors even lost hope after the tragic fall of Monkey D Luffy. Everyone thinks that Kaido is too strong and the alliance will eventually lose the battle of Onigashima. However, the leader of the Beast Pirate will face an unexpected enemy in the form of his daughter. So, will he have a change of heart or choose to kill his own daughter? Here is everything you need to know.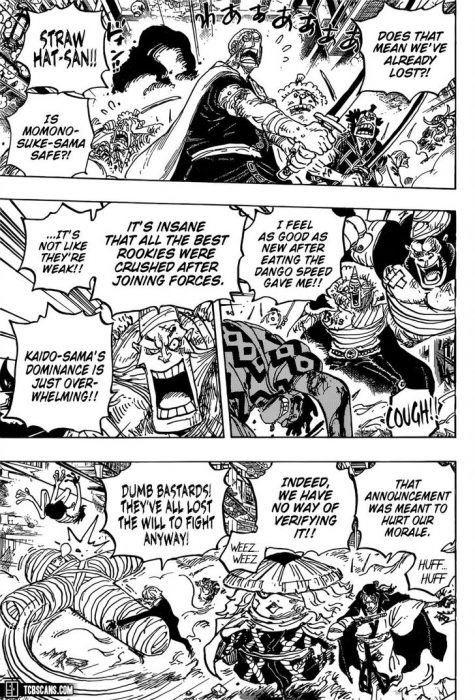 One Piece Chapter 1015: Plot Details!
The next edition of OP will begin with Luffy sinking into the sea. The people of Onigashima will react to this news, and some of them won't be able to believe that Kaido defeated Luffy. The panel then switches to the Live Floor, where the Queen is dominating Chopper. Meanwhile, Minks and Samurais begin to lose hope because Kaido and his troops are way too strong. The Queen will declare that she is done playing with Chopper, and now she will finish him once and for all. She attacks Chopper with some fangs emerging out of her mouth.
However, Sanji arrives in the nick of the moment and kicks her in the face to save Chopper. He is still carrying Zoro on his back and hands Zoro to Chopper and orders him to heal. One Piece Chapter 1015 then will feature Kaido going to
hunt Momonosuke and Shinobu. But Kinemon will get in his way and drag his leg. Kaido tells him not to bother anymore and stabs him with his Katana. Meanwhile, Momonusuke broadcasts a message to save Luffy on the entire island.
As a result, Law and his crew will rescue Luffy and drag him out of the water. In the ending moments of the chapter, Kaido will confront by Yamato on the dome. He tells her to address him as his father. However, Yamato reveals that she is here to break the chains of their bond.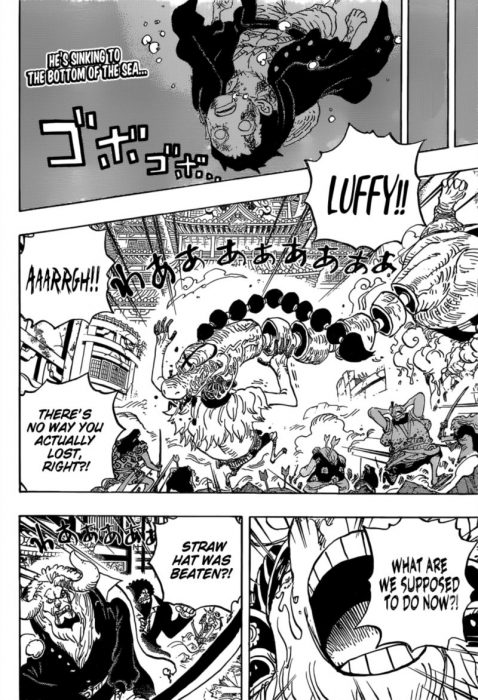 One Piece Chapter 1015: Release Date
Fortunately, the next chapter of OP will come out this very week without facing any delays. One Piece Chapter 1015 will be out to read on Sunday, June 6, 2021. You can catch the new chapters of One Piece on platforms like Viz Media and Shonen Jump.