Just as fans started feeling upset as Brooklyn Nine-Nine Season 8 will be the final season of the series, the sitcom has unveiled season 8's brand new poster and title using the series' long-running joke. Fox once canceled Brooklyn Nine-Nine after successfully running its five seasons. But, NBC soon picked the series due to its massive social campaign for its renewal.
Once again, the series is on its end journey as NBC announced in February that season 8 of the procedural cop sitcom will be the last. The series has been highly acclaimed for depicting sensitive subjects with a blend of humor, including the LGBTQ+ portrayal. Yet despite being NYPD's show, they have moderately addressed the police brutality. Although, Terry Crews (Lieutenant Terry Jeffords) teased things will be different in the final season.
Brooklyn Nine-Nine Season 8: Poster Teased What To Expect
Brooklyn Nine-Nine's recent Instagram post teased what precisely the final season will look like. While blending perfectly with the season's tagline "One Last Ride" with the show's recurring "Title Of Your Sex Tape" joke. However, even the devoted fans can also notice another hidden tease- Joel McKinnon, who plays lazy detective Norm Scully completes a puzzle of season 8's poster. Well, it shows his outstanding jigsaw skills.
Further, the video highlights that more such hilarious elements will be present in the final run. However, to our surprise, not a single detective is carrying their police badge in the poster, although Hitchcock's holding an NYPD mug. But for the first time in this sitcom's history, Holt appears in civilian clothes with a fluffy friend. So it seems the finale will be highly eccentric on the police brutality.
Will Address Police Brutality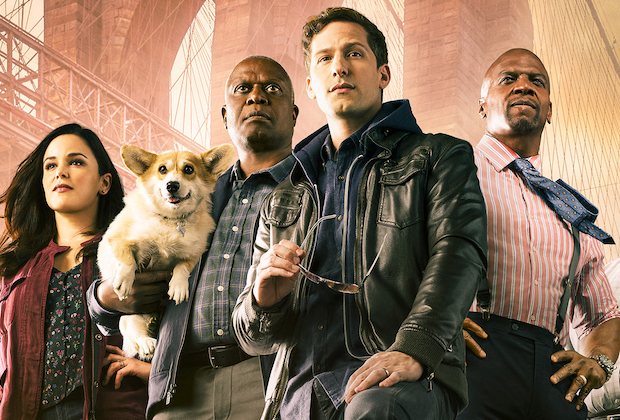 Lately, NBC teased that it will be a "very tough year" for the Brooklyn Nine-Nine. Now, Jake and other members of the squad must try to balance their professional as well as personal lives during this traumatic year. Andy Samberg also confirmed that last year they scrapped the first four scripts after the brutal George Floyd's death and massive public protests against police brutality. And it became a bit complicated for them to make a comedy show in such a difficult time.
Brooklyn Nine-Nine Season 8: Who Will Be In The Cast?
The farewell key art hints that the entire main cast will return one last time. These include Andy Samberg as Jake Peralta and Melissa Fumero as Amy Santiago. Stephanie Beatriz as Rosa Diaz, Joe Lo Truglio as Charles Boyle, and Terry Crews as Terry Jeffords will also join. Dirk Blocker as Hitchcock, Andre Braugher as Raymond Holt, and Joel McKinnon Miller as Scully will join them too. Even captain's beloved corgi Cheddar will join them too.
Brooklyn Nine-Nine Season 8: When Will It Return?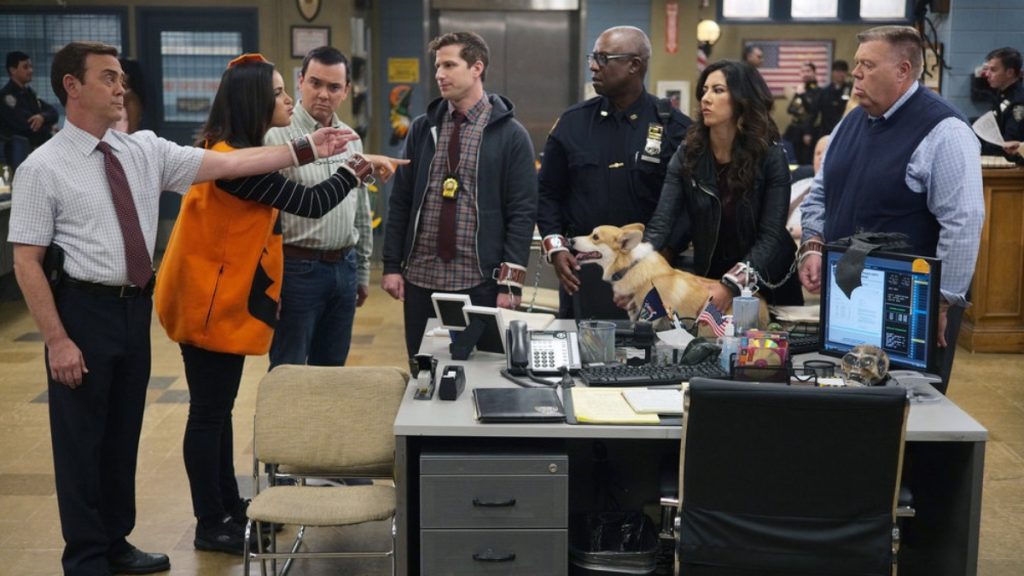 The final season will air back-to-back episodes as NBC hopes that the looming Olympics will draw the audience's attention. However, it won't be the case as the last season gained 24 million viewership. Nevertheless, fans can catch the final season's premiere on Thursday, August 12, at 8/7c only on NBC. So don't miss it.