The most awaited moment of 90 Day Fiance: The Other Way seems to be a lot closer this time around. The fan-favorite couple, Sumit Singh and Jenny Slatten, might be tying the knots after much drama in the previous episodes. The Indian celebrity recently posted a pretty misguiding picture with his American partner making fans think that he might be ready to get married. Does this mean Jenny doesn't have to become a Hare Krishna? Will she stay in India now? Here are all the latest details.
90 Day Fiance: Sumit-Jenny Pose For Wedding Photo, Misguiding Fans About Proposal?
A brand new episode of The Other Way spin-off is here, but Sumit and Jenny did something peculiar to promote it. In some of the previous episodes, the couple has been struggling to find a way to let Jenny stay in India. However, since Singh is not ready to marry her, they have been finding different loopholes in the Indian visa system. In fact, the situation has become so serious that Slatten is thinking of becoming an ISKCON devotee. Amid this mess, Sumit uploaded a misguiding picture with Jenny. In his latest Instagram post, he was holding Jenny's hand while looking deep into her eyes.
As per the looks, it seemed like this was a proposal or wedding picture. Jenny was even wearing a stunning Indian attire while her younger man wore a suit. Slatten's 90 Day Fiance promoted the upcoming in the caption of this picture and didn't reveal any details about what the picture was about. So, their followers started guessing that it could be an "I promise to marry you" photo. Others said that they are hoping that it is a "wedding photo". Aside from these comments, people are guessing that Sumit could be finally proposing to Jenny.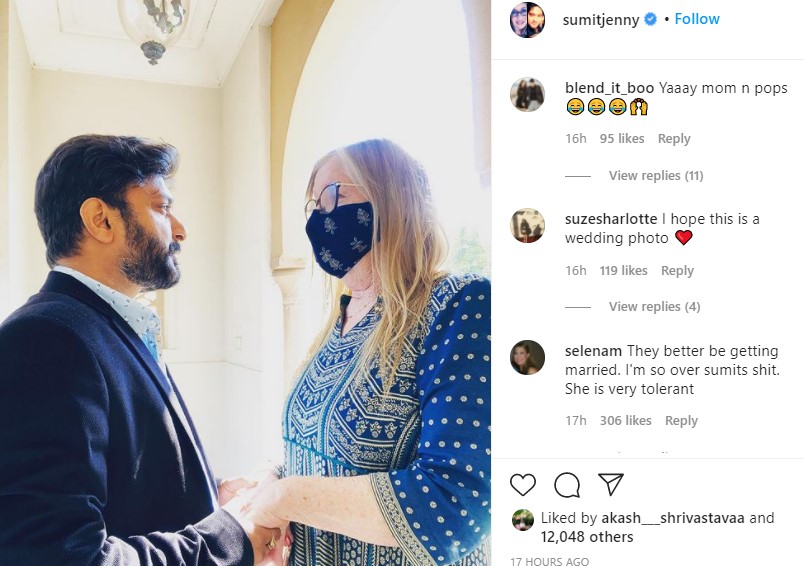 However, knowing how Singh is, they are making fun of the couple by saying, "Nahh, he is probably just telling her that someday they will get married lol". As of now, it's hard to say what's actually happening. But, the upcoming few episodes will surely give some insight into the Indian man's true intentions.
90 Day Fiance: Will Jenny Become An ISKCON Devotee To Stay In India?
The previous few episodes have been very stressful for Jenny. This is because she is desperate to stay in her partner's country and has no life to return to in America. On the contrary, fans think that Sumit is just trying to push Slatten away since he is not ready to marry her even after a decade of dating her. Hence, Jenny is trying to look for loopholes that might let her live in the country without having to marry Singh. Well, as per their immigration lawyer, there are majorly two ways to do the same.
One of these loopholes is to leave American citizenship and become an Indian citizen instead. On the other hand, the second one is to become an advocate of ISKCON, i.e., International Society For Krishna Consciousness. Hence, Jenny will probably try to become an ISKCON devotee to be able to stay in India.