Showtime is all set to bring Dexter season 9 after eight long years. Although the series wrapped up after the last season, the show is returning after a long time to provide the audiences a more satisfying end to Dexter's Journey. Previously, the show ended up with Dexter as he left behind his past life and moved to Oregon, working as a lumberjack.
However, the infamous exit to the critically acclaimed Four-time Emmy Winning series gave way to controversy and unhappiness among the beloved fans. Hence, Showtime is bringing back Dexter, repackaged under the title "Dexter: New Blood signaling the return of the Bay Harbour Butcher one final time."
Further, a series of new revelations have come up from the production team and Showtime about the upcoming season of Dexter. So far, we have the trailer, key insights, and what's to expect in Dexter Season 9. So keep reading on to know everything about the following season.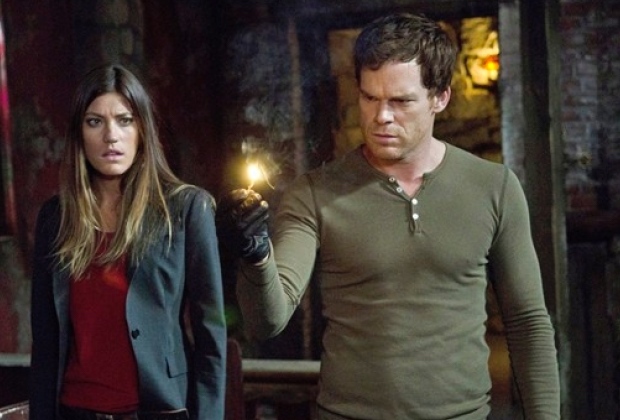 The series focuses on Micheal C. Hall, who we have famously come to know as Dexter. Micheal's character is a blood splatter analyst in the daylight. However, at night, he is a serial killer who satisfies his hunger for blood by hunting down other serial killers. The series received 24 Emmy nominations throughout eight seasons and won the Best-Drama series award four consecutive times. Moreover, the network revealed that the Original Showrunner Clyde Phillips will return as the Executive Producer for Dexter season 9. So without further delay, let's dive right into what will happen next season.
Dexter Season 9: Trailer Breakdown
Earlier this month, Showtime also released the newest trailer of season 9. The trailer teases Dexter admitting to being an evolving monster while preparing his tools to spill some new blood. As Dexter moves into the town of Iron Lake, he Is stopped for a security check by Chief Bishop, who soon seems to be romantically involved with him in the following footage. Further, we see him getting along with the new characters in the town, and for once, we see him a bit relaxed and smiling after so long.
Moreover, the trailer shows Dexter getting a new job at a local store as he tries to get along with his new co-workers. The scene starts to get intense when a mystery about a serial killer emerges. With a nemesis in front of Dexter, his urge to kill begins to take over, giving birth to his new Dark Passenger, Debra Morgan. Lastly, the trailer also teased a big family reunion for Dexter when his son Harrison finally finds him in Dexter season 9.
Debra Morgan Returns as Dexter's Dark Passenger
Earlier this summer's TCA panel, Micheal C. Hall opened up about the return of Jennifer Carpenter as Debra Morgan in season 9. Further, he revealed that Debra would replace Harry as Dexter's Dark Passenger when the show returns. The Dark Passenger is Dexter's urge to kill, which had kept him safe and sane in the previous season. His previous Dark Passenger had been illustrated by Harry's moral code, which kept Dexter from losing his head. However, this will be a significant change for Dexter as Debra is not someone who ever lived by any code. 
Dexter's approach to conducting his kills will change when we see Debra standing behind her. This change signifies Dexter is not over Debra's death. Furthermore, with Harry's code flushed out of Dexter's mind, things are bound to get trickier. At the TCA panel, Micheal called Harry as Dexter's north star providing him a consistent viewpoint. Moreover, he stated that Debra's perspective comes from everywhere with no absolute consistency. Debra is an internalized character which signifies how far Dexter has fallen. Lastly, Hall called Dexter's situation "internally reeling and without a compass in a sense as much as he'd like to have one."
Dexter Season 9: What Will Happen?
Dexter is returning after ten long years to amend his failures that took place in the last season. He was last seen in the season 8 finale when he abandons his wife Hannah and son Harrison after Debra's death. He fakes his death by running into Hurricane Laura as later we see him starting fresh as a lumberjack in Oregon. In New Blood, Dexter finds himself living as James Lindsay in Iron Lake, New York. As he begins to find a little peace living there, some unexpected events in the closely-knit community come up, leading to the return of Dexter's Dark Passenger in the form of his dead sister Debra. The return of his dark passenger as Debra is a sign that he will turn up into a ruthless evolving monster when season 9 returns.
Dexter's Journey Will Finally End With Season 9
It has been quite a roller coaster ride for Dexter. The show concluded last season, which led to unhappy fans and unsatisfied farewells. Hence, Showtime has taken up the opportunity to give Dexter a proper send-off one last time. Season 9 is set to complete circle Bay Harbor Butcher's Journey and the existence of his Dark Passenger. The upcoming season will give a fitting end to Dexter's journey, which will make better sense to the beloved fans. 
Dexter season 9 is set to conclude with the death of Dexter. Although, we don't know how this journey of bloodshed and murders end for Dexter and who might end it. However, the series has given us a fair idea since the beginning about the last day of Dexter. The show has consistently teased the date October 3 several times in the show. That is precisely the date when Dexter made his first kill, giving birth to his Dark Passenger. Therefore, fans can hope to see Dexter's saga end on the same date. Meanwhile, the importance of 103 comes from the day when Dexter's mother, Laura Moses, was reported dead on October 3, 1973.
Further, the same day Dexter and his brother are taken in by Harry. The number 103 has been teased in different scenarios like hotel room numbers, FM 103, Leviticus 10:3, Dexter's apartment number 10B, and more such exciting hints about the number. Hence, it will be thrilling to see how the show uses this crucial number factor while ending it all for Dexter in season 9.
Dexter season 9: Release Date
The show is returning for season 9 after a long time. Showtime will premiere Dexter Season 9 on November 7, 2021. The unforeseen return of Dexter would certainly have thrilled the fans. So don't miss it.