Tokyo Revengers Chapter 228 will finally focus on the fight between Brahman's top two executives and the leader of Rokuhara Tendai. Keizo Arashi and Wakasa Imaushi have served under the first generation of the Black Dragons. They are the strongest fighters Brahman have, but they are still having a hard time against Terano South. Well, South is a complete monster as he has been walking on the path of violence since his childhood. However, the very thing that excites Arashi is that he still gets to face a monster like him. Tokyo Revengers manga series is featuring its final story arc.
The leader of Kantou Manji, Mikey, is yet to join the battlefield. As of now, he is not even reacting to anything that is going around. However, he will undoubtedly lose his calm once he finds out that Draken is no more. On the other hand, Brahman's leader Senju Kawaragi is still in shock and is trying to process everything. So, when will fans see the battle between Rokuhara's leader and Brahman's strongest executives? Here is everything to know.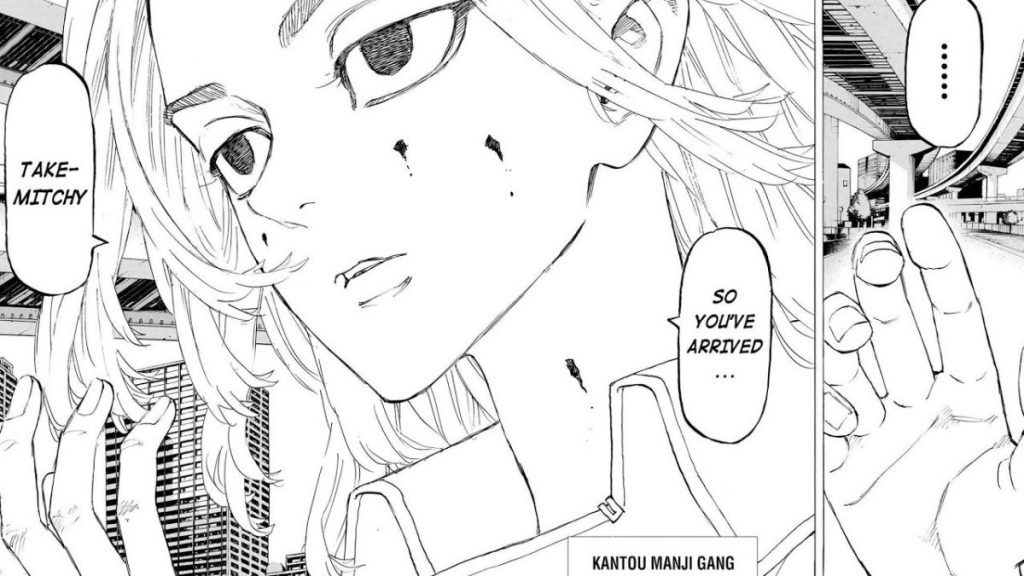 Tokyo Revengers Chapter 228: Plot Details
The next chapter of the manga series will begin with the fight between Terano South and Arashi & Imaushi. According to Kakuchou, the latter won't be able to beat the South as he is the man of extreme violence. Not only that, but he also defeated all the executives of Tenjiku without even breaking a sweat. The previous two chapters focused on the backstory of these three characters, and now the next one will finally unleash a battle between them. 
Fans can expect to see some unreal action in Tokyo Revengers Chapter 228 as some of the strongest fighters will engage in a battle. The forthcoming chapter will also reveal how Brahman's captain, Senju, will react to this fight. Since the upcoming battles involve Rokuhara's leader and Brahman's strongest fighters, it might catch Mikey's attention. However, it is still uncertain whether he will join the battlefield just yet or not. 
Previous Chapter Recap
The 227th chapter of Tokyo Revengers opened with the backstory of Terano Minami, aka South. He grew up in the slums in Brazil. South lived along with his bedridden mother. A guy named Dino took care of his mother and also taught Terano how to survive in Favelas. South entered the path of violence when he was just five years old. He murdered Dino's enemies for him and earned money. Dino was the one who gave the nickname "South" to Terano. With the money he earned, Terano bought a pair of shoes and learned the benefits of violence. Dino was a gangster who ruled the town.
South killed Dino in tears at the age of twelve. He succeeded Dino as the King of the Town and ruled his gang. When he was 14, an enemy gang raided his house and killed his mother. As a result, South migrated back to Japan to live with his grandmother. In prison, South beat all the top executives of Tenjiku and convinced them to join his gang. He even beat Kakuchou to the extent that he agreed to join Rokuhara Tendai. 
Tokyo Revengers Chapter 228: Release Date
All the fans of this manga are very excited for the next chapter as they just can't wait to see the ultimate showdown. Tokyo Revengers Chapter 228 will release on Wednesday, October 27, 2021. The latest chapter will be available to read officially on the official website of Kodansha.