Tencent Video's original Chinese series has been announced for My Girlfriend Is An Alien Season 2. And the social media platforms are storming with the Booting Ceremony pictures of famous stars. The second season is officially underway, with a huge ceremony that filled the hearts of the fans in awe. The series first debuted in August 2020 and has received worldwide recognition. Moreover, the series has also earned an impressive rating of 8.5 on IMDB.
The fantasy sitcom follows an intergalactic romance between a human and his alien girlfriend. Chai Xiaoqi is an alien girl who belongs to the "Cape Town Plane." In the series, she comes across a businessman named Fang Leng under critical circumstances. He is also the President of "Future Group of Companies." Fang gets severely injured in a car accident.
Meanwhile, Chai sees him and puts her life at risk to save his life. The first season features seven episodes depicting the romantic relationship between an overbearing businessman and a lovely alien girl. Hence, continue reading to know all the essential news about My Girlfriend Is An Alien Season 2.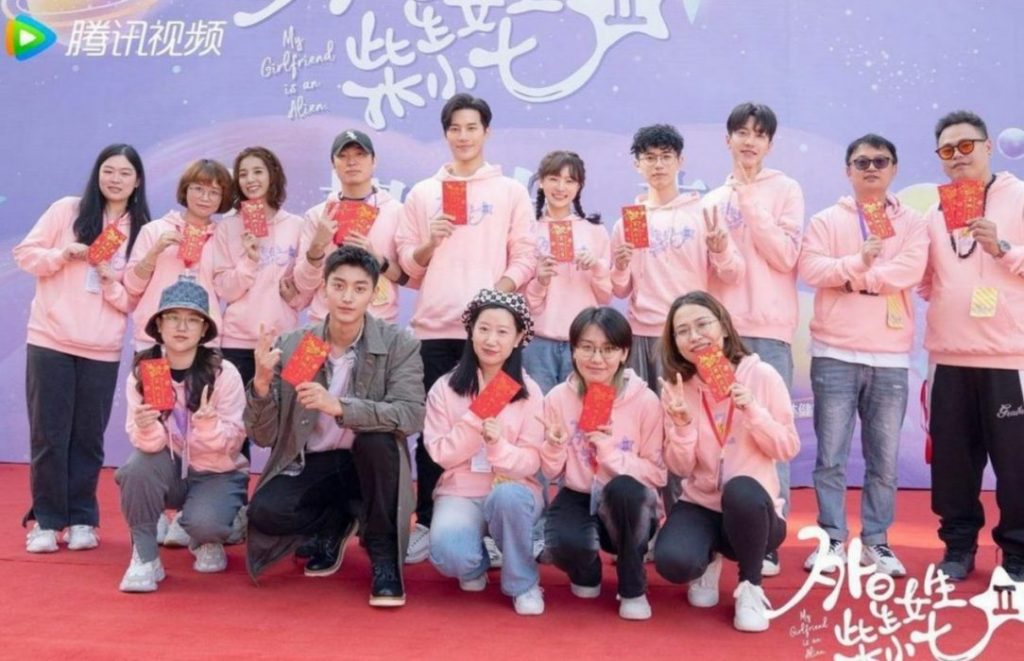 Thassapak Hsu Celebrates The Return Of My Girlfriend is An Alien Season 2
Recently in October, the lead actor of the series, Thassapak Hsu, shared a post on Instagram celebrating the return of the series for My Girlfriend is An Alien Season 2. The photos in the Instagram post were from the booting ceremony. The post revealed that the shooting for season 2 has kicked off with the official ceremony. Thus, fans can hope to see their favorite stars return for a second run soon, after a wait of almost two years. All the stars of the series were dressed in pink hoodies at the ceremony. Moreover, We TV also posted some pictures on their official Twitter account.
Who Will Be The Cast Next Season?
The main cast members returning for season 2 will be Thassapak Hsu as Fang Leng and Wan Peng as Chai Xiaoqi. Moreover, Wang You Jun as Fang Li, Yang Yue as Jiang Xue, Alina Zhang as Sister Chai, and Wang Hao Zhen as Han Jinming is also expected to return next season. In addition, Hu Cai Hong, Christopher Lee, Ashin Shu, Kris Bole, and Gong Zhen Nan are expected to return for My Girlfriend Is An Alien Season 2. 
My Girlfriend Is An Alien Season 2: When Will The Series Return?
The first season aired on We TV in August 2019. And, the second season's booting ceremony happened in October 2021. The ceremony marked the beginning of the second season's production. Thus, we can expect My Girlfriend Is An Alien Season to return in the latter half of 2022. So, keep returning for more updates about your favorite TV Shows.