Rejoice fans! Manifest Season 4 has finally begun its production. The series creator and stars shared some behind-the-scenes images hinting at speedy production. The third season ended with a massive cliffhanger where Angelina kidnapped Eden and escaped after stabbing Grace. Meanwhile, Ben and Vance mapped a heist plan to get Cal back. However, things turned upside-down in the finale when Flight 828 Captain Bill Daly suddenly reappears and disappears within a second. That raised plenty of questions. But how will things unfold in the fourth run remains to be seen.
Created by Jeff Rake, the series follows the mysterious disappearance of Montego Air Flight 828. However, the crew and passengers suddenly reappear five and a half years after being presumed dead. Then the crew and passengers tried to navigate their life after this experience. Out of the blue, they started experiencing some guided visions and voices, which they refer to as Calling. So to defeat their death date, they have to follow these Callings. Now that the series is ready to return, we can finally learn the mystery behind these Callings.
Manifest Season 4: Production Has Finally Begun!
Shortly after Netflix picked the series for the fourth run, fans have started yearning to know every tiny piece of information about Manifest Season 4. So guess what, recently lawman Jared Vazquez star J.R. Ramirez shared a snap on Instagram hinting at production status. He shared a snap of him standing close to his dressing room door. "I've been working" in this business "for almost two decades," Ramirez captioned. He added that he knows the team, and it rarely happens to work with such beautiful, talented humans.
Shortly after Netflix picked the show, it confirmed that Manifest Season 4 would be the final season. However, the surprising part of this renewal- the fourth season will split into two halves. Indeed you read it right! Hence the fourth season will consist of 20 episodes, meaning each part will be having ten episodes. So, although the fourth season seems a bit shorter than its previous one, splitting it into two parts can help fans binge on their favorite show for quite a long time.
Creator Teases Speedy Production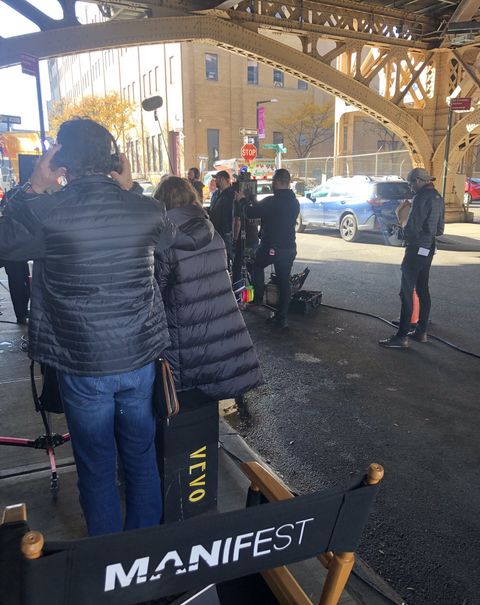 Shortly after Ramirez shared that they are back on set, series creator Jeff Rake hinted that the production won't take much time to conclude. As they are currently working on the first batch of episodes. Jeff further shared a production shot with a caption, "We're back!" Jeff even told Entertainment Weekly that they are planning to work as fast as they can.
Meanwhile, keep an eye on quality control. Since they want to return as quickly as possible. But they want to give a proper ending to the show. Howbeit the series might take time to return with the first batch of episodes. But "it's going to be worth" it, Jeff concluded. Now that the filming has started, we can expect that the series might wrap up its production shortly within a couple of months.
Manifest Season 4: Who Will Be In The Cast?
Shortly after the streamer renewed the series for the fourth run, many stars confirmed that they will definitely return for the fourth and final run. Melissa Roxburgh as Michaela Stone will return with Josh Dallas as Ben Stone. J.R. Ramirez as Jared Vasquez, Luna Blaise as Olive Stone, and Parveen Kaur as Saanvi Bahl will also return. Holly Taylor as Angelina Meyer will join Daryl Edwards as Robert Vance. Besides them, Ty Doran as Cal Stone and Matt Long as Zeke Landon will return as well.
Manifest Season 4: What Will Happen Next?
Michaela And Zeke Might Part Way
Many fans are theorizing that something worse is going to happen in Michaela and Zeke's life. When Zeke told Michaela that "they need to talk," many fans speculated that it might be the end of their relationship. Well, the duo has seen plenty of ups and downs together. Now it seems Michaela's feelings for Ramirez will escalate after Zeke leaves her. But will Ramirez return after he started feeling for someone else? Only time will tell.
Michaela's Connection With The Major
Lately, Some fans speculated that there's a connection between Michaela and the Major. If we look closely, both of them have the same interest for the passengers, especially for Callings. Further, they wear the same accessories, which hint the Major is perhaps Michaela's future self who returns to help her solve this case. If we consider the past episodes, then every possible clue matters.