The title of One Piece Chapter 1033 is "Shimotsuki Kouzaburou." In the forthcoming chapter of OP, Zoro will realize that the sword who chosen him is none other than Enma. This realization might finally shift the tides of this battle. As of now, King has the upper hand in this fight. But now, Zoro is planning to make things right as he has a promise to fulfill. This chapter will set the stage for the climax of the battle between King and Zoro.
Not only that, but it will also feature the continuation of Queen vs. Sanji. As a result, fans can expect to see a lot of intense action in these two battles. So, will Zoro be able to wield Enma, or will be his fight against the King his final one? Only the forthcoming chapter will tell, so here is everything to know about it.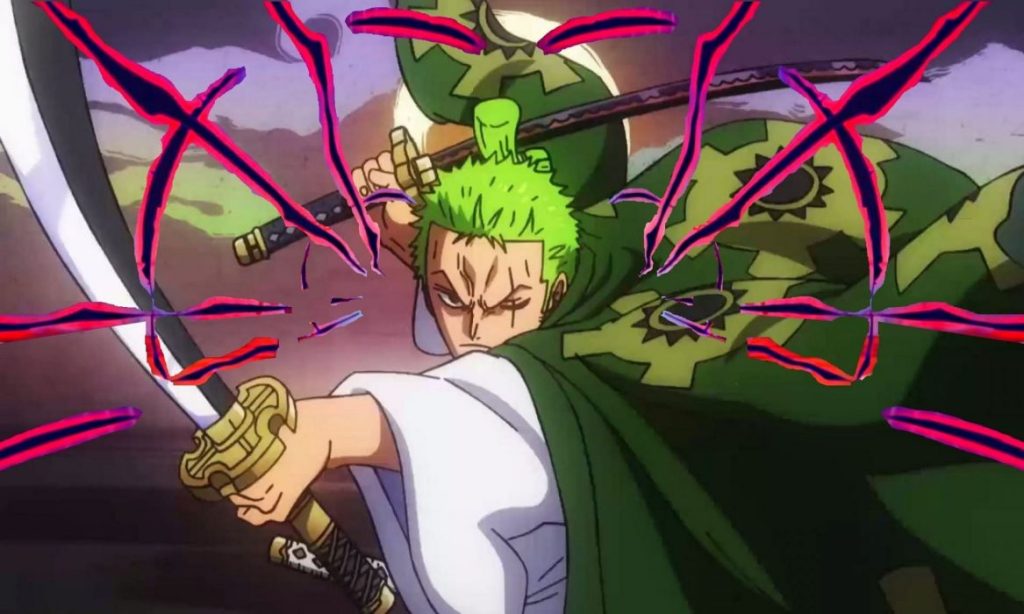 One Piece Chapter 1033: Plot Details
The next chapter of the OP manga series will begin outside the Onigashima castle, where King and Zoro are colliding against each other. King will suddenly attack Zoro, and the latter will stab one of his swords into King's belly. This attack won't affect him, and suddenly, a huge explosion will take place. The next panel after the explosion will shift the chapter's focus on the battle between Sanji and Queen. She will make fun of Sanji for thinking that his friend will defeat the King.
Queen will reveal that King is a survivor of an extinct race known as the "Lunaria race." The people of this race are like monsters that can survive any condition. As a result, the people of ancient times call them gods. Sanji will ask Queen
how the Lunaria race went extinct, and she will tell him to ask this question to history itself.
One Piece Chapter 1033 will reveal that Zoro uses the Color arms of Haki to protect himself from the blast. After getting up, Zoro will continue to attack King, but it won't attack him in any manner. Suddenly, Enma will lose control and will begin to absorb his Zoro's Haki again. The attack of King will reach Zoro, and due to this, Zoro will lose three of his swords. After that, Zoro will have a flashback where he will remember his conversation with Shimotsuki Kozaburo. The guy told him that a sword chooses its wielder itself. 
In One Piece Chapter, 1033 Zoro will realize that Enma chooses him, and hence he will grab the sword, and his hand will return to normal. Some subordinates of the Beast Pirates will also arrive on the battlefield and will see three swords of Zoro covered in smoke and black lightning. The King will ask Zoro does he intends to become a King. Zoro will reply by saying that he has made a promise to his captain and his best friend that he needs to fulfill. 
One Piece Chapter 1033: Release Date
The manga series is not on a break this week and hence will see the intense battle between King and Zoro without any delay. One Piece Chapter 1033 is all set to release on Sunday, November 28, 2021. The fans will be able to read the next chapter by visiting the official website of Viz Media.