Eiichiro Oda is taking his usual break, and hence One Piece Chapter 1032 will not release this week. The most recent chapter of OP ended with a major cliffhanger. By its end, Sanji abandoned the Germa suit and launched an attack named "Hell Memories" on Queen. However, it is not the only lingering storyline that needs to be resolved. There is a battle going on between King and Zoro as well.
On the other hand, the decisive battle between Luffy and Kaido is also at its peak. Therefore, fans can expect to get an update on all these storylines when the One Piece manga returns next week. But at present, everyone's focus is on Sanji, as there is a possibility he might lose his mind after this fight, and if this happens, Zoro will kill Sanji himself. So, will Sanji be able to win against Queen, and when will the new chapter come out? Here are all the latest details.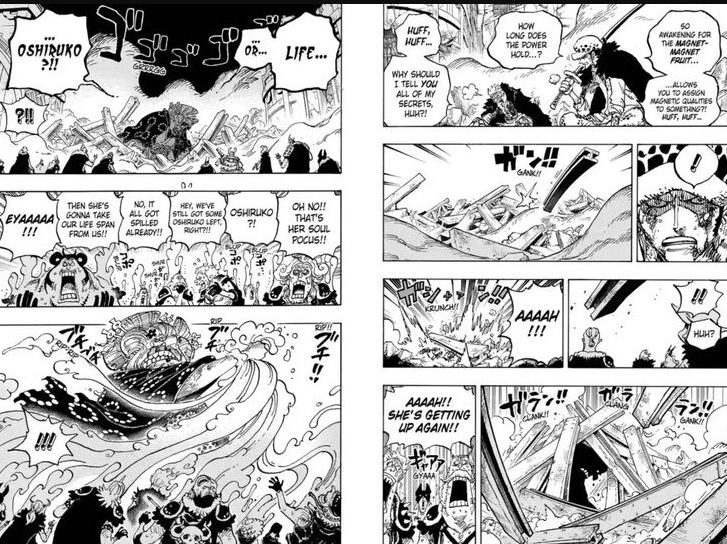 One Piece Chapter 1032: Plot Details
The upcoming edition of the OP's manga is all set to feature an epic showdown between Sanji and Queen. Sanji already abandoned the Raid Suit and decided to fight this battle on his own. He previously made the first move, so fans will get to see its consequence in the next chapter. Sanji's friend Zoro is also in the middle of a death match against King. 
In One Piece Chapter 1032, fans also see how Law and Kid will deal with Big Mom. The latter survived their combination attack, and now she is even stronger than before as she used her lifespan to increase her strength. On the other hand, both Kid and Law already used most of their strength. So, now it will be very difficult for them to face Big Mom.
Previous Chapter Recap!
In the most recent chapter of OP, the viewers saw Kid and Law getting stunned after seeing Big Mom standing up on her feet. She grew even larger in size by using one year of her lifespan. Meanwhile, Yamato helped Drake while he was fighting Apoo. The latter even offered them to join forces. But they refused and assured Apoo that it wouldn't happen. 
The second half of the 1031st chapter focused on the fight between Sanji and Queen. Sanji was quite disappointed and wasn't comfortable with his body. He didn't want to be a heartless killer like his brother, and hence he ditched the Raid Suit. He even told Zoro to kill him if he lost his mind. By the end of the chapter, Sanji attacked Queenusing Hell Memories. 
One Piece Chapter 1032: Release Date
The new chapter of OP won't come out this week due to the regular break of its author. But next week will undoubtedly be a treat for its fans as both the new chapter and One Piece Episode 1000 will release on the same day. One Piece Chapter 1032 will release on Sunday, November 21, 2020, on Viz Media.