It looks like Trevor will work under Conrad in The Resident season 5 Episode 9. They will encounter a patient who refuses to take the medicines that could save his life. With time running out, Trevor and Conrad will have to find a way to treat the patient at any cost. Meanwhile, Leela will have to make a life-changing decision for her patient in the next episode. Thus, continue reading further to discover all the essential updates about the ninth episode.
The Resident Season 5 Episode 9 Precap: What Will Happen?
The upcoming episode of The Resident season 5 is titled "He'd Really like to Put in a Central Line." Conrad will take Trevor under his wing to take care of a patient whose health is degrading quickly. However, he refuses to get treated. Trevor will tell Conrad to convince the patient. 
Meanwhile, Leela will struggle to make a decision for her indecisive patient. And her patient's life will depend on Leela's decision in The Resident season 5 Episode 9. Moreover, Bell will be struggling with some physical issues. He will confide in Conrad and ask him to be confidential about it.
A Quick Recap!
The previous episode of The Resident Season 5 began with Dr. Kit hiring Dr. Desoto, an expert surgical coach, to train Dr.Bell and Dr. Austin. They were not too pleased about the news. However, they were forced to take the training from Dr. Desoto. Bell and Austin had their problems with Desoto's surgery methods.
Voss tried to console Bell and inspired him to give Desoto's techniques a try. Surprisingly, Bell decided to use her techniques and was impressed by its efficiencies. Meanwhile, Austin was hell-bound to prove Desoto wrong. He prepared a whole rebuttal to prove that her techniques were not efficient. However, Dr. Desoto turned him down by asking him to reconsider her advice.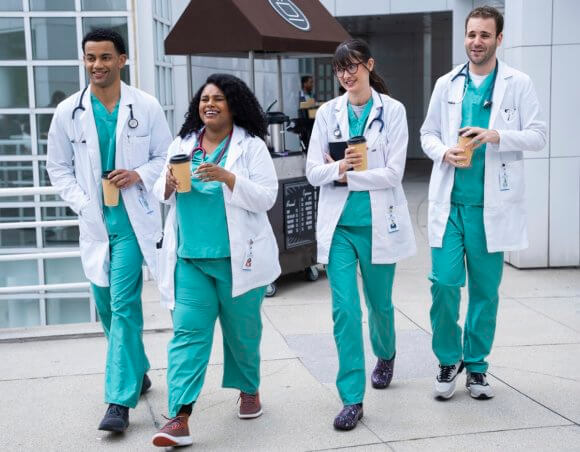 Moreover, Dr. Voss came to see Desoto regarding Bell. However, she felt that Bell asked Kit to intervene. She also pointed out that the CEO's relationship with a doctor could complicate things at the hospital. Next, a trauma patient named Brent was admitted to the hospital. He had a large piece of glass protruding to his stomach. 
The patient responded that he felt fine, but soon after, he passed out due to a diaphragm rupture. Bell and Desoto performed surgery on Brent while Desoto coached them. Bell picked up Desoto's methods which proved to be efficient. Seeing Bell, Austin also used Desoto's tactics. After the surgery, both the doctors thanked Desoto for her guidance and requested her to stay.
Devon Moves to The Hospital's Research Department!
Meanwhile, Billie and Devon handled an elder patient named George. But, Devon was more focused on research instead of focusing on the ER. So, when he talked about moving into research, Billie encouraged him to follow his calling. Meanwhile, George grew impatient and wanted to leave. Thus, Devon thought that George could possibly be suffering from the early onset of Parkinson's disease.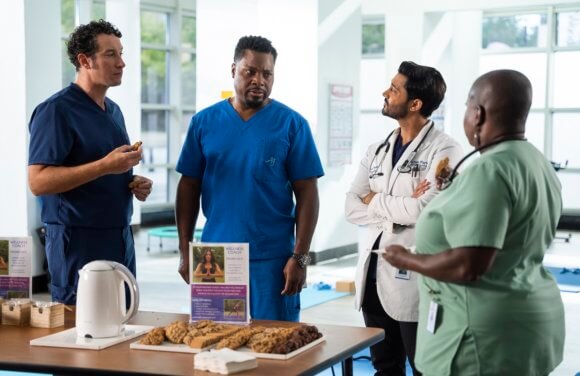 Further, Winston discovered that George's wife Celeste had passed out. Conrad took over her case and tried talking to her. She expressed how tough it has been to care for George. She wished that George would die in her sleep. Later, Celeste was diagnosed with broken heart syndrome. Devon was surprised as he thought the syndrome was a myth. 
Thus, Conrad insisted that she take a break as stressing too much could possibly kill her. He also suggested hiring a medical professional to take care of her husband. George disagreed at first but had to listen after Celeste took a stand for herself. Also, Conrad encouraged Devon. The duo went to talk to Kit about Devon moving to the hospital's research department. And Kit accepted Devon's request.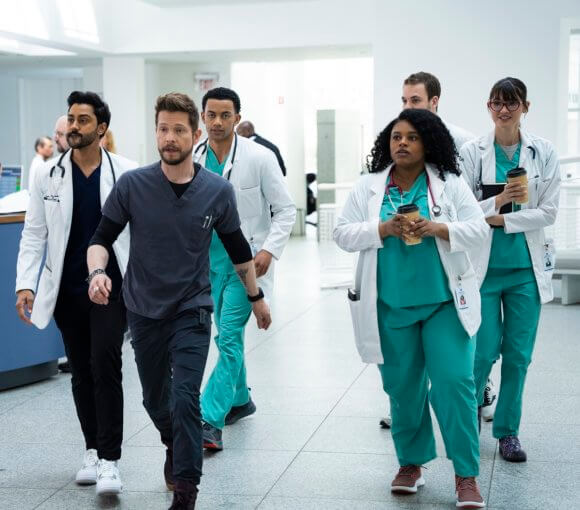 Devon Back In The Dating Pool!
Upon returning to the hospital, the women have been admiring Conrad's handsome looks and the fact that he wasn't ready for dating yet. Coincidentally, he overheard the conversation. After work, he came to pick up Gigi, who spent the whole day with Miriam at daycare. Conrad asked her to join Gigi and him for ice cream. She agreed while Billie was relieved to see Conrad making an effort to bring his love life back on track in The Resident season 5 Episode 8.
The Resident Season 5 Episode 9: Airing Date
Fox will air The Resident Season 5 Episode 9 on November 30, 2021. Each new episode airs weekly on Tuesdays at 8:00 p.m. ET, with an average runtime of 45 minutes.
Where To Stream The Upcoming Episode Online?
If you miss the next episode's broadcast on Fox, it can be viewed on the network's official website and the Fox app. Moreover, season 5 is also available to stream on Hulu, Fubo TV, DirecTV, Xfinity, and YouTube TV. Hence, stay tuned for more entertaining episode previews, and don't miss the ninth episode.