Barry will be surprised by the future when he reaches 2031 in The Flash Season 8 Episode 4. He will be shocked to see the love of his life marrying his biggest enemy. It seems like Eobard Thawne has managed to succeed in his plan. However, Barry will have to do everything in his power to make things right. Therefore, keep reading to know all the updates about the fourth episode.
The Flash Season 8 Episode 4 Preview: What Will Happen Next?
The next episode will be Part 4 of the Armageddon five-episode event. Barry will be facing Eobard Thawne in 2031. Barry is shocked to see the return of Eobard in the most unimaginable way. Moreover, he witnesses him getting married to the love of his life, Iris. In addition, Damien Darhk will offer Barry a piece of advice. However, the advice will be something strange with a deeper meaning. 
Meanwhile, in The Flash Season 8 Episode 4, The Flash, Sentinel, Team Flash, Batwoman, and Ryan Choi will be fighting off against Reverse-Flash. In the future, Reverse-Flash seems to have succeeded in his plan to take Barry's place after dealing with him. So, Barry will be surprised to see that everyone he has always cared for is standing against him. 
A Quick Recap!
The previous episode began with Barry requesting Jefferson to remove his powers as directed by the Injustice Protocols. He accepted Barry's request but stopped the procedure when Jefferson heard about Despero. Barry lost his cool and lashed out at Jefferson. However, he managed to calm Barry down and convinced him not to let go of his powers.
Meanwhile, in The Flash Season 8 Episode 3, Iris suspected that Barry had been framed and Joe's death had just been a setup. She and Allegra investigated Joe's death, which uncovered several unique coincidences directing towards foul play. She also saw some temporal particles and met with Deon Owens. He revealed that someone has traveled into the Negative Force to change the timeline and murder Joe.
Barry Travels Into The Future
Elsewhere, Cecile persuaded Rosalind Dillon to assist her in finding Barry. However, Dillon and Caitlin Snow advised Cecile to suppress her grief and embrace her love to improve Chester's process. Moreover, Despero turned on the particle accelerator, absorbed power from it, and ended up attacking Cecile's team. He discovered Barry's whereabouts and tracked him there. However, he was held outside by Iris, Deon, and Jefferson. 
Eventually, Deon informed him about Despero and sent him to 2031. In the future, he witnessed that Iris was getting married to Eobard Thawne in the presence of Team Flash, Alex, Ryan Choi, and Ryan Wilder. Surprisingly, they were unhappy to see Barry at the wedding in The Flash Season 8 Episode 3.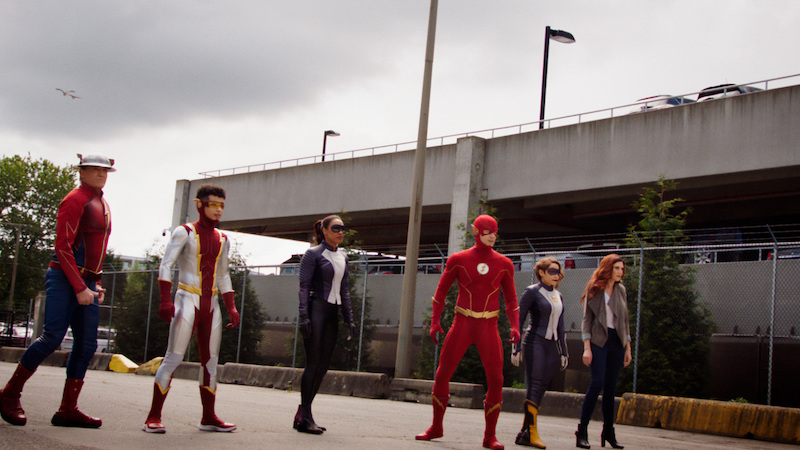 The Flash Season 8 Episode 4: Airing Date
The CW will air The Flash Season 8 Episode 4 on December 7, 2021. The network airs a new episode weekly on Tuesdays at 8:00 p.m. ET, with an average runtime of 45 minutes.
Where To Stream The Fourth Episode Online?
If you miss the latest episode on The CW, it will be available soon on the network's official website and The CW app. Moreover, fans can watch the current season
on DirecTV, Fubo TV, YouTube TV, and Amazon prime Video. So, don't skip the fourth episode and keep coming back for more exciting episode previews.