Ji-hyun will try to transport Sae-bom and Seo-yoon out of the building in Happiness Ep 11. However, things are getting out of hand as several dead bodies show up in the apartments. The suspicion of all the murders is towards Andrew.
Meanwhile, Yi-hyun is trying his best to hold onto his sanity. Thus, fans will see Yi-hyun struggling while Tae-seok and Sae-bom become more suspicious about his health. Therefore, keep reading to learn all the details about the eleventh episode.
Happiness Ep 11 Preview: What Will Happen Next?
Yi-hyun will try to get Sae-bom and Seo-yoon out before things get worse. He seems to have been infected and is acting strangely. Tae-seok is also suspicious about him not leaving with Seo-yoon and Sae-bom. She is also concerned about Yi-hyun and has decided to stay behind.
Meanwhile, three bodies have been found so far. With Jung-kook dead, it turns out Andre is not someone he claims to be. Thus, Yi-hyun and Sae-bom will have to solve the mystery around the murders in Happiness Ep 11. Also. Yi-hyun's condition might worsen in the next episode.
A Quick Recap!
The previous episode began with Tae-seok contacting Hi-hyun. He lied that Sae-bom's blood did not have antibodies. He advised Yi-hyun to send Seo-yoon out of the building as they were tried to secure the minors during the lockdown. Yi-hyun requested that Sae-bom must be taken out with Seo-yoon. Tae-seok was suspicious about Yi-hyun's request as it was strange of him.
Meanwhile, in Happiness Ep 10, Sa-bom checked up on Se-hoon, whose apartment door was open. She found that Se-hoon was gone and contacted Yi-hyun. Sae-bom showed him the note she found in Se-hoon's apartment. He confessed to committing a major wrong in the letter and could not endure anymore. He also requested to divide the ration between the residents.
However, the duo was suspicious about Se-hoon's handwriting. They investigated the matter and found the cleaning lady Ajumma's body in an apartment upstairs covered in lime powder. They found the same powder at Se-hoon's place. Meanwhile, the residents fought over dividing Se-hoon's food and water.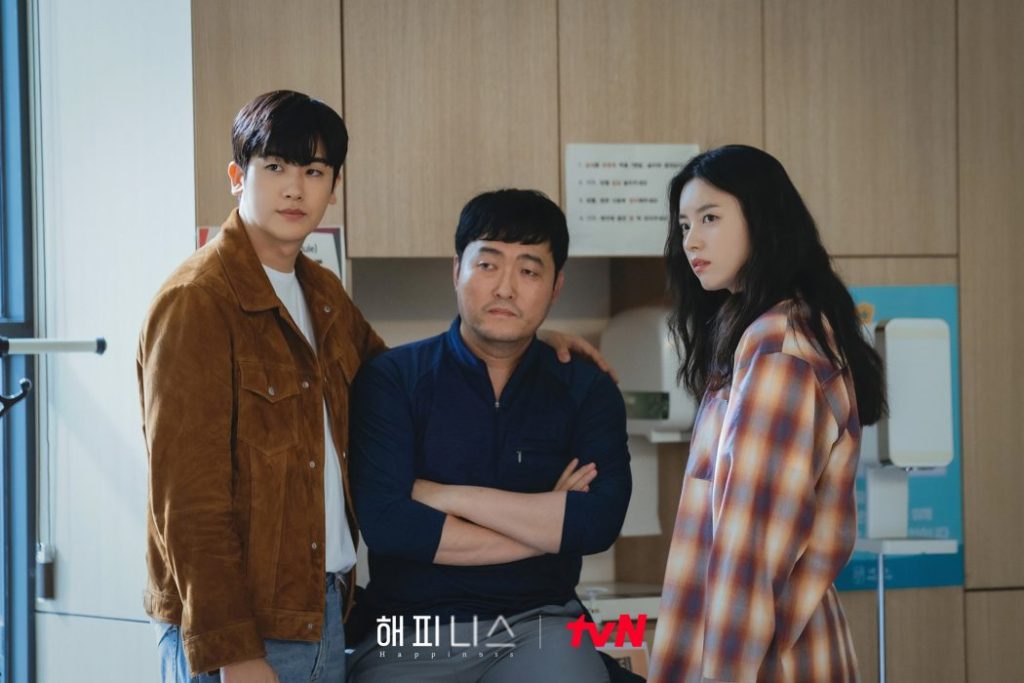 Further, in Happiness Ep 10, Yi-hyun acted strangely, and Sae-bom found him out of bed. So she went after him and saw him with a radio in the lobby. She saw a cut in his hand and took him to clean it. Moreover, the residents found out about Ajumma and suspected that Se-hoon might have done it. However, it seemed like Andrew was behind it.
Tae-seok called to take Sae-bom's blood after his wife started to lose her sanity. Yi-hyun was not too happy about his, but Tae-seok convinced him. Meanwhile, Yi-hyun decided to go out and get food. However, a resident suggested that it could be worthless. So, they discussed starting a power source in the basement that could provide electricity and water.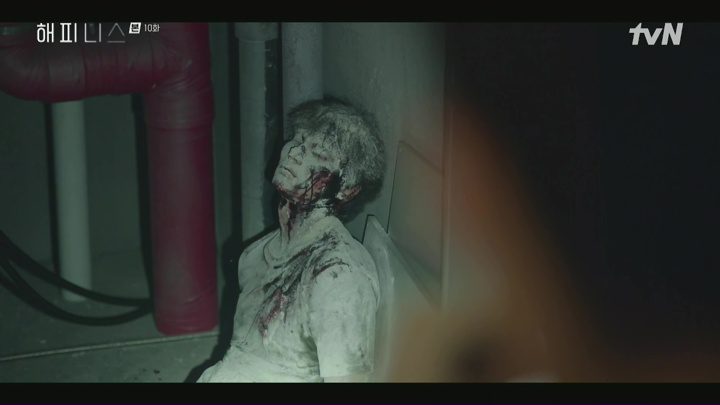 Se-hoon Turns Up Dead
Meanwhile, the duo looked for See-hoon. His dead body was found in the basement with the lime powder. They grew suspicious as Sae-bom found Se-hoon and Deok-soon's id in Andrews bag. Eventually, Andrew shot Jung-kook and was playing with Seo-yoon. Yi-hyun and Sae-bom rushed to the apartment and asked Andrew about his real identity. In the end, Andrew removed his goggles, hat, and mask.
Happiness Ep 11: Airing Date
Happiness Ep 11 will air on December 10, 2021. tvN airs two new episodes weekly on Fridays and Saturdays at 10:40 p.m. KST.
Where To Stream The Next Episode Online?
International fans can stream the latest episodes on TVING, iQIYI, Viki, and Viu. Hence, don't forget to watch the eleventh episode and stay tuned for more thrilling episode previews about your favorite K-drama shows.