Joe Goldberg is ready to take a trip to Paris in You Season 4. After the havoc he created in Madre Linda, Joe had no choice but to fake his death and run away. He left his son behind and decided to follow his new love interest, Marienne Bellamy. However, fans will have to wait a while before the fourth installment hits the screens on Netflix.
While the wait continues, fans have come up with a series of rumors and speculations that could give us a fair idea of what's to come ahead in season 4. So, keep reading ahead to know all the details about the next season.
You Season 4: Renewal And Production Status
Along with the announcement, Netflix released the show's renewal for season 4. The teaser came out two days after the third installment aired on the streaming network in October 2021. So naturally, fans are looking forwards to another gut-wrenching season after what happened with Love and several other people of Madre Linda the previous season.
There haven't been many revelations about the production schedule yet. You Season 4's production is yet to start, and it will probably be by the beginning of 2022. However, some fans think that the filming of the third and fourth season was done simultaneously. But when Netflix reveals some information about the filming status, the truth will come out.
You Season 4: Joe's Next Destination-Paris
The star cast of You has confirmed via a Twitter video that the show is moving to Paris. Love and Joe moved to Madre Kinda to start a new life with their son. However, it wasn't too long before Joe's attention shifted from Love to Marianne. Love found about it, and her frustrations led to the death of several people. However, Joe was done with her as they faced the odds of ending each other's life. And amidst all this, Love had to lose her life. 
Further, Joe faked his death after several residents, including Cary, Sherry, Theo, and Matthew, found out about his true nature. However, as the dust settles, Matthew might not be the one who believes in Joe's death. So, he might come after Joe in the next installment. In addition, Joe is set to locate Marienne in Paris. He is obsessed with his new victim and is planning to fall for her before she reaches her fate, just like his former lovers.
On the other hand, Love will be seen in a series of flashbacks while Joe does whatever he can to get Marienne by her side. However, it won't be as easy to get hold of her, and she might reject his love even after reuniting with Joe. Further, the previous season also revealed that Joe had a half-brother whom his mom has raised. Thus, fans might see the two brothers meeting for the first time in You Season 4. And it won't be a big surprise if the younger brother has similar tendencies to his older brother.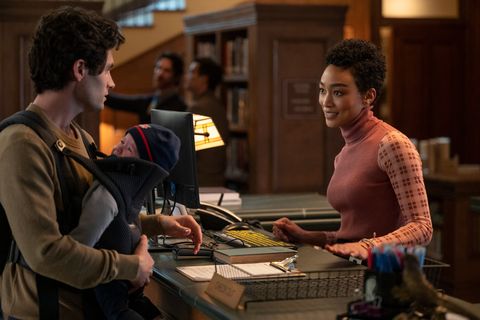 Who Will Return For The Next Season?
Netflix is pretty tight-lipped about the fourth season of You. And no new cast announcements have been made yet. However, Penn Bradley will definitely return as Joe Goldberg in You Season 4. Moreover, Tati Gabrielle as Marienne will be the focus of the next season, while Victoria Pedretti will feature as Love, but in flashbacks.
Further, some fans believe that Jenna Ortega as Ellie and Shay Mitchell as Peach Sallinger might return to join the cast. Both of them had plans to move to Paris in the previous installment. Even when Peach has been presumed dead, fans believe in the concept of a fake death and await a resurrection of Peach's character in the next season.
Rumors about Cardi B featuring in the upcoming installment as a guest star have also prevailed after she posted an image of a letter and cap from Joe. The tweet was captioned, "How Joe found my new address?" Although it seems unlikely, the show can surprise its dedicated fans with a short appearance from the musical diva.
You Season 4: Premiere Date
The previous installments of You were released during the fall season. Thus, fans can expect Netflix to premiere You Season 4 sometime around the fall of 2022. Therefore, for now, fans will have to wait patiently before Joe's obsession for Marienne takes him to Paris in the fourth installment. The streamer is yet to announce an official release date. So stay tuned for more thrilling updates about your favorite TV shows.