It looks like Maggie will find her Godfather in The Simpsons Season 33 Episode 10. The family has decided to get Maggie baptized. And now, Homer is looking for a dependable Godfather for his daughter. Eventually, he will find Fat Tony to be a deserving candidate. So, keep reading ahead to know all the updates about the tenth episode.
The Simpsons Season 33 Episode 10 Precap: What Will Happen?
The tenth episode of The Simpsons Season 33 is titled " A Made Maggie." The Simpsons will decide that it is time for their youngest one to get baptized. So, Homer will begin his quest to look for a perfect Godfather for Maggie. And after a lot of effort, he will feel that Fat Tony is the perfect man for the job. Thus, the Italian culture-centric episode will witness Fat Tony taking up the responsibilities of being Maggie's Godfather in The Simpsons Season 33 Episode 10.
A Quick Recap!
The previous episode began with Bart and his dog watching a dog show on Muttlfix. Soon after, Bart informed Marge that it was Mother's day. She expected her children to do something special for her. But instead, Bart and Lisa brought their mum a mug, just like every year.
Moreover, Homer gifted Marge a photo frame with their kid's picture in it. Unfortunately, the whole incident reminded Homers of his mother, and he began to cry. Lisa then insisted that Homer take up an online therapy session after seeing her father's suffering.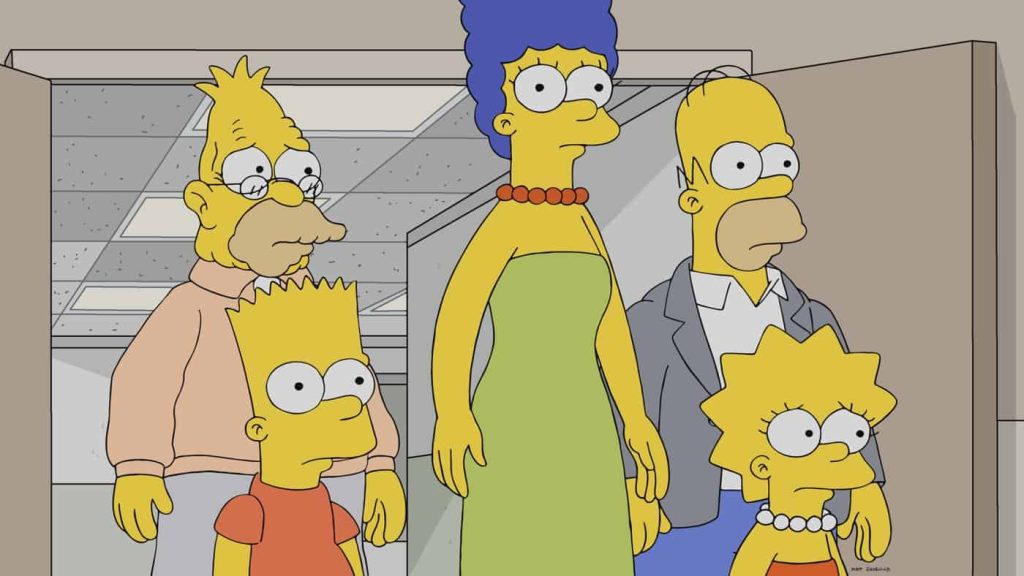 He got in touch with a therapist using a mobile app and began to tell his story. Homer's mother left him and his father when he was nine years old. His father lied that she was dead. However, he received a postcard from his mother on his birthday. He then insisted on visiting her. He did not even listen to his father and was reluctant to stay. So, his father decided to take a drive with his son. Sadly, the FBI was looking for Homer's mother, Mona. She was a convicted felon. The feds hoped Mona would come out of hiding to meet her son. 
Meanwhile, Homer was uncomfortable with the therapist. So, Lisa got him connected to a better one using the mobile app. Eventually, Homer found his mother, but she had to escape as the FBI followed her son to get to her. Since then, Homer stayed with his father, Grampa Simpson, who always stayed by Homer's side.
Homer also revealed that he saw his mother dressed as a male doctor when Bart was born. However, he was not sure if it was real. Nevertheless, the talking helped Homer get over his pain. And at the end of The Simpsons Season 33 Episode 9, he surprised Marge by taking the family to the finest restaurant for Mother's day celebration.
The Simpsons Season 33 Episode 10: Airing Date
Fox will air The Simpsons Season 33 Episode 10 on December 19, 2021. The upcoming episode will air after a three-week hiatus after the previous episode aired on November 28. The network will air the next episode on Sunday at 8:00 p.m. ET.
Where To Stream The Returning Episode Online?
Fans can stream the latest episode on Disney+, Hulu, YouTube TV, and Amazon Prime Video. So, don't skip the tenth episode and keep coming back for more exciting episode previews.