It seems Jae-kook and Young-eun are about to get more distanced in Now We Are Breaking Up Ep 15. Jae-kook will prepare to leave the company while Young-eun will be busy dealing with the mess in her life. However, Jae-kook will ask her to leave everything and start a new life with him. It seems like the pressure from their families and the past will destroy their relationship. Hence, keep reading ahead to learn all the necessary details about Ep 15.
Now We Are Breaking Up Ep 15 Preview: What Will Happen Next?
The upcoming episode will find Jae-kook making preparations to move to Paris permanently. Jae-kook has already requested De-hoon to cancel his contract. Unfortunately, Young-eun refused to leave everything behind to come with him. He will try to convince her in Now We Are Breaking Up Ep 15. Moreover, Jae-kook's mother is unaware of her son's plans. Thus, she might find out the truth in the next episode.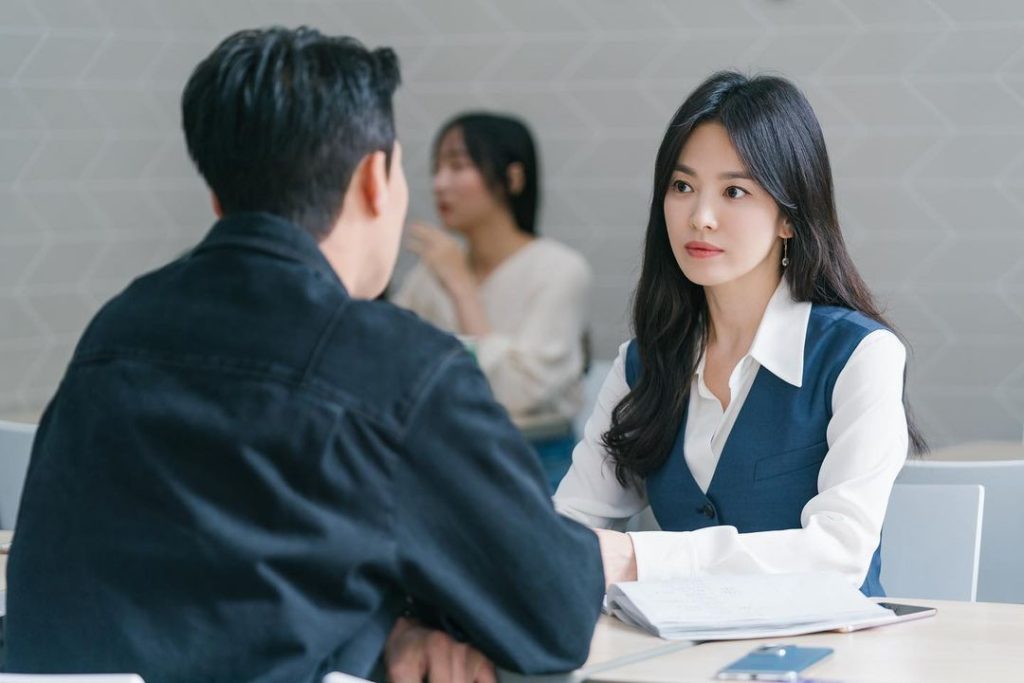 Further, Chi-sook's ex is making a lot of moves to make her doubt De-hoon. However, it seems like his bad intentions will not affect her feeling for De-hoon.
A Quick Recap!
Last week, Ha Young-eun and her team prepared for the inauguration of SONO's new pop-up store in Paris. However, they were surprised by a team raid at the office. Meanwhile, Mi-sook had clarity about how she wanted to spend the limited time left. She decided to do everything she wanted for herself and her loved ones.
So, Young-eun and Chi-sook decided to plan a surprise fashion show for Mi-sook. She was back on the fashion ramp as a model and expressed her years of experience and confidence. Young-eun and Chi Sook were quite emotional while watching Mi-sook slaying on the ramp.
In Ep 14, Jae-kook requested Young-eun to move to Paris with him away from their families and dreadful past. However, Young-eun had a lot going on in her life. Her parents were getting divorced, the company was being sold, her team was falling apart, and her best friend was dying.
So she didn't want to escape from her problems and just leave everyone behind. Young-eun's mother sent her a letter explaining why she was divorcing her husband. Young-eun was very emotional after knowing her mother's side of the story. 
Meanwhile, SONO's latest fashion show turned out to be a great success. Thus, Young-eun's brand seemed to be getting back on track. But, her life and the people she loved were still falling apart. Amid her quest to revive her brand and save the company, Young-eun and Jae-kook's relationship might be nearing a dreadful end in Now We Are Breaking Up Ep 15.
Now We Are Breaking Up Ep 15: Will Young-eun move To Paris With Jae-kook! Know What's Next
Now We Are Breaking Up Ep 15: Airing Date
SBS will air Now We Are Breaking Up Ep 15 on January 1, 2022. The network airs two new episodes weekly on Fridays and Saturdays at 10:00 p.m. KST.
Where To Stream Ep 15 Online?
Viewers across the globe can watch the upcoming episode on Rakuten Viki and Biu. So, don't skip the next episode and keep returning for more informative episode previews about your favorite K-dramas.