It seems like the doctors will find themselves in some personal life problems in New Amsterdam Season 4 Episode 16. Max might be taking a huge step with Helen, while Iggy feels inclined towards having an affair due to his deteriorating mental health. Further, Malvo will reveal big news in the upcoming episode. Sadly, the upcoming episode has been delayed until April. Hence, continue reading to know about the next episode.
New Amsterdam Season 4 Episode 16 Preview: What Will Happen?
The sixteenth episode of New Amsterdam Season 4 is titled " All Night Long." Max is planning to propose to Helen in the returning episode. However, it seems like they would be forced to deal with several complicated situations before Max can propose. Elsewhere Iggy will make some bad decisions as he is unhappy with his marriage.
His low self-esteem due to his parents' abuse could lead him to sleep with a guy. Meanwhile, Bloom might relapse into her old drug habits. As a result, she and Casey might end up having an accident while she is high. In addition, Malvo might have lost her baby due to overworking.
A Quick Recap!
Max rushed into Vernocia's office in the previous episode and tried to threaten her. However, he was interrupted by a call from Helen. Till then, Veronica called security and removed him from the hospital. Max found out about the deals Veronica had negotiated and told Karen about it. Floyd felt awkward after being ignored by everyone at work. Iggy treated a young patient named Nick, who believed he survived a brutal shooting at a grocery store.
However, his father told Iggy that it was a false flag operation and the shooting never happened. Floyd came across a patient who needed endocrine surgery to remove a tumor in her pancreas. Veronica happened to have specialized in the area and agreed to operate on Floyd's patient. 
Further, in New Amsterdam Season 4 Episode 15, Max began working at an urgent medicine place to expose Veronica's plans. Wilder took care of a dying patient who wanted to increase his life span to witness his daughter's wedding. Floyd believed that Veronica was afraid about going back to surgical procedures. Hence, she was hesitant about performing the surgery that could have the patient's life. Veronica is seen working under her superiors in a flashback, who told her they couldn't perform life-changing surgeries because of t he high expenses and low survival possibility.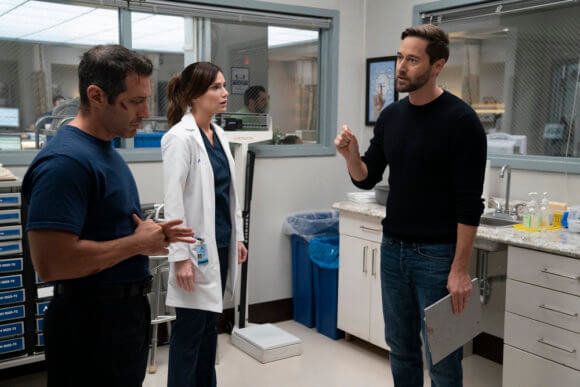 Drew told Iggy that his father was a conspiracy theorist. He wanted Iggy to deprogram his father, who believed everything he went through was fake. Max struck a deal with the head of the urgent medicine unit, Antonio, for his board seat. Wilder sought help from Mia to increase her dying patient's life span. But Mia just laughed off at her idea. Drew tried to make things better with his father, but it did not work out.  
Veronica Performs A Surgery While Remembering Her Past
Veronica went behind her superiors' back in another flashback and performed the surgery that could have ruined her career. She took Ms. Jordan to the OR in the present, while Floyd was not too sure about letting Veronica handle the surgery. Max requested the people fired by Veronica to join UMI. However, they did not agree with Max as he was the reason they were fired in the first place. Iggy told Drew that he would have to change things with his father. In the past, Veronica promised to help her colleagues who were afraid of getting fired of helping her. 
Veronica decided to close Ms. Jones up as the tumor spread through her organs. However, Floyd wanted to defy her orders. Max and Floyd ended up having an argument on the rooftop. Drew tried to focus on things he and his father liked mutually. Mia used a Tibetian sound bowl to make the patient Louis imagine his daughter walking down the aisle. Veronica told Floyd that she was in the same position once in the past. Floyd talked to the doctors and made them show up at the UMI, surprising Max. While Helen was in London, she and Max had phone sex in New Amsterdam Season 4 Episode 15.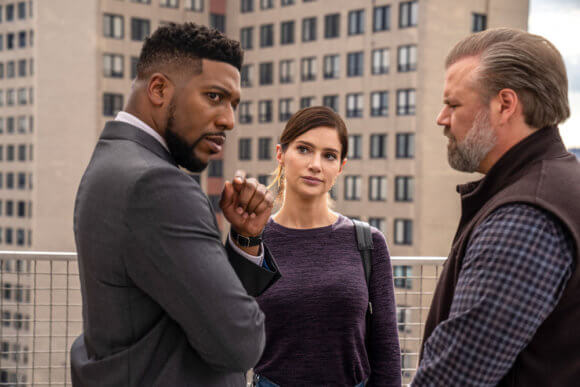 New Amsterdam Season 4 Episode 16: Airing Date
Sadly, New Amsterdam has undergone another break. The upcoming episode will not be returning this week. Now, NBC will air New Amsterdam Season 4 Episode 16 on April 19, 2022. The network will ait the returning episode on Tuesday at 10:00 p.m. ET. Also, each episode of the current season will have 45 minutes of estimated runtime.
Where To Stream The Next Episode Online?
If you miss NBC's broadcast, you can stream the latest episode on the network's official website and the NBC app. Moreover, the fourth season is available to stream on Fubo TV, DirecTV, Sling TV, Peacock TV, Hulu+Live, and YouTube TV. So, stay patient and keep coming back for more informative episode previews only on TechRadar247.com.