It seems like everyone is slowly beginning to realize that Chan-Young is having some trouble in Thirty Nine Ep 10. Her family, Jin-Seok, and her friends are beginning to suspect that something is not right. It won't be long before they figure out that Chan-Young may not have much time left t live. So, what might happen in the tenth episode? Keep reading ahead to find out!
Thirty Nine Ep 10 Preview: What Will Happen?
The tenth episode of Thirty Nine is titled "He Who Dances Must Pay the Piper." Chan-Young's friends and family will finally start to realize that something is wrong with her. After she found herself in the hospital previously, Mi-Jo and Joo-Hee have a fair idea that something is wrong with her. With not much time left, Chan-Young will have to set a lot of things right. She will have to break the news Jin-Seok and her parents. Hence, she might try to convince Hin-Seok to share custody with his ex and get a divorce soon.
Meanwhile, Min-Jo will continue to struggle with the reality of her childhood as an orphan. Her mother might try to contact her again. It will be interesting to see if she forgives her mother or confronts her for leaving Mi-Jo at an orphanage. She will also struggle with what Seon-U's father said to her. Seon-U will sense the tension in her behavior and might ask her about it.
A Quick Recap!
The previous episode depicted Mi-Jo's journey from being in an orphanage to being a part of a loving adoptive family. She also decided to meet her birth mother in prison. Her mother did not talk about leaving Mi-Jo at the orphanage which infuriated her. She faked having a stomach ache as she was fed of her mother's ranting. Mi-Jo decided to visit her adoptive parents to feel better. She found out that her mother had injured her arm. So, Mi-Jo was left to do the chores around the house. Later, Mi-Hyeon returned home and the family had dinner together.
Meanwhile, in Thirty Nine Ep 9, Joo-Hee met her home and acknowledged how hard it would have been for her to keep the secret about Mi-Jo's real mother. Chan-Young was surprised by her parents. She was delighted to see them and also suggested they move with Chan-Young. They asked about Jin-Seok and Chan-Young said that they had decided to just be friends. Jin-Seok was at the door outside as he overheard the conversation and chose not to knock.
Joo-Hee Plans To Start A Business While Chan-Young's Condition Worsens
Joo-Hee's mother took her to the bank and gave her 50 million won. Her mother wanted Jo-Hee to put the money to good use. So, she finally decided to look at various leases at the real estate agency. Hyeon-Jun showed up and helped Jee-Hoo. They went out to get some food when Mi-Joo messaged Joo-Hee to meet her. Joo-Hee talked about opening a small shop when Seon-U's father called Mi-Jo. She took a stand for herself and told Seon-U's father that her being an orphan would not be a reason to stop seeing Seon-U. However, she seemed clearly disturbed by the conversation during a day with Seon-U.
Elsewhere, Jin-Seok's ex showed up to meet Chan-Young. She apologized for her behavior and requested Chan to convince Jin-Seok into sharing Hu-won's custody. Chan-Young tried to talk to Jin-Seok who was unhappy about it. Chan-Young told Jin-Seok that they should stay together and he should get a divorce as he promised. Seon-U took Mi-Jo on a romantic date to the beach to make her feel better. She accepted the ring Seon-U have her and headed back to the office. Mi-Jo's real mother called her from prison. Mi-Jo made an excuse and hung up.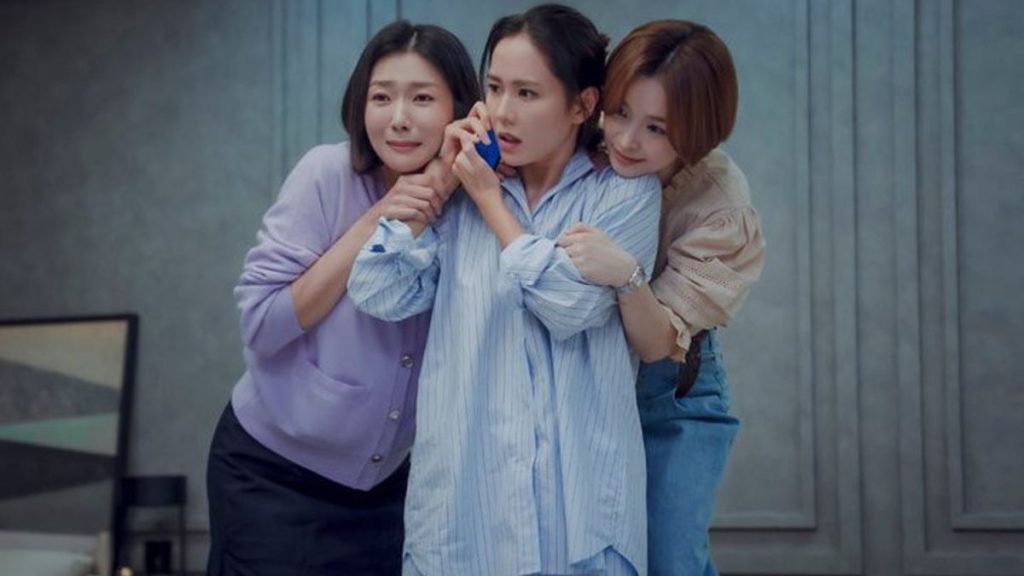 Chan-Young ended up in the hospital due to a horrible stomach ache when she went out to get a cake for her mother's birthday. Joo-Hee and Mi-Jo broke into the cake shop and stole a cake for Chan Young. They later reported themselves and settled with the owner for the broken glass and cake. Everyone found out that Chan-Young was suffering from a terminal illness. They head out for drinks as they joked around in Thirty Nine Ep 9.
Thirty Nine Ep 10: Airing Date
JTBC will air Thirty Nine Ep 10 on March 24, 2022. The network airs two new episodes weekly on Wednesdays and Thursdays at 10:30 p.m. KST. International viewers stream the upcoming episode on Netflix and Dramacool. So, don't miss out on the tenth episode and keep coming back for more thrilling episode previews only on Techradar247.com.