It seems like ABC's Grey's Anatomy universe will continue to thrive in the immediate future. Following the day after ABC announced the renewal of its signature series Grey's Anatomy, the network teased the possibility of Station 19 Season 6. Will it return? Well, there's no reason why the series shouldn't have to return with potential season 6. However, the series is currently in mid-season, so it's quite early to guess what will happen next. But what if we tell you ABC has some plans for Station 19 Season 6. Keep reading to know more.
Created by Stacy McKee, the series is the spinoff of Grey's Anatomy. It took place in Los Angeles where a group of heroic firefighters of the Seattle Fire Department works at Station 19. It explores the lifestyle of every character, from the captain to the newest recruit. The series shows the dilemma of their personal and professional life. Meanwhile, the show also portrays some crossover events with Grey's Anatomy.
Station 19 Season 6: Renewed Already!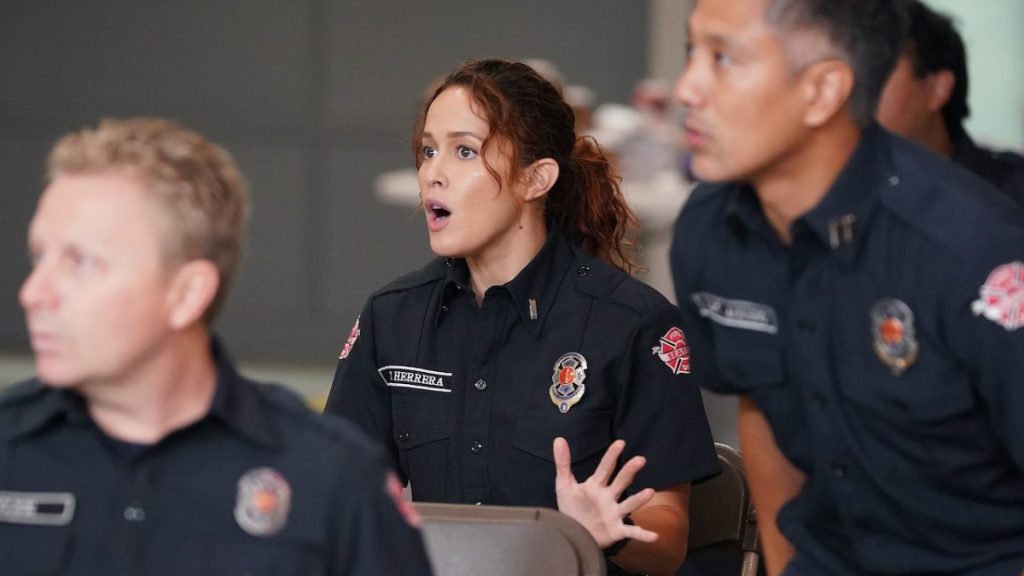 Shortly after the renewal of Grey's Anatomy, ABC has confirmed they are picking Station 19 for the sixth season. The announcement appeared in the middle of the fifth season, which is currently on air. While the fifth season has time to wrap, the network released that Krista Vernoff will continue to stay the showrunner and executive producer of both Grey's Anatomy and Station 19.
Vernoff will continue to boost the series ratings by bringing integrated storyline and brilliant crossovers with Grey's Anatomy. Because of this, the two shows were renewed back-to-back. While Grey's Anatomy has topped ABC's viewership record, Station 19 secured the second-highest-rated series on the network.
The drama has gained a 2.17 rating amongst 18-49 demos within 35 days and also an increase of 234% over its initial Live+ streaming on the same day. Further, Station 19, on average, gained 6.3 million total viewers in the first eight episodes of the fifth season. Vernoff stated that "it's a privilege to work and tell stories of heroic first responders" they put their lives in danger to keep everyone safe. They are grateful to ABC and Disney to picked the show for the sixth season. Further, she praised the talented cast, writers, crew, and creative team for dedicating themselves to the show.
Meanwhile, ABC Entertainment President Craig Erwich praised the show. Erwich stated that "the riveting storytelling and passionate fans base" has made them come up with more reasons. Further, Vernoff and the incredible and talented cast and crew members' work is unmatchable. Coupled with Grey's Anatomy, Station 19 ensures to bring more crossovers opportunities. That will indeed make their night thrilling and exciting.
Station 19 Season 6: Who Could Be In The Next Run?
No doubt, Jaina Lee Ortiz will return as Andrea "Andy" Herrera, Jason George as Dr. Benjamin "Ben" Warren, and Grey Damon as Jack Gibson. Besides them, Jay Hayden as Travis Montgomery will join Okieriete Onaodowan as Dean Miller and Danielle Savre as Maya Deluca-Bishop. Additionally, we can also see Boris Kodjoe as Robert Sullivan, Stefania Spampinato as Dr. Carina DeLuca-Bishop, and Carlos Miranda as Theo Ruiz. If the upcoming season comes up with some crossovers, we can expect to see Grey's Anatomy's characters in Station 19 Season 6.
Station 19 Season 6: What Will Happen Next?
As of now, it's quite tricky to suggest what will happen next. This is because Station 19 Season 5 is still running on-air. However, we can jump on the following episode of Station 19 Season 5. Station 19 Season 5 Episode 14, titled "Alone In The Dark," suggests that the crew will face some difficult times together. They will be at station 23 and face a tough goodbye. Meanwhile, Addy will encounter a charming firefighter. On the other hand, Emmett invites Travis for a dinner party with his parents.
Station 19 Season 6: When Will It Air?
No doubt it will take some time to return to your screen. But we expect Station 19 Season 6 to return by the end of 2022. Apart from season 6, Station 19 Season 5 Episode 14, titled "Alone In The Dark," will air soon on your screen. It will air on Wednesday, March 30, 2022, only on ABC. You can also stream Station 19 on ABC's official website or app. So don't miss it.