Apple Tv+'s physical is dark comedy-drama series that debuted on the platform in 2021. The quirky series created by Annie Weisman follows Shiela, a woman stuck in an unhealthy marriage. Her life starts turning around when her Aerobics videos become famous. Fans have been waiting for the Physical Season 2 for quite some time, and now Apple Tv+ has given a date to look forward to!
What To Expect From Physical Season 2?
At the end of the first season of Physical, Sheila's aerobics videos started getting attention and were becoming quite popular. After she did a brilliant display at the mall, a big Tv producer approached her. After the article in the Times did not mention their name and only gave credit to Sheila Tyler, Bunny was feeling left out.
On the other hand, Danny suffered a huge loss that seeming set him on his old uncouth methods. Meanwhile, Sheila goes to the mall after an unpleasant quarrel with her husband. In the mall, she met John Breem, who had just learned about his wife's pregnancy. And the two shared a strangely intimate moment.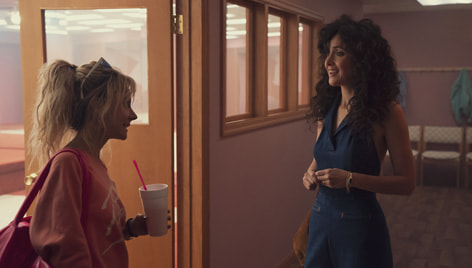 Upon the return of Physical Season 2, it will likely continue after the events of the first season. In the second season, viewers might see Sheila's rise to fame after the aerobics video got famous. It will not be easy for her to keep up with increasing popularity. After becoming a successful entrepreneur, she was already feeling overwhelmed, with her insecure husband and business partners hounding her.
Even though she may not have financial struggles anymore, her marital issues are still a big problem for her and the other problems. All this troubling situation may result in the return of Sheila's eating disorder, which will lead her to a destructive path. Most importantly, Physical Season 2 could focus on the newly begun scandalous affair between Shiela and John Breem.
When Is Physical Season 2 Coming?
The first three episodes of Physical premiered on Apple Tv+ on June 18, 2021. And the show came to an end with the season finale airing on August 6, 2021. Further Apple Tv+ has officially renewed the series for Physical Season 2 on August 4, 2021.
Talking about the renewal of the series, Apple Tv's director of Domestic Programming, Michelle Lee, stated, "We have been thrilled to see audiences around the world fall in love and feel seen by this show. And we can't wait for everyone to experience the next chapter in Sheila's journey towards personal empowerment."
As per the reports, the production of Physical Season 2, which began in the latter half of 2021, is in later stages. Meanwhile, the creators have revealed the release date for the next season. Physical Season 2 is set to premiere on June 3, 2022, with each subsequent episode released every week Friday.
Who Will Feature In Upcoming Season?
The cast of the Apple Tv black comedy series stars Rose Byrne in the role of Sheila. Rory Scovel as Danny. Grace Kelly Quigley plays Maya, and Greta is played by Dierdre Friel. The series also features Lou Taylor Pucci as Tyler, Della Saba in the role of Bunny, and John Breem is played by Paul Sparks.
Mrs. Breem is portrayed by Erin Pineda, Geoffrey Arend appears as Jerry, Ashley Liao essays Simone and Greta's husband, Ernie, is played by Ian Gomez. If the series is recommissioned for Physical Season 2, most of the main cast members will likely be back to reprise their roles. On the flip side, the second season might also introduce the audience to some new characters.
Also Read The Afterparty Season 2: Renewed By Apple Tv+! Releasing In 2022?