It is not a new thing for fans to assume the actors who play their favorite gay characters to also be gay in real life. Similar is the case with Canadian actor Noah Reid, who played David's lover in Schitt's Creek. However, there is not much known about the personal life of the actor. So let's delve deep into Noah's life and sexuality as we try to answer the question, is Noah Reid gay?
Is Noah Reid Gay?
The actor Noah Reid appeared as David Rose's love interest Patrick Brewer in the Canadian comedy series Schitt's Creek. Since then, many fans have started believing the actor is also gay in real life, much like his counterpart Dan Levy, who is openly gay. However, this does not appear to be the case with Noah Reid. Unfortunately, for all the fans wanting Noah Reid to be gay, he is not. Based on the information available about him, we can say that Noah Reid is a straight male.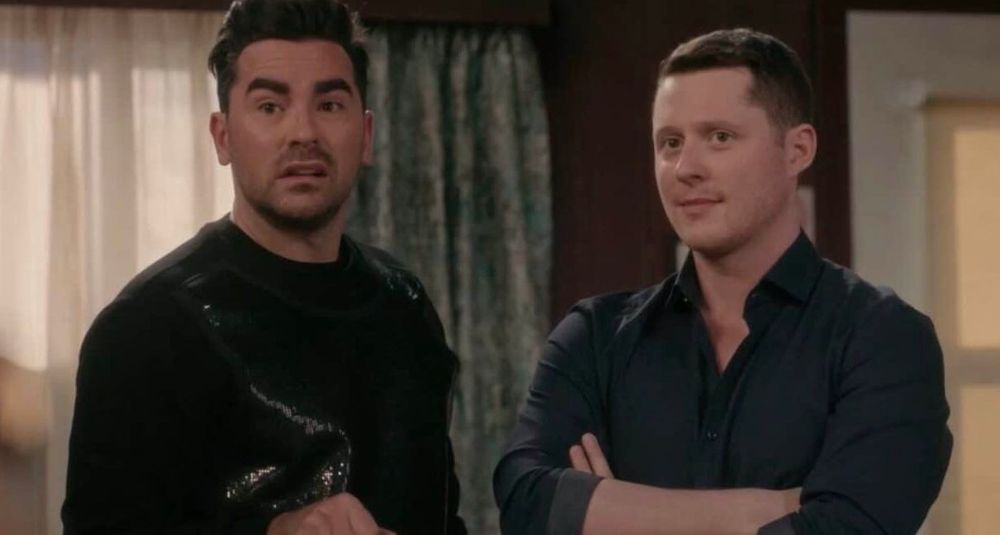 Talking about his role, Noah, in an interview, said, "I didn't feel a need to play anything or put on anything aside from the feelings that character had for David Rose." He also added, "I think we all know at this stage in the game that sexuality is a spectrum and gender is a spectrum."
Meanwhile, in July 2020, Noah tied the wedding knot with his long-time partner, Clare Stone. Previously in 2019, he shared a picture with Clare announcing their engagement on Instagram. He captioned the picture, "Roommates For Life."
Career!
Noah Reid's career in the entertainment industry began as a voice-over artist. In 1997, Noah gave his voice to the main character in the animated series Franklin till 2004. Meanwhile, in the same year, Reid gave his voice to the character of Tommy Settergren in the animated film Pippi Longstocking. After that, he kept on working as a voice-over artist in multiple animated shows like Tales from the Cryptkeeper (1993-1999), Bad Dog (1998-2000), and Babar: King of the Elephants (1999). Noah went on to provide a voice-over to Gunther Breech in the TV series Jane and the Dragon (2006).
Further, in the year 2002, Noah played the role of Marshall Wheeler in the sci-fi series Strange Days at Blake Holsey High. Reid was also cast in a TV film called Terry in 2005 and appeared in "As the Whirly Turns." Meanwhile, in 2010 Noah got his first leading role in Score: A Hockey Musical. Then, in 2016released his debut album, titled Songs from a Broken Chair. However, in 2017, he received his biggest break when was cast as Patrick Brewer in Schitt's Creek. Patrick Brewer is David Rose's love interest.
Noah Redi was also seen in Cardinals, which premiered at the Toronto International Film Festival in 2017. Aside from various TV series and films, Noah has also had a career in theatre, with some of his most famous performances including Bartholomew Fair, Dead Metaphor, and A Woman is a Secret. Now, Noah will feature in Amazon Prime Video's Outer Range in the coming days. Billy Tillerson, the youngest of the three brothers, will be his character in the show.
Awards!
The Stratford Festival honored Noah with the John Hirsch Award in 2009. For the film People Hold On, he received a nomination for the Canadian Screen Award for Best Original Song in 2016. Noah Reid's album, Gemini, was published in 2020. Noah's album featured on three different Billboard lists. In the sitcom Schitt's Creek, Patrick's character earned Noah a Canadian Screen Award for Best Supporting Actor in 2019.
Also Read Is Taron Egerton Gay? Know All The Details About Star's Sexuality & Personal Life